Glee:
From E! Spoiler Chat:

YELYAHbosco: There is lots of speculation about Glee's Santana and her sexuality, any scoop on her upcoming storyline?
"She's definitely a lesbian," Brad Falchuk tells us, forever putting to rest the question of her sexuality. Now that we cleared that up,
Jesus f*cking Christ Almighty. I hope they don't riot on AfterEllen today.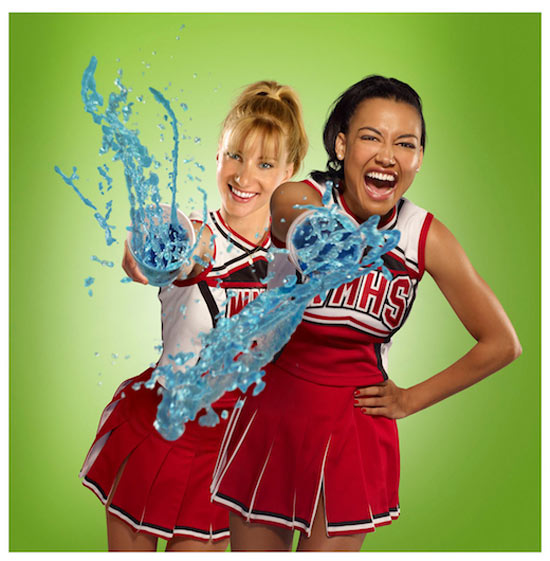 I think I'm supposed to freak out about this, it's like our obligation to flip our shit whenever a lesbian does it with a dude, but I can't. Yes — we hate this trope. Our people, long oppressed by the thwarted lesbians of teevee shows past, hate this trope even more than I hate "dining with people who are eating buffalo wings."
But this isn't like that.
Honestly, I don't personally think that the lesbian-hooks-up-with-dude storyline inherently problematic (as long as the girl goes back to her stated preference at the story's end!). Stories need conflict, after all!
What's problematic about any suggestion of this trope, and what riles up some Skins US–esque hostility, is how historically this trope has been used to undermine and trivialize our sexuality, pander to a straight male audience, reinforce patriarchal ideas of men being downright irresistible and ideal romantic partners and to placate networks or advertisers by quickly shuffling the lesbian storyline out of sight. Also, it's been done and with so few gay storylines out there, we expect a lot from each one.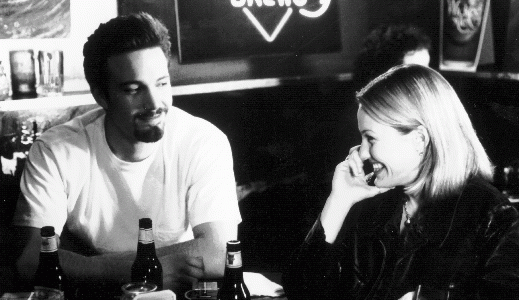 Because the thing is — and I might get axed for saying this — it's a rich trope, from a writer's perspective. It's hard to beat in terms of inherent complexity, although employing it haphazardly is often exactly as lazy as it seems. It was executed well in The Kids Are All Right, where a gender-swap would've told a different story altogether — if Jules had cheated on Nic with another woman, the 'other woman' would've been a formidable threat to Jules and Nic's relationship. Paul's gender made Jules' reasons-for-cheating abundantly clear: she wanted to be wanted by someone — no strings or potential love attached — and men are pretty adept at ravenously wanting sex. She was looking for sex, not love, and a standard Affair would've complicated that intent.
So how will this go? We're cautiously optimistic. In our favor:
1) Glee drops storylines like they're hot, cannot maintain continuity, it's unlikely that they'd break tradition here and actually pursue a Santana-runs-to-a-dude storyline past one episode.
2) Everyone flipped about Blaine possibly going bisexual and our fears were unfounded.
3) Santana is definitely a lesbian and acording to the most recent definition of "lesbian," a lesbian is a person sexually attracted to persons of the same sex. So this means, logically, that were Santana to run into the arms of a dude, it'd probs last about as long as it did for Paige on Pretty Little Liars.
4) Glee's done (relatively) well by us so far when it comes to homosexual representation.
5) There's so much opportunity for humor in Santana getting with a boy after deciding she doesn't like boys and that humor hinges on a rejection of the heterosexual paradigm.
6) Finn is a lesbian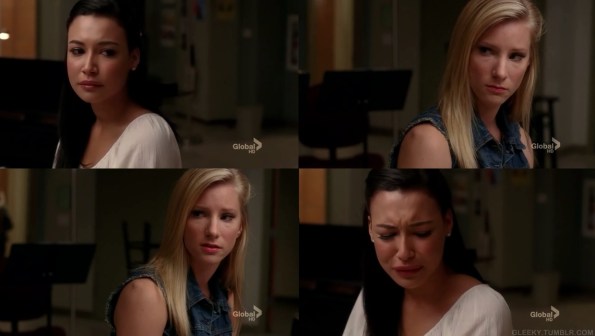 Other  homosexual Glee info from the E! post:
Q: Anything new on Blaine/Kurt on Glee? Can't get enough of those two!

A: Neither can we. That's why we were so psyched when Darren Criss told us that Blaine and Kurt (Chris Colfer) have real staying power. "They're in the honeymoon stage, and they've just recently gotten together, so that's really new and exciting like any new relationship is," he says to us. "I think [Blaine] has something really special with Kurt. It's not just a flash in the pan kind of crush."
+
South of Nowhere:
The cast of South of Nowhere has put together a promo to inspire somebody to make a South of Nowhere movie. However someone invited Glen to this reunion, probably because he was on the show, but I don't see why we have to keep looking at his stupid face. There's still time to fix the mistake of inventing his character!
+
Exes & Ohs:
The second season of Michelle Paradise's "Exes & Ohs" was signed, sealed and delivered to Logo quite some time ago, but Logo never gave it an air date. Now it has one — June 29 at 7:30 pm. We somehow suspect this is an effort to use up their lesbian content so they can safely move forward as if there is no "L" in LGBTQ.
+
The Today Show:
Jessie J appeared on The Today Show today and it was awesome.