With yesterday's release of the inaugural Studio Responsibility Index, GLAAD confirmed that thing that everyone with eyeballs already knows: LGBT representation is sorely lacking in major Hollywood films. What's new in this report, however, is solid data and analysis to quantify how bad the problem is. The SRI maps the quantity, quality and diversity of images of LGBT people in films released by the six major motion picture studios during the 2012 calendar year. And let me tell you, it's not pretty.
Of the 101 films released by the six major studios, not one of the films contained a single transgender character. Only 14 films had lesbian, gay, or bisexual characters represented. And "represented" is a very generous descriptor; the vast majority were no more than cameos or very minor roles.
Most often, queer representation was included in comedy films. Matt Kane, associate director of entertainment media at GLAAD and lead author of the 2013 SRI pointed out in a phone interview that "LGB characters were brought in mainly to provide humor, either as the butt of the joke or simply to provide the setup for some kind of humorous interaction with another character. They're not well defined whatsoever, and if you were to take them out of the movie, you wouldn't notice it whatsoever. "
As part of the SRI, Kane and his team created the "Vito Russo Test," a set of criteria inspired by the Bechdel test. Named after GLAAD co-founder and celebrated film historian Vito Russo, these criteria are intended to analyze how LGBT characters are represented in a fictional work.
Just for fun, I took a look at the film list to see how queer women were being represented, and how well they stood up to the Vito Russo test. In all the releases from 20th Century Fox, Paramount Pictures, Sony Columbia, Universal Pictures, Walt Disney, and Warner Brothers over past year, there were only five* films with any sort of queer lady representation. Five. Out of 101. Of those, three passed the Vito Russo test.
Here's the rundown of queer lady film representation, best to worst:
1. Pitch Perfect by Universal: Vito Russo pass
Pitch Perfect sets the stage for queer lady presence early on when an outspoken character named Fat Amy (Rebel Wilson) points out the statistical likelihood that one of the 10 members of their all female acapella group is a lesbian. And indeed, queer woman of color Cynthia Rose (Ester Dean) later comes out in a scene where members are sharing secrets with the group:
Cynthia Rose: I have a confession to make.
Fat Amy: We all know where this is going. Lesbi-honest.
Cynthia Rose: This is hard for me to admit to you guys, but for the past two years, I have had a serious gambling problem.
Fat Amy: What?
Beca: What?
Cynthia Rose: It all started when I broke up with my girlfriend.
Fat Amy: Whomp, there it is!
Throughout the movie, Cynthia Rose doesn't have many lines, but one could argue that's kind of par for the course when there are so many ensemble characters. Cynthia Rose is shown as a competent singer who is well liked by her teammates. She is misgendered in her opening scene ("It's not a dude") and is later shown grabbing a teammate's breasts against her will (possibly accidentally?). Still, I found the portrayal to be overall positive. Everyone in this film gets poked fun at, and I didn't find Cynthia Rose's treatment to be more harsh than that of other characters'. It's situational comedy, more or less, where you're laughing at misunderstandings, not at her queerness — in short, her identity isn't the punchline of a joke.
2. The Five Year Engagement by Universal: Vito Russo pass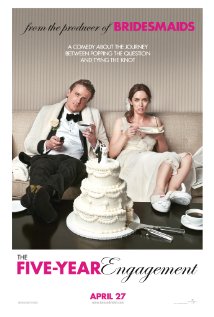 The Five Year Engagement was well rated by GLAAD for its inclusion of Chef Sally (Lauren Weedman). According to the report:
Among the supporting cast of this comedy about a straight couple's prolonged route to the altar is lesbian chef Sally, who is the boss of the male lead. Though her role was limited to just a few scenes, the film established Sally as a unique and humorous character defined by traits beyond her sexual orientation and eventually depicted her in a relationship with another woman. For such a minor character, her inclusion was well handled.
Chef Sally is one of those quirky, romantic-comedy characters that exist only in films (and maybe your/my fantasies about what your life would look like if it were a film). Chef Sally first appears in the middle of the main couple's proposal and makes a Star Trek reference. Then she chastises herself for being awkward. She has strong political opinions, and keeps her authoritative presence even after accidentally chopping off one of her fingers. ("I need a doggie bag for my finger," she barks out to the kitchen.) I didn't find a single negative thing about her portrayal, and she even worked a joke about gay marriage into a scene about the male lead and his career.
3. Fun Size by Paramount Pictures: Vito Russo pass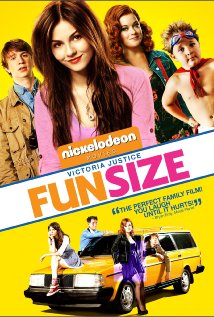 Within the first five minutes of the film, this gem takes place between the main character and her best friend as they discuss Halloween costumes:
April: So which do you think, sexy kitty or sexy mouse?
Wren: Can't you be a kitty without being sexy?
April: Um, no. Being sexy is what's going to get us into Aaron Riley's party tonight.
They then proceed to spend the next hour or so obsessing over Aaron Riley, going to Aaron Riley's party, and what actions they should take or avoid to be cool enough to be in Aaron Riley's presence. There's no mistaking this for a feminist film, or any sort of positive influence in the lives of the tween girls this film was marketed to. But there was a lesbian couple depicted, at least!
Barb (Kerry Kenney) and Jackie (Ana Gasteyer) are the wacky lesbian moms raising Roosevelt, the awkward eventual love interest of main character Wren. In the opening scene, the moms sit on the floor, serenading their cat Tolstoy with a lute and wooden flute. They speak ancient Greek with their son, and tell Wren about their expertise in prenatal psychology. Certainly the movie is working in some stereotypes about lesbian hippie-dom as well as some general wackiness. However, they are shown as loving parents in both of the scenes they're in. As noted in the SRI, "The stereotype of the new-age lesbian parents as a source of humor has become something of a comedy archetype unfortunately, but at least the joke here doesn't lie in the couple's sexual orientation."
4. American Reunion by Universal: Vito Russo fail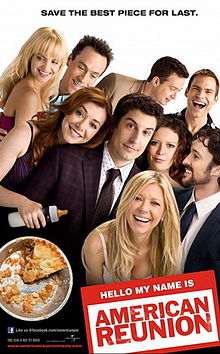 There's a lot of misogyny in American Reunion. But I imagine you all have at least some familiarity with the American Pie franchise, so I won't dig into it except to say that there was an extended gag in this particular movie about adult men wanting to get with drunk high school chicks. Moving on.
Surprisingly, I actually found American Reunion to be (relatively) progressive in its depiction of queer characters. In one scene, bro-tastic homophobe Stifler is reunited with two former classmates who are now engaged to each other. When the two men reveal to him that half the lacrosse team was gay, it is Stifler's dumbfounded look (and the couple's smirking quip about "wrestling" in the locker room) that is the punchline. The same sex relationship is presented as perfectly normal, and the couple even kisses in the background of a later scene.
Towards the end of the movie, the returning character of Jessica (Natasha Lyonne) appears briefly to come out as a lesbian and introduce her girlfriend, Ingrid (Jen Kober). Their sole purpose appears to be getting one of the male leads over to a table to patch things up with his female love interest.
Although it's neat that Natasha Lyonne played gay yet again, out of a nearly 2 hour movie, this lesbian couple got 42 seconds of screen time.
5. Katy Perry: Part of Me by Paramount Pictures; Vito Russo fail
It is true that Katy Perry: Part of Me has a few queer women in it. But honestly, I feel like it barely counts as representation. In one clip, singer Jessie J says one sentence about what a big star Katy Perry is (9 seconds). Lady Gaga also makes a brief appearance in a costume "like a Hershey's kiss" that obscures her face (5 seconds). Ellen DeGeneres snags the longest scene (31 seconds) with a clip from her show in which Katy gets jokingly territorial with Ellen that Russell Brand is hers. It's mostly B roll, though, and you barely see Ellen's face. Beyond that, Katy Perry's gay stylist and makeup artist is shown several times throughout the film. And that's it.
Overall, I thought that when films bothered to show queer women at all, the representation wasn't bad. The major problem right now is just that there's so little of it. Of the five films with queer lady content above, you'll note that two come from Paramount Pictures, and three from Universal Pictures. From 20th Century Fox, Sony Columbia, Walt Disney, and Warner Brothers: nada.
Combined, the six major studios were responsible for 76.4 percent of U.S. theatrical releases in 2012, and close to $7.7 billion gross box office revenue. Obviously, these studios have a huge impact on what's available (and commercially successful) in the marketplace. When they fail to include LGBT people in their offerings, what it means is that unless someone is specifically looking for LGBT characters, they may never encounter them.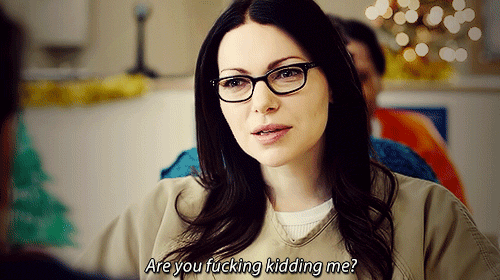 Despite popular belief, lesbians don't spend all of their time huddled in menstrual huts discussing their hatred of men. Queer women go to the grocery store, walk their dogs, vote, attend sporting events, and eat in public restaurants, just like everyone else. Even if films featuring queer women at the center of attention is too much to ask, at the very least, there are queer people in the background of most straight people's lives. It's bizarre, inaccurate and insulting that this reality is not reflected on film.
The 2013 SRI explains:
Going to the movies is part of the American mythos and identity, and the stories they tell can have a deep and lasting effect on our cultural psyche. When minority characters are marginalized or made invisible within these films, it not only reminds those being underrepresented that their social position is less than, but also makes it more difficult for the majority to see them as part of that film's reality as well as a valid part of our own.
In years past, GLAAD has released the annual Network Responsibility Index, which analyzes the quantity and quality of LGBT characters on primetime television. Over the past several years, there has been dramatic improvement, in part because of GLAAD's advocacy efforts during direct discussion with the studios. According to Matt Kane, GLAAD is already in talks with two of the major film studios listed in the SRI ("one of the ones that did comparably well compared to the others, and one that did not"), and they are setting up further discussion with them and with others.
Kane said,
This [report] is us trying to start a conversation that we intend to continue for some time. We know that this is not something that's going to get fixed overnight, but we're in it for the long haul. We know the studios can do better and we think it's in their best interests, for a number of reasons, to do better. That's something we want to communicate to them over time.
Realistically, the first effects of this first report are unlikely to hit in time for the 2014 SRI, possibly even the 2015 SRI. But, come on – if we're counting that Katy Perry movie as a win, the bar is obviously set really, really low. It can only get better from here, right?
Your move, studios.
---
*Adam Sandler's That's My Boy by Sony Columbia includes a shot of two female exotic dancers making out with each other. However, there is no mention of queer identity, the film doesn't pass the Russo test or the Bechdel test, and it uses the words "homos" and "faggot" as humorous insults. So I'm not counting it on this list.