My number one breakfast feeling is that I want someone else to cook it while I drink coffee / loll around in the bed, which is a totally valid feeling and not selfish or lazy at all.
The cutest and possibly overall best thing about breakfast is that when you eat it at an odd time of day, you get to call it something super special, like brunch or brinner. Also you can cover everything in maple syrup if you want to, and no one can really say anything about it. Maple syrup is the ketchup of breakfast. I mean, and so is ketchup.
Other great breakfast things:
+ bed and breakfasts
+ Breakfast at Tiffany's
+ breakfast beer
+ The Breakfast Club
+ breakfast in bed
You're going to have a really fabulous time making all of these things! Also we get to imagine everyone cooking in their pajamas, which is really fucking adorable / sexy. Ok anyway! Waffles!
1. Bloody Mary: Laura L.
2. Vegan Ranchero Situation: Stef
3. Vegan Biscuits and Gravy: Stef
4. Choose Your Own Adventure McEggin: Sarah C.
5.Vegan English Muffins: Rachel K.
6. Pumpkin Rolls: Intern Laura
7. Bacon (or Blueberry or Chocolate Chip) Waffles: Laneia
1. Bloody Mary
by Laura L.
My old roommates and I spent many many weekends perfecting the Bloody Mary. When we were too lazy/hungover/poor to go out to brunch, we made it into a meal.
Ingredients
Vodka
Tomato juice (spicy V8 or whatever brand your supermarket has)
Worcestershire Sauce
Horseradish (I couldn't find a non-creamed version in the UK, so I did without)
Hot Sauce
Lemon wedges
Celery Salt
Pepper
Celery Stick
lots of ice
Optional
Green bell peppers (a good shape for drinking)
Olives
Pickles/cornichons
Fill your glass with lots of ice. Season the ice directly with lemon juice, pepper, celery salt, worchestershire sauce and hot sauce. Pour in your COLD vodka until you can see it just about at the top of the ice, then fill to the top with COLD tomato juice. Poke around at it with your celery stalk, mixing as much as possible (if you are fancy you can shake it); taste it and re-season as needed.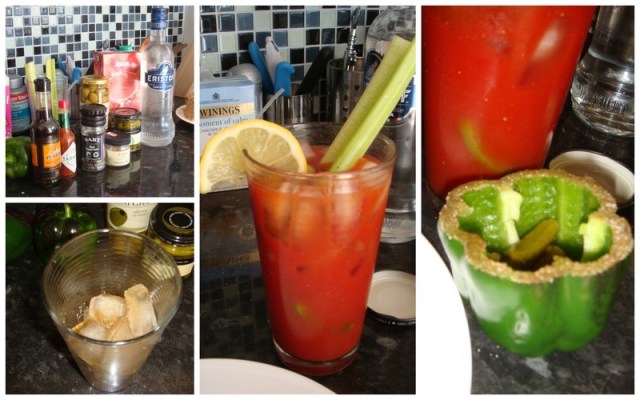 For a tasty edible glass, cut the top off a bell pepper and season the rim with celery salt. Drop in a bunch of olives and pickles, depending on how hungry you are, and pour in your Bloody Mary. This works best when made from a pitcher and you can refill as many times as you want until you get hungry and eat your vodka soaked pepper.
2. Vegan Ranchero Situation
by Stef
OK, there's one thing you should know. I'm not any kind of expert in the art of Mexican food, but I am an expert when it comes to making a lot of delicious things and then eating them. I'm usually drunk at brunch, but I'm pretty sure "ranchero" is Spanish for "hey, here's some beans with your eggs," so I put a lot of things I like on top of a tortilla and made them for you.
As far as I can tell, the ability to put together a delicious breakfast is only going to make you more appealing to your overnight guest, who will probably stick around to see what you're going to make for dinner.
for potatoes:
2 medium potatoes (I used a sweet potato just to mix it up)
olive oil
salt, pepper to taste
for tofu scramble:
olive oil
3 cloves garlic, diced
1/4 cup onion, diced
2 small mushrooms, diced
1 block extra firm tofu
turmeric
for the base:
3-4 cloves garlic, diced
dried chilis, to taste (optional)
1 large onion, diced
4-6 mushrooms, chopped
1/2 cup grape tomatoes (or dice some tomatoes, or whatever)
1 can black beans, drained
1 red bell pepper, chopped
1 yellow bell pepper, chopped
2 cups baby spinach
for garnish:
1 avocado, diced
cilantro (optional)
POTATOES
1. Preheat the oven to 400 degrees. Wash your potatoes thoroughly and dice into pieces abound 1″ around. Throw 'em into a pan lined with aluminum foil.
2. Sprinkle with olive oil, salt, pepper, maybe some rosemary or something if you're feeling fancy. Bake those babies to your desired level of crispiness (check and stir them every ten minutes or so). While the potatoes are cooking, you can do all this other stuff on your stovetop, but make sure to leave the oven on when you remove the potatoes so you can heat up tortillas (see below).
TOFU SCRAMBLE
3. Pour about 2 tbsp of oil and fry over medium heat. Add 3 cloves diced garlic. I usually put a ton of vegetables in my tofu scramble (tomatoes, bell peppers, kale, swiss chard or spinach, mushrooms), but most of that stuff is going in with the beans so for our purposes we're only going to use a sparing amount for flavor. Tofu tends to pick up the flavor of whatever you cook it with, so you need a little something. Throw in a small amount of onion and maybe a diced mushroom or two.
4. When the onions are translucent, crumble your tofu into the pan, stirring frequently. Let the tofu cook thoroughly.
5. Add turmeric for that supernatural eggy colour and a bit of flavor. Remove from heat and set aside.
BEANS
6. In another pan, pour some oil and fry over medium heat. Add the rest of your diced garlic and dried chilis (if you're into that). Once that's going, add your chopped onion and mushrooms and stir until the onions are starting to get soft.
7. Add tomatoes, bell peppers and beans, still stirring. When everything is heated up properly and starting to smell delicious, feel free to add spinach or whatever leafy green thing you're into. Cook until your greens are cooked all the way through, then remove from heat and get ready to assemble some BREAKFAST.
8. Hey did you take your potatoes out of the oven? Those guys are probs totally done and smelling awesome. OK, time to throw a tortilla in the oven and brown it for about a minute.
9. Remove your tortilla from the oven and lay that sucker on a plate. Spread your bean and vegetable mixture generously over the surface of the tortilla. Next, add a layer of tofu scramble. Top the whole thing off with potatoes, and garnish with cilantro and diced avocado.
10. Enjoy with hot sauce (to taste). Here, I made you this fruit bowl. What was your name again?
3. Vegan Biscuits and Gravy
by Stef
Biscuits
2 1/4 cup Bisquick
2/3 cup soy milk
Gravy
olive oil
3 cloves garlic, minced
3 pieces yellow onion, diced
2 small mushrooms, diced
1/2 cup all-purpose flour
4 tbsp nutritional yeast
4 tbsp soy sauce
2 cups low sodium vegetable stock
1/2 tsp sage
1/2 tsp thyme
salt + pepper to taste
1. Preheat oven to 450 degrees Fahrenheit.
2. Mix ingredients in a big bowl and knead thoroughly.
3. Form into biscuit-esque globs of deliciousness on a sprayed or nonstick pan and bake for 8-10 minutes or until brown on top.
4. In a saucepan, heat olive oil, garlic, onion and mushroom over medium heat.
5. When the onions are transparent, lower the heat and 1/2 cup vegetable stock, as well as the flour, nutritional yeast and soy sauce. Mix thoroughly. Add the rest of the vegetable stock gradually, stirring constantly.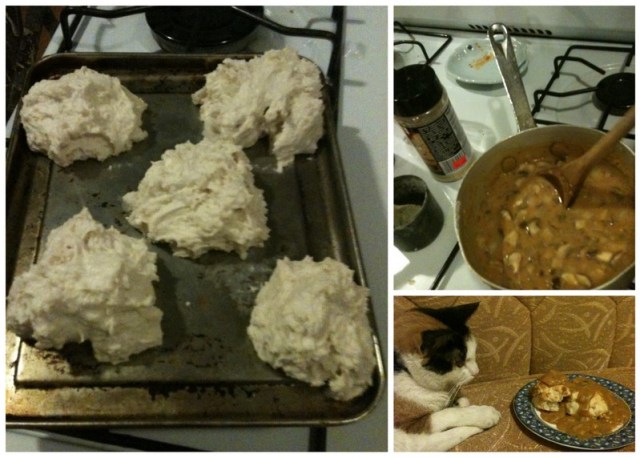 6. Raise the heat to medium high and bring gravy to a boil, stirring all the while. The gravy should thicken as it cooks. Add sage, thyme, and salt and pepper to your preferred level. If your gravy is too thick, add a little water; if it's too runny, you can add a little bit of flour. Once it starts to bubble, you're pretty much done. Serve hot!
This gravy is also ideal for Thanksgiving, when the rest of your family will eat gravy made from a dead bird and will shake their heads and cluck sadly at your weird vegetable sauce. It is delicious, thankyouverymuch.
4. Choose Your Own Adventure McEggin
by Sarah C.
Really whatever you and your guest want. That's the glory of these little eggers. You can pretty much throw in anything that suits your fancy.
McEggins
1 of each Bell Peppers (red and yellow)
1 bunch Chives
1 container, appx 12 Baby Portobello Mushrooms
4 Leafs Kale
1 medium white Onion
4 cloves Garlic
1/2 cup Shredded Cheddar Cheese
12 Eggs
Olive Oil
Cooking Spray
dash Salt
dash Pepper
1/2 tsp Chili Powder
3 TB Dijon Mustard
Sweet Potato Patties
4-5 Medium Sweet Potatos
1/2 a stick of Butter
Salt to taste
Pepper to taste
2 TB Olive Oil
2 cloves Garlic
Chili Powder to taste
Choose Your Own Eggins
Preheat Oven to 350
The other glorious thing about this dish is that you can pre-prepare the ingredients a day ahead of time if you're planning on partying all night and know you're going to want a scrumptious brunch for you and your bed mate and your roommates and their bed mates and the puppies everyone brought over.
With veggies like mushrooms and onions it's smart to pre-sautee them. So in a sautee pan with garlic and olive oil sautee the chopped mushrooms and onions until just before they're fully cooked (they'll cook in the egg a little too). Do the same with the chopped Kale and garlic.
Dice the peppers and chives up and toss them with the other cooked veggies. Spray the muffin tin then throw handfulls of the veggies in the muffin tins no more than half way high. Put all the veggies in if you'd like, or some, or be a really nice host and tailor it to each guest. Your choice. CHOOSE YOUR OWN ADVENTURE.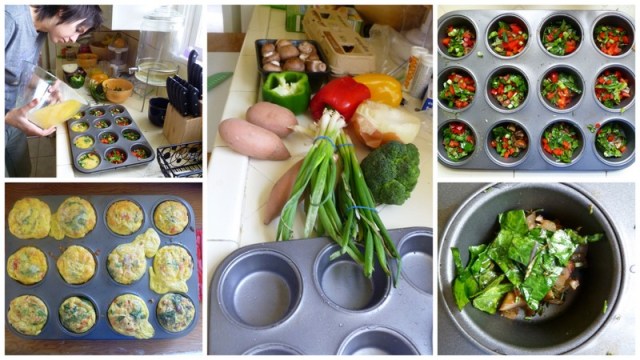 Meanwhile, have your roommate (ALEX VEGA) whisk the eggs together with the salt, pepper, mustard, and chili powder. When that's all whipped up you should pour it RIGHT OVER the scoop of veggies until its about 2/3 full. Feel free to top those adorable little muffin egg creations with cheese and then refrigerate for 10 minutes (I skipped the refrigeration one round and the world didn't explode, so that might just be a pointless time consuming step) pop that baby in the oven for 15 to 25 minutes or until a toothpick comes out cleanly. Do this until all the eggs and all the veggies have had their turn in the oven.
Sweet Potato Patties
In a food processor use the shredding disk to shred the potatoes into hash. Heat up the olive oil and butter on the stove top and toss the potatoes in flipping it over when one side browns. Toss it with salt pepper diced garlic and chili powder. Remove from heat and let cool and form into small flat patties which you then pan fry until each side is brown.
5. English Muffins
by Rachel
from Vegan Brunch by Isa Chandra Moskowitz
Ingredients
1 tsp yeast
1 tbsp sugar
1 c lukewarm water
2 1/4 c flour (the recipe calls for all-purpose, I used like half whole wheat b/c I'm a hippie, whatever)
1 1/4 tsp salt
3 tbsp butter or margarine at room temperature
Some cornmeal for dusting
1. Put the water in a small bowl and mix in the sugar and yeast, and leave for five minutes or so until the yeast has dissolved. Meanwhile, combine the flour and salt in a large bowl.
2. After five minutes, make a well in the center of the flour mixture and add the yeastwater and also the margarine. Mix together and knead, either via your hands or via a stand mixer/kneading machine, until the dough feels smooth and good.
3. Leave the dough in the bowl someplace kind of warm, covered in a towel, until it's more or less doubled. This should in theory take about an hour but always takes me two to eight for some reason. I don't know what to tell you.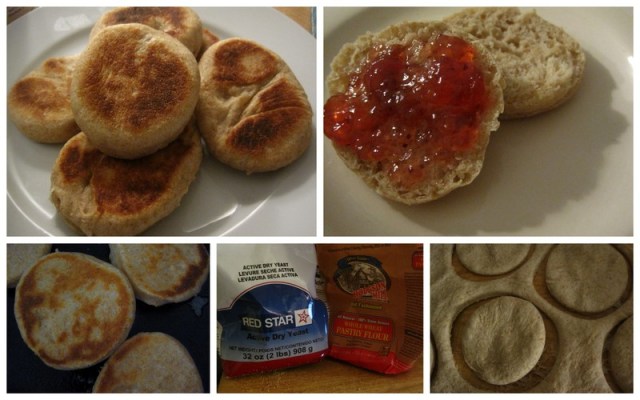 4. Preheat the oven to 350, and put a cookie sheet right in there to preheat along with it. Take your dough and dump it out onto a floured surface. Knead it for a minute, then roll it out to about 1/2 inch thickness. Find a cookie cutter and/or drinking glass and/or Mason jar and cut out 3 inch rounds, patting both sides into the cornmeal, which you have possibly poured out onto some small plate situation.
5. Heat a large skillet, preferably cast iron, over medium heat and melt some butter or margarine in it. Toss the muffin cutouts in there and cook for a minute or two on each side, or until it's golden brown and looks like the bottom of an English muffin. Once both sides are browned, open your oven and put these directly onto the hot cookie sheet, and let them bake for 6-10 minutes. Note: this is not complicated, but you do kind of need to think about your timing. You'll need to be doing these in batches, and you really do have to put them in the oven right from the skillet, so don't start browning the next batch until the one before it is about to come out of the oven. The first time I tried this I had all these cute little browned discs that just sat there and waited for like ten minutes, and then they stayed little brown discs in the oven because they didn't rise. (Still tasted good, though.)
6. Take out of the oven and cool before eating. (Try to do this, at least.) This recipe makes kind of a lot, and the possibilities are endless! Jam and butter? Mini pizzas? Some sort of eggs benedict situation? (I vote for this one!) They also freeze well, so no need to panic about eating a dozen English muffins in two days. (Although that would be okay too.)
6. Pumpkin Cinnamon Rolls
by Intern Laura
Pumpkin is the best flavor in the history of flavors. It transcends season (unless your close-minded grocery store insists that it doesn't and refuses to carry it between December and September) which is why I'm making these guys even though Spring is poking it's sweet head around the corner. There's also A LOT of butter in this recipe which means you know it's going to be good.
for the dough
1/4 cup of water
1 package of yeast
1 cup of milk
1/2 cup [1stick] of butter
1/2 cup of sugar
1 15-ounce can of pumpkin puree [or make your own]
1 1/2 teaspoons of kosher salt
5 1/2 cups of flour
for the filling
1/2 cup [1 stick] of butter
1 cup of packed brown sugar
2 teaspoons of cinnamon
1/2 teaspoon of ginger
1/2 teaspoon of nutmeg
for the icing
4 ounces of cream cheese
1/4 cup [1/2 stick] of butter
1/2 teaspoons of vanilla
1 cup of powdered sugar
First take care of the yeast. Just as a reminder in case you forget how to work with it, your water should be a little warmer than your skin and you should dissolve a pinch or two of sugar before adding the yeast so that it has something to eat so it can grow. Wait about 10 minutes and you should be good to go.
Warm the milk and butter on the stove until the butter melts. Pour it into a really big bowl and stir in the sugar until it dissolves. Once it cools down — not before! you will kill your yeast — you can add the yeast/water mixture and the pumpkin.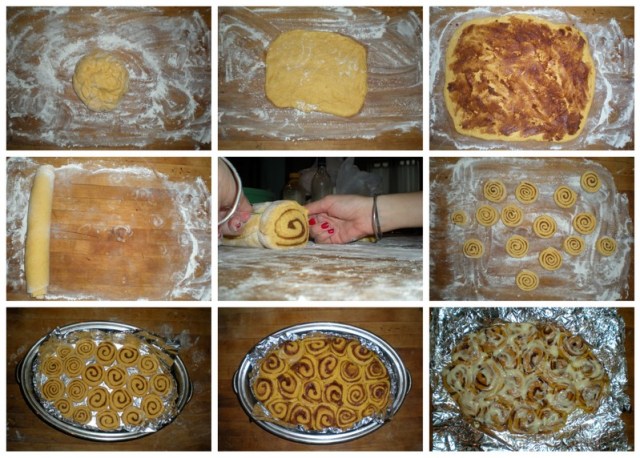 Add the salt and all the flour at once. Yeah, you read that right, 5 1/2 cups. I would advise abandoning spoons and just going for it with your hands. It's going to take a while to get all the flour incorporated, but once it's all together, stop! Don't mix it anymore than you have to.
Cover the dough and let it rise for 1-2 hours. If you've got time to let it rise for two hours, punch it down at the 1 hour mark.
Flour your workspace and plop half the dough down onto it. Form it into a vaguely rectangular shape and roll it out until it's about 1/2 an inch thick. Don't have a rolling pin? I bet you have a whine bottle. It's a pretty sticky dough so you can flour your hands, the rolling pin, or the surface again whenever you need to.
To make the filling, melt the butter and stir in the brown sugar and spices. Spread half of this onto your dough. Roll the dough up unto a log and then slice it. Instead of using a knife, grab some thread/dental floss/sliced up bits of grocery bag (I did this) and loop it under your dough. Pull it up and around and tightly so it slices right through. Lather, rinse, repeat with the other half of the dough.
At this point, you've got two choices, you can refrigerate your rolls a la Pillsbury (and refrigerate your icing in a little container. This would probably be a really cute present for somebody.) and bake them later or you cook them now. When you're cooking them, butter the pan, plop them in pretty close but with enough room to rise and wait 30 minutes (1 hour if they were refrigerated). Bake for 20-25 minutes on 375°F and rotate the pans halfway through cooking.
For the icing, cream the butter and cream cheese before adding the powdered sugar and vanilla. If you're having trouble mixing it, set the bowl on the surface of your oven so that it heats up the butter and cream cheese. Resist the temptation to add milk, that'll make it too runny when you go to put it on the rolls. Wait five minutes after they come out of the oven before icing them.
7. Bacon Waffles
by Laneia
Here's the deal: waffles are better than pancakes because they let you know when they're done and there's no flipping or anything. To make waffles even better, you should add bacon. Let's talk about that.
Bacon
8+ slices of bacon (I like applewood smoked)
brown sugar
Preheat oven to 375 and spray a cookie sheet with that weird spray stuff that may be made of actual Teflon, who knows. Maybe you should just use parchment paper. So! Lay the bacon on the sheet and sprinkle brown sugar on top like it's your job. Just cover the bacon in brown sugar. Cook for 10-15 mins or until the bacon is crispay. Don't put it on paper towels to drain — use a cooling rack.
Crumble the bacon and add it to the waffle batter. Use any waffle recipe you like. Seriously, it's not even a big deal which waffle recipe you use. Oh my god this is so good.
Tips
+ I always substitute half of the flour for whole wheat flour and make the other half unbleached all-purpose, so I think you should do that, too.
+ If you want buttermilk waffles, add an extra egg white (or two) so they aren't as dense.
+ Waffle bars are fun: Get a lot of mix-ins ready and give everyone a small bowl of batter to add their favorites to. Banana + chocolate / white chocolate chip was a success, as well as bacon + chocolate chip.
+ Because you can only make one or two waffles at a time, put them in a 200 degree oven when they're done. This will keep them warm and also make them extra crispy.
Hello I am starving! Please talk to me about breakfast.