If you are like me in any way (busy, vegan, grad student, not rolling in money) you probably eat a lot of ramen. This is fine. I mean, it's probably not, actually, like I knew a PhD candidate once who got legitimate malnutrition from eating nothing but ramen for six weeks, but whatever, it's fine. Also though if you are like me you are constantly looking for ways to make your ramen better because the sauce gets super boring and also is maybe killing you. The best way to do this is to experiment with different interesting sauces which can be whipped up quickly while the noodles are cooking and therefore make the thing you eat twice a day more fun. We've already talked about this once. Today I would like to present to you a second sauce contender: Ginger Scallion Sauce.
Ginger scallion sauce comes from famous important chef David Chang of Momofuku in NYC. I have never been there and never will, but his recipes are popular around the internet. Ginger scallion sauce is allegedly The Greatest Condiment — I'm not sure I agree with this, but  perhaps you will!
GINGER SCALLION NOODLES
via David Chang and Momofuku
1 large bunch thinly sliced or shredded scallions (are these different from green onions??)
1/4 cup finely minced peeled fresh ginger (or you can buy ginger paste from the Asian grocery)
1/4 cup grapeseed or other neutral oil, divided
2 tablespoons soy sauce, preferably usukuchi (light soy sauce), divided (I have never even seen usukuchi and just use regular)
3/4 teaspoon sherry vinegar (I use rice vinegar?)
3/4 teaspoon kosher salt, or more to taste
Tofu, frozen peas, edamame, chicken, literally whatever
Ramen, soba, somen, a kind of noodle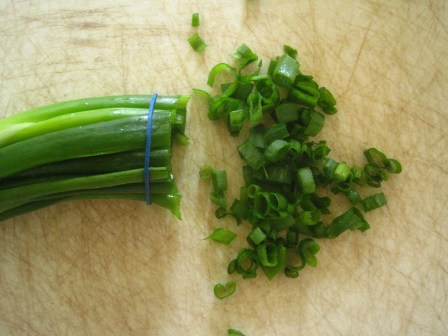 1. Begin preparing your noodles however you prefer. I usually make plain $.60 ramen and just boil it without the spice packet and then strain it, sometimes throwing some frozen veggies in with it.
2. Chop your scallions — they can be as big and chunky or minced small as you want. Mix with other sauce ingredients in a bowl. There are different schools of thought on this — I usually mix it in the same bowl I plan to eat out of because I don't have a dishwasher, so. But also I like a lot of sauce. If this seems like a crazytown amount of sauce for you, then mix in a separate bowl and put half in a tupperware or something.
3. I believe that, in an ideal world, you are supposed to let the sauce sit for 30 minutes or something so the flavors can meld. I have literally never done this. If I have 30 minutes, I'm using it to eat lunch, not watch flavors meld. Up to you.
4. Are your noodles ready? Drain those suckers! WE DON'T NEED NO WATER LET THE M*THERFUCKERS DRAIN. Anyhow. Now you can mix them with your sauce and add-ins and you're ready to go! Can also be premixed and eaten cold at a later date. I think this would be good.