Even though this is called a "barley salad" for simplicity, you can basically use any grain you want. It is really good with quinoa, for instance, and would probably be fine with brown rice, bulgur, or possibly couscous. There is a lot of chopping and preparation of things in advance, which makes this salad time consuming (particularly if you don't have a lot of space to work it), but it makes a ton and keeps for about a week in the fridge, which makes it worth it. Like all salads, if you want it to keep for a week without getting weird, combine all the other ingredients but keep the dressing separate.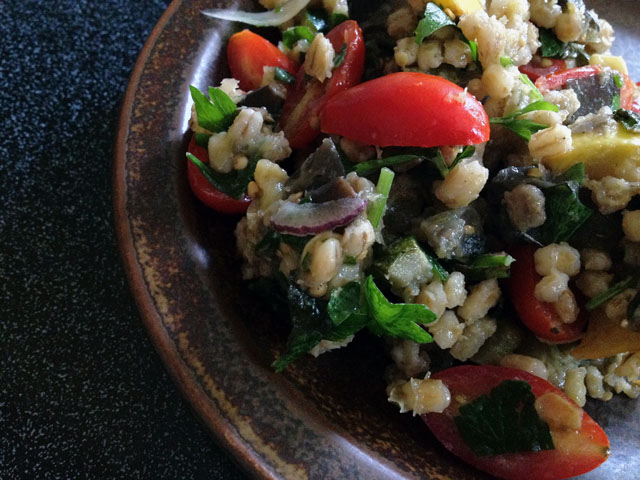 Eggplant Tomato Barley Salad
Ingredients:
2 large eggplants, cut into 1/2-inch cubes
2 zucchini, cut into 1/2-inch cubes
2 summer squash, cut into 1/2-inch cubes
10 tbsp. olive oil
1 tsp. salt
black pepper, to taste
1 bunch of chopped green onion
1 1/2 tsp. ground cumin
1/2 tsp. ground coriander
1 1/4 cups barley or your grain of choice
1 14-oz can vegetable or chicken broth (or however much liquid your grain requires, minus 3/4 cup)
3/4 cup water
3 tbsp. freshly squeezed lemon juice
2 garlic cloves, minced
1/4 tsp. raw sugar
2 containers of cherry tomatoes, quartered, or more to taste
1/2 cup thinly sliced red onion
1 cup chopped parsley
1/2 cup chopped fresh mint
Directions:
1. Preheat oven to 400 degrees F. Cut, salt and rinse the eggplant if it needs it (if it does, prepare everything else while you wait. Or do it ahead of time.). Toss the eggplant, squash, and zucchini with some pepper, salt and about 5 tbsp. of olive oil and roast in a large baking pan, stirring occasionally, for about 20 minutes. Let it cool.
2. Heat two tbsp. of oil in a pot that will be able to hold your grain of choice plus the broth to cook it in. Add the green onions, cumin and coriander and cook for about a minute. Add your grain and cook for another few minutes until it's coated in oil and starts to smell "toasty" (which might not happen if you're using another grain). Add the broth and water, cover, boil, reduce the heat and simmer for about half an hour, or until all of the liquid has been absorbed. Let it stand for a few minutes, and then uncover it and let it cool to room temperature. (If you are hungry, the fridge is helpful in this regard.)
3. Make the dressing in the bowl you plan to serve the salad in (or, the gigantic tupperware container you plan to keep it in the fridge in). Add the lemon juice, minced garlic, sugar, and salt and pepper to taste, and whisk to combine everything. Add the cooled barley, roasted vegetables, red onion, tomatoes, parsley and mint, and toss. You might feel at this point like you want to add black olives, feta , other cheese or red pepper flakes. You should probably follow those instincts. Serve.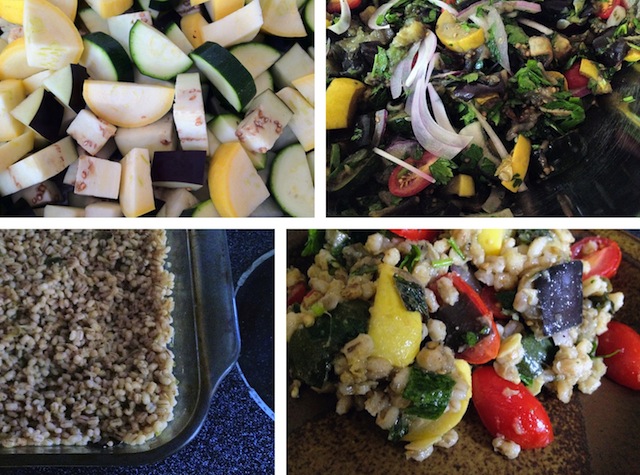 Somewhat adapted from Smitten Kitchen.