Lyndsey D'Arcangelo's new book, The Education of Queenie McBride, gives visibility to an issue that needs it: LGBT homelessness. In Queenie, much as in real life, the media and the marches fly banners and print headlines about same-sex marriage, while another American youth is getting kicked out of her home for being gay. For her, there are more pressing concerns than posting engagement photos on Facebook. That's not to downplay the importance of legal lesbian matrimony. After all, if a gay woman is treated like a second class citizen by the government, is it really a surprise that she's at risk of being treated as a second-class family member by those closest to her? The same prejudices that bar gays from legalized marriages bar LGBT youth from their homes.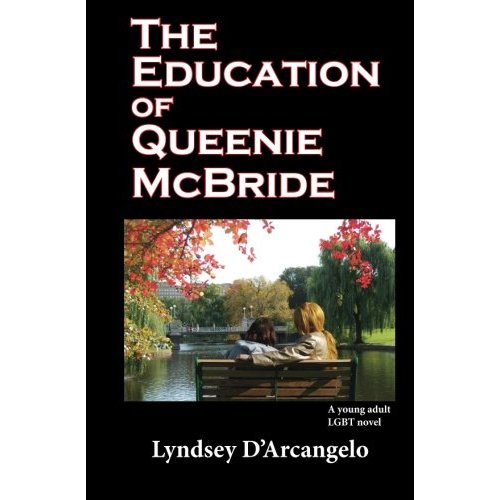 Amazon describes D'Arcangelo's book like this:
In this LGBT Young Adult novel, over-privileged and over-confident Queenie McBride thinks she has this whole college thing figured out. But as soon as classes begin at Boston University, she realizes that things aren't going to be as easy as they were in her private high school. Luckily, her best friend JJ is there to help keep her in line. But when Queenie meets Pudge, a homeless LGBT teen, her entire world is forever changed. With the help of Izzy, a strong-headed and beautiful social worker, Queenie learns how to be there for Pudge, leave her old habits behind and become the person she's always wanted to be.
Though 40% of the population isn't gay (a girl can dream though), 40% of homeless youth are LGBT. My research into young adult books on queer homeless teens yielded few results. There are plenty of books about being young and gay, but not as many about being young, gay, and homeless. Of the 20 YA novels listed in one of our recent articles, only one, Down to The Bone directly tells the story of a gay teen getting kicked out of her home.
This is sad and disappointing because I like to think that even if you're ignored by the mainstream media and abandoned by your family, books will be there for you, you know? Every single queer kid, no matter how marginalized, deserves shelf after shelf after shelf of books that give voice to her stories – because our stories matter, are important, and everyone should read them. So although it's only a start, I'm very happy that a book like The Education of Queenie McBride exists.
In a recent interview with the Advocate, D'Arcangelo candidly discusses her book without letting any spoilers slip. An award-winning author and journalist, she says she wrote the book in part to fill a void in queer YA literature. As she puts it, "many teens come out and their parents support them. But just as many are kicked out of their homes for being gay and they have nowhere to go but the streets."
A study done by the Williams Institute found that family rejection is the leading cause of homelessness among LGBT youth. D'Arcangelo, who's spent a lot of time talking with gay youth in high schools and youth groups, has unfortunately heard the same fear echoed by teen after teen: what if coming out leads to getting kicked out? It's infuriating that the Williams Institute study shows this fear is all too real.
Oftentimes, sexual identity intersects with race and harsh economic situations to create a web of oppression in which LGBT homeless youth find themselves entangled. The resulting statistics are not encouraging: Laura Hughes, the Executive Director of the Ruth Ellis Center, a long-term residential space specifically for runaway, homeless, and at-risk LGBT youth, reports that 40% of the youth they serve are HIV positive. Also troubling are the low high school graduation and high illiteracy rates. It's difficult to think of how many of the teens who need D'Arcangelo's book most may have trouble reading it.
Solving the web of racial and sexual oppression isn't going to happen overnight, but it starts with awareness coupled with increased local, state, and federal funding to combat youth homelessness and support spaces such as the Ruth Ellis Center. This is why a government that values LGBT people is an absolute necessity, especially for queer teens on the streets. As Think Progress puts it, rather than protecting children, the anti-gay efforts led by conservative evangelical Christians may very well be causing the exact kinds of child abuse that they blame LGBT people for.
I want there to be more books like The Education of Queenie McBride, and I want there to be more teens able to access them.