It's Sunday Funday and gay people all over the world are doing what we do best: running successfully for office, helping the universe progress towards gay equality small step by small step, and eating pizza and/or ice cream with a joint in one hand. Obviously.
That's right: lesbians taking over, with extra cheese on the moon and even gayer dessert.
Gay Military Magazine Actually Exists
OutServe Magazine, a publication made for gay members of the U.S. armed forces, has been approved for distribution by U.S. officials – meaning it will soon make a debut at Army and Air Force bases for the first time at the publication racks. The occasion? It's almost time for the "repeal issue" on September 20 – celebrating the day prohibition of gay service members is set to officially end.
The special issue will include photos, biographies, and features of close to 100 gay service members:
"This marks an incredible time in the history of our military. Gay, lesbian, and bisexual servicemembers once had to conceal their true identities," said a OutServe co-director on the website, who withheld his or her identity while the ban remains in effect.
"By featuring their pictures and their stories, we are signaling that time has passed. It is time for these military members to be honored for their extraordinary commitment and sacrifice in defense of our country," the co-director said.

What if a Bishop Was One of Us
Reverend Tracey Lind is a 57-year-old married lesbian in New York. And the Episcopalians want her to be their bishop. The church has recently seen more gay clergy and even the declaration that gay couples be recognized in their churches.
Lind, who was honored with an Equality Award by the HRC in 2009, is the dean of the Trinity Cathedral in Cleveland, Ohio and has been in charge of Trinity Commons' development – an environmentally sustainable campus. She studied at the Union Theology Seminary in New York and has worked as Rector in a New Jersey church. (She also has a Bachelor and two Master degrees. Just saying.)
Gay People In Your Legislation…
+ The California Senate this week approved an anti-gay bullying measure named after Seth Walsh.
+ And California lawmakers have, in case you forgot to sit back and think about it, worked on over 12 pieces of legislation devoted to LGBT rights this year:
Supporters of gay rights say that while much work remains to be done, this year's votes are indicative of the drastic change in tenor at the Capitol in recent years. The Capitol is now home to the largest LGBT legislative caucus in the state's history – seven out of 120 members – and includes Assembly Speaker John Pérez, D-Los Angeles.
"Without a doubt, the tone is different," said Sen. Mark Leno, D-San Francisco, who first arrived in Sacramento as an Assemblyman in 2008. "The debate – probably more so on the Senate side than the Assembly side – has toned down almost entirely. … And in both houses, LGBT civil rights bills are passing nearly unanimously among Democrats. That wasn't always the case. It was a struggle to get a simple majority just a couple of years ago."
+ One Anchorage, a local Alaskan pro-LGBT organization, applied for a ballot initative this week to include lesbian, gay, bisexual, and transgender people in Anchorage's anti-discrimination law. The ballot measure, if they are successful in their petition and campaign, would add sexual orientation or transgender identity to the existing legislation.
+ The Thai Army no longer labels transgender people "insane."
… and Gay People in Your Public Offices
+ A married gay man named Brian Paddick might become the first gay mayor of London.
+ The Department of the Interior recently got on board with the "It Gets Better" Campaign, and it's a series of personal stories that remind you that even your local park ranger and geologist are just like you.
+ Kecia Cunningham, Georgia's first openly gay African-American elected official, is running unopposed for another four-year term on the Decatur City Commission. Plus, she's been goin' strong since 1999.
+ Annise Parker, lesbian mayor of the fourth-largest city in the United States (ahem, Houston), filed for re-election Thursday, and has 2.3 million dollars ready in her war chest. Plus, she was already accused of promoting the "gay agenda" so she's been there, done that, and replied eloquently:
"I am proud of the role my election has played in our national movement for equality,wp_postsshe wrote. "Since then, I've heard from people across our country and around the world. They are men and women, gay and straight, who all celebrated our victory as a symbol of progress — that in the America we believe in, what really matters is what you can do, not your sexual orientation."
GLAAD's Favorite Gay-Themed Ads
The marketing world at-large is beginning to see the benefit in gay-friendly and gay-specific advertising, and GLAAD has taken a moment to honor some of its fave gay ads from the year – like this one:
Smoke Weed – For Your Figure
"People Who Smoke Pot Are Thinner Than Those Who Don't," filed under "Articles That Are Good For Your Weekend Spirit."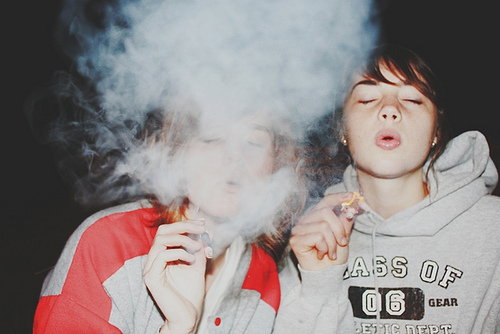 A Big Gay Ice Cream Shop
Manhattan's own Big Gay Ice Cream Shop is open for business. And everyone wants to sit with us. Here's the menu. And did I mention it's Carnival themed? And that everyone wants to go there?
Rennae Stubs Plays Tennis, Is A Lesbian
Rennae Stubs is a real-life lesbian playing tennis for the Washington Kastles, who recently won the World Team Tennis Championships. She's got some serious game and very pretty hair. And she just did an interview with her hometown gay newspaper, the Washington Blade. And it turns out she only gets nervous for one lady- the First Lady:
BLADE: Was there a doubles team this year in WTT that rattled your cage?
STUBBS: Not really. I am want to beat everyone I play and contribute as much as possible to the end score for our team. There might be a team or two that motivates a little more, but overall, a win's a win. The most nervous I was all season was when the first lady Michelle Obama and her kids came. I was really motivated that night to play well, I won't lie. And they were so into it, it was great and they could not have been nicer. Only in D.C.

Scary Spice Brings On More Girl Power
Mel B. from the Girl-Power-Inventing Spice Girls just gave birth to a baby girl. 
Scarlett Johnansson is Singing, It's Suddenly So Hot In Here
Happy Sunday Funday, Scarlett Johansson is whispering in my ear and slinkily sitting on chairs:
BREAKING NEWS: Pizza In Space
The cafeteria, the food court, every birthday party you had as a child, summer camp lunch huts, and bowling alleys aren't good enough. Pizza's gotta get to space, man. And Dominos wants to take it there, because who else would design a pizza station for the moon?
Otter Getting Two Kisses
Double the Cuteness: this otter is getting two kisses. And oh my gosh.