Before I tell you all about the exciting, beautiful, heart-wrenchingly important queer tarot project we're all gonna do together, let me introduce you to a little website I just made!
witchyqueers.com is a simple directory of queer-led or especially queer-friendly resources for folks who love tarot, astrology, herbalism and other wonderful woo-woo pursuits.
There's not a lot on there right now, but if you know of something that should be there, use the submit form to add it and help make this an awesome resource for all of us witchy queers. Thank you!
---
Calling all tarot-loving queers!
Wouldn't it be beautiful if there was a queer tarot deck filled with all of our feelings?
A deck of cards made from the personal stories of LGBTQ people, where each card was explained as part of the individual and/or collective queer experience?
Let's make that happen!
We all have stories to tell. Stories about coming out. Stories about first loves. Stories about discrimination, liberation, escape, self-acceptance, pride, shame, faith, joy, regret, being lost, being found and so much more. Some of those stories are inspiring, others are tragic. Some are light and funny, others carry the weight of lessons learned.
The Queer Tarot Project is a place to share these stories through the medium of tarot.
Because what is tarot but one huge big story? A choose-your-own-adventure and the graphic novel of your life. The universal story of humanity, shuffled and re-told, over, and over. Cycles of Death and rebirth as The Fool. Confronting The Tower, taking comfort in The Star. A never-ending search for The World or the Ten of Cups. Trials and tribulations, projects, realisations and so many feelings and experiences.
Every time we pull a tarot card, we're rewriting our story. Exploring and articulating our experiences. Getting to know ourselves that little bit better. Learning and growing, celebrating ourselves, learning to love ourselves more.
So dig out your tarot deck (or call up your tarot-loving friend). Shuffle though those cards until you recognise yourself. Choose the one that resonates the most for you. It could be any one of 78 magical cards!
For example…
The Knight of Wands, representing how you felt when you first came out and hit the scene.
Two of Swords, showing how you protected yourself when those you loved were not supportive.
The Seven of Wands, depicting how you stood up for queer visibility on your first Pride march.
The Ace of Pentacles, when you finally felt you were living in your 'right' gender identity.
The Five of Pentacles, representing how how it feels to be cast out of your home or community.
The Queen of Cups, symbolising how you celebrate your queerness through your art.
Or a card that touched you deep that time when you had *that reading*
Long stories, short stories, poetry, prose. It's up to you how you want to tell your story. The only important thing is that it incorporates the energy, symbolism, ideas or imagery of one tarot card (if you have more than one special card, you can submit more than once.) Triple bonus brownie points if you include a picture!
Going forwards, I have hopes for a physical tarot deck too! This website forms the basis of a big, beautiful storytelling project… and hopefully, a real, published tarot deck. As the website grows and more and more people contribute, I plan to use submissions to put together something really, really special. The stories might become a book, and the artwork shared, a deck of cards.
Honestly, though? I'm not 100% sure where this will go right now. I know that people keep talking about creating a queer tarot deck. I know that I get a whole load of emails from people asking how and when this can happen.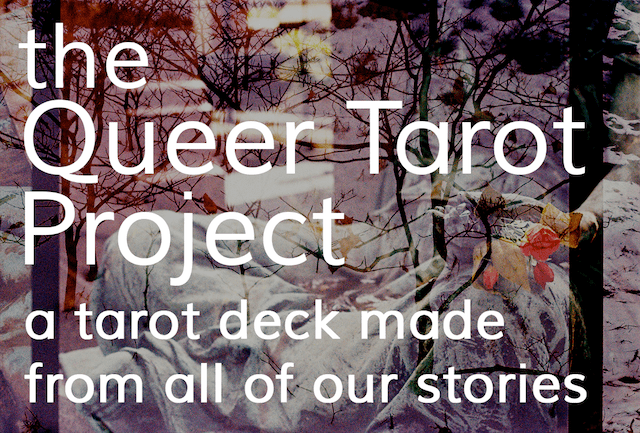 This is where we begin — together.
Add your story here: queertarot.com