We can probably all agree that starting a business is damn hard work. The amount of energy most of us put into developing our ideas, getting past those weird money/marketing feels, and putting ourselves out there, not to mention actually doing our work and all of the admin that goes with it can add up to one of the biggest (and most exciting) challenges many of us will ever face.
But what if you also add disability and/or illness into the mix? What if you can't rely on those energy levels at any given time, or your body lets you down just when your business needs you to show up? Is it really possible to head down the road to business ownership when faced with such roadblocks?
Virtual assistant (VA) Lizzy Goddard is familiar with the additional challenges chronic illness can bring to entrepreneurship. Having lived with chronic fatigue syndrome for most of her adult life, she found that working for herself actually helped her to design a life that worked with her body's needs. She has found simple and practical ways to manage two small businesses alongside her body's needs — firstly as the creator of The Pillow Fort, an online community for young people with chronic illness, and later as a VA, a freelancing gig that accidentally became her main source of income.
In this installment of Follow Your Arrow, Lizzy talks us through her day-to-day life as a solopreneur, how entrepreneurship has transformed her outlook on life, the inspirational power of women's business communities…and doing business in a onesie.
Age 26, Nottingham, UK
Hi Lizzy! Can you describe your business/organisation in a paragraph? What's your mission? Who do you serve?
I'm a Virtual Assistant and I help solo/small online business owners with a wide range of admin/marketing/website/content delivery tasks. My clients are located all around the world, and they either work with other online business owners (business coaches, copywriters, designers, etc), or they're more life/health coaches of some sort. I have quite a few long term clients, and I'll work for them 10-40 hours a month. And then the rest are more one-off projects, like building websites for them to deliver their online courses through. I'm quite a technical VA and work with a range of different apps and software to assist my clients to get their content and message out into the world. I take stuff off their plates so they can focus on doing the things in their businesses that only they can do.
How would you describe your approach to business?
I'm mostly just making it up as I go along – and so far, so good! My website and how I present myself online is me, and not some overly professional persona. I'm wearing a giraffe onesie in my main photo! A lot of people start their online businesses because they want the freedom to work for themselves and really be themselves. In my experience, they don't want to work with a VA who's presenting themselves as super corporate. I'm just a normal person. Most days I don't get dressed properly. I'm friends with my clients. I can be 'me' in my business, and still totally epic at what I do.
What does a typical day look like for you? 
I try to get up at a vaguely civilised time. I'm usually sat at my computer in my office by 9am. But if my body is telling me I need extra sleep, I'll just have a lie-in. I don't have much of a routine, but I generally find myself sat in front of my computer on/off until about 5pm, unless I have something else in the day, or a call with an international client in the evening. I drink a huge amount of tea, so that gets me away from the computer for a walk downstairs every few hours.
Most of the time I'm working on things for my clients (their websites, their email marketing, their social media, etc). I'm also on Facebook a lot – interacting in groups with other business owners like me and being helpful. Every few days I'll have a Skype call to check in with a client, or to chat with a new, potential client.
I work roughly 25 hours a week. I'm in love with the freedom and flexibility I have in my life. I can decide exactly what I want to do, and when.
What is your workspace like?
Last summer we changed the spare bedroom into an office for me, and my productivity skyrocketed, particularly with my iffy health. It's much less tempting to crawl back into bed with a laptop now I'm in a completely different room on a computer.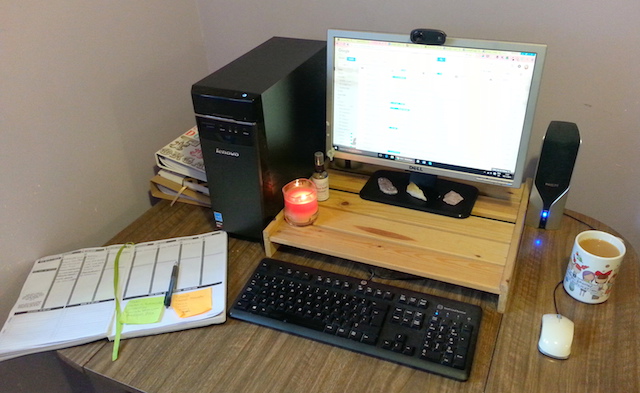 When did you know that this was what you wanted to do? And what were your early goals, your first steps? 
I had absolutely no idea this is what I wanted to do. In 2013 I was too ill to work, living on disability benefits, and had just dropped out of my masters degree. My friend (a fellow queer business lady!) introduced me to the world of lifestyle design, which then led me to the world of online business. Here were all these people, working from home/travelling, and running fun businesses from their laptops.
After hanging out in this world for a few months, I started The Pillow Fort – a shop, digital magazine, community and blog all with the aim of making chronic illness suck less for youngish people through positivity and fun. I was able to make an actual difference in people's lives (people just like me!) and make a little money.
My health improved dramatically in 2014, and I had this idea that I wanted to train to be a maths teacher. I successfully got accepted onto a course starting September 2015. I had 6 months to kill and decided to start up as a temporary VA. I had a lot of the necessary skills of online business from starting The Pillow Fort and figured I could put them to good use in other people's businesses. I posted around the online business communities I was in that this was my side-hustle for the next 6 months and easily started to get clients. Within about two weeks of starting as a VA I couldn't remember why I wanted to be a teacher – I was being paid to do exactly what I did before – play on the internet all day long! About 2 months in I was making more than enough to live off, had doubled my rates and was hovering around fully booked. I dropped out the teaching degree, and now I'm a full-time, accidentally permanent VA!
I doubt I'll be a VA in my current business structure forever, but I know I can't imagine ever getting a normal job.
Why do you do this? What makes you spring out of bed in the morning? What's the best thing about the work you do?
Ultimately, my work doesn't feel like work. It feels like being paid to play on the internet, play with tech and think up creative ways to help other people market their incredible gifts and get them in front of the people who need them. I'm really motivated by being helpful, and I'm emotionally invested in the success of my clients' businesses because I passionately believe in the work they do.
And the worst? What challenges do you face?
Genuinely, the worst thing about what I do is that there's only one of me and there's only so many hours in the day, and I can only take on a certain number of clients. This feels like a cop-out of an answer, but the biggest frustrations I have in my business are all related to my not being able to do more of it!
How do you approach issues like work/life balance whilst also dealing with chronic illness and your changing health needs?
The biggest work-life balance consideration I have is my health. Despite being much better than I was a few years ago, I still have mild Chronic Fatigue Syndrome, and I do have to be very careful with my energy levels. I always have to plan for recovery time after bigger events/trips, and sometimes I'll just be randomly wiped out for a few days/weeks. Virtually all my clients know about my health (it is on my website if they read it initially!) and I'm always really upfront and open about how I'm doing.
So far, when I've unexpectedly needed to just take some time off to rest, they've always been incredibly understanding. The flexibility to nap in the afternoon, or just push work onto the weekend works very well for me. There's definitely work deadlines, but there's a lot of scope for shuffling around when I actually do things.
Where would you like to see yourself in five, ten years' time?
I'm still really enjoying the novelty of actually being able to dream and plan for the future! A couple of years ago I was having to live day to day as my primary coping mechanism for my physical and mental health.
I'd really like to start to grow my business in a way that means I'm not solely trading hours for money. I might build a team, create a course, or start mentoring new VAs. I'm really focused on building a beautiful life for my girlfriend and I: being able to travel, do fun things, and generally not have to worry about money. I'd love to be living in a house in the countryside and starting a family. I want to continue waking up every morning and feeling proud of the business I've built.
I've always been an incredibly driven person, and always strive to be the best at whatever it is I'm doing – so even if I don't know exactly what I hope to be doing in 5-10 years, I'm sure I'll still want to be the best at it!
How do you market your business?
Pretty much exclusively in Facebook groups. I'm active in loads of different online business groups. I try to be really helpful when people have questions I know the answer to, or can provide some insight for. Then when someone posts looking for a VA, people think of me and tag me. This is how I got my first few clients. Now it's a mixture of Facebook groups and referrals from existing/previous clients.
What's the most valuable tool in your kit?
The only thing I really need is a good computer/laptop and a decent internet connection!
How does being LGBTQ impact on your business (if at all)?
I'm very much out in the online world. It's on all my social media, and on my website. All my clients know I have a girlfriend, and I talk about her and what we did at the weekend or whatever sometimes. Normal stuff. I'd never want to be in the position where someone I'm working with didn't know, and then found out, and then was uncomfortable with it.
I've actually had someone approach me to work for them because I'm queer (and they're queer, and they feel more comfortable), that was kinda cool.
Beyond that, being queer has virtually no impact on my business. I mean, it's probably why I turned down working with the lady who's a sexuality coach for cis men, but other than that, no!
What three websites, blogs, books or people do you rate for business advice or ideas about your work?
Marie Forleo is basically the queen of the online business world I live in. Every Tuesday she publishes an episode of MarieTV, full of fantastic business advice on pretty much every topic/issue imaginable. She also runs B-School, an 8 week comprehensive online business course.
Rebecca Tracey of The Uncaged Life is a no-nonsense business coach, helping people particularly in the startup/foundation laying stage of their business. I took her signature month long group programme (Uncage Your Business) early on in my entrepreneurial journey and it changed everything for me in terms of the clarity and direction I got out of it.
Denise Duffield-Thomas of Lucky Bitch is a money mindset coach. I know that sounds totally weird and irrelevant, but sorting out my mindset towards money has been absolutely essential in growing a successful business. She's got loads of free content on her website to get you started with this side of things, plus a full course which is hands down my favourite online community of fabulous business women.
What are your hot tips for queer women who want to start their own business?
Just start.
You can figure it out as you go.
Having an imperfect thing in the world is infinitely better than a perfect idea in your head.
There's no special secret that people with their own business know that you don't know.
Go and get cosy with the worst case scenario (and generally people find that the worst case scenario is that it doesn't work, and they have to get a job… which is what they have right now!).
Make sure you get yourself into some supportive communities of other business owners (there's literally hundreds of free Facebook groups).
Don't pay too much attention to advice/fears from people who don't have their own businesses – they love you, but they don't get it.
The world needs more women to forge their own path. Opting out of everything you've ever been told you 'should' do with your life is the most freeing thing.
---
You can find out more about Lizzy's VA business at elizabethgoddard.co.uk, or follow her on Twitter or Instagram. If you're interested in The Pillow Fort, check out thepillowfort.co.uk, or join the conversation on Facebook or Twitter.
Do you run your own business, organisation or charity? Want to tell us all about it? Email beth at autostraddle dot com and let us know how your business story can inspire others! We are, as always, especially interested in hearing from women of colour, women with disabilities, trans women and non-binary folks and people outside of the US and UK.