One thing I love about writing this column is the array of exciting, original and intriguing job titles I come across. When you're self-employed, when you start your own business, when you follow your arrow, you get to pick that title for yourself. You can proudly declare to the world: this is who I am, and this is what I do — and no-one can dispute that.
Today I'm really excited to share the story of Pace Smith, who describes herself as a "Pathfinding Coach." When I heard this job title, I immediately felt drawn to Pace and her work: it conjures images of maps and compasses, journeys, movement. It turns out it's about even more than that. Pace works with clients around the world to help them listen to their hearts and find magic and fulfillment, using her HeartCompass Technique.
Intrigued? Read on. In this interview, Pace explains just what pathfinding is all about, and how exploring her own path led her to set up this business. She also shares her fail-safe time management technique, her plans for the future, and what it's like when your life partner is also your business partner.
---
Age 38, Beacon NY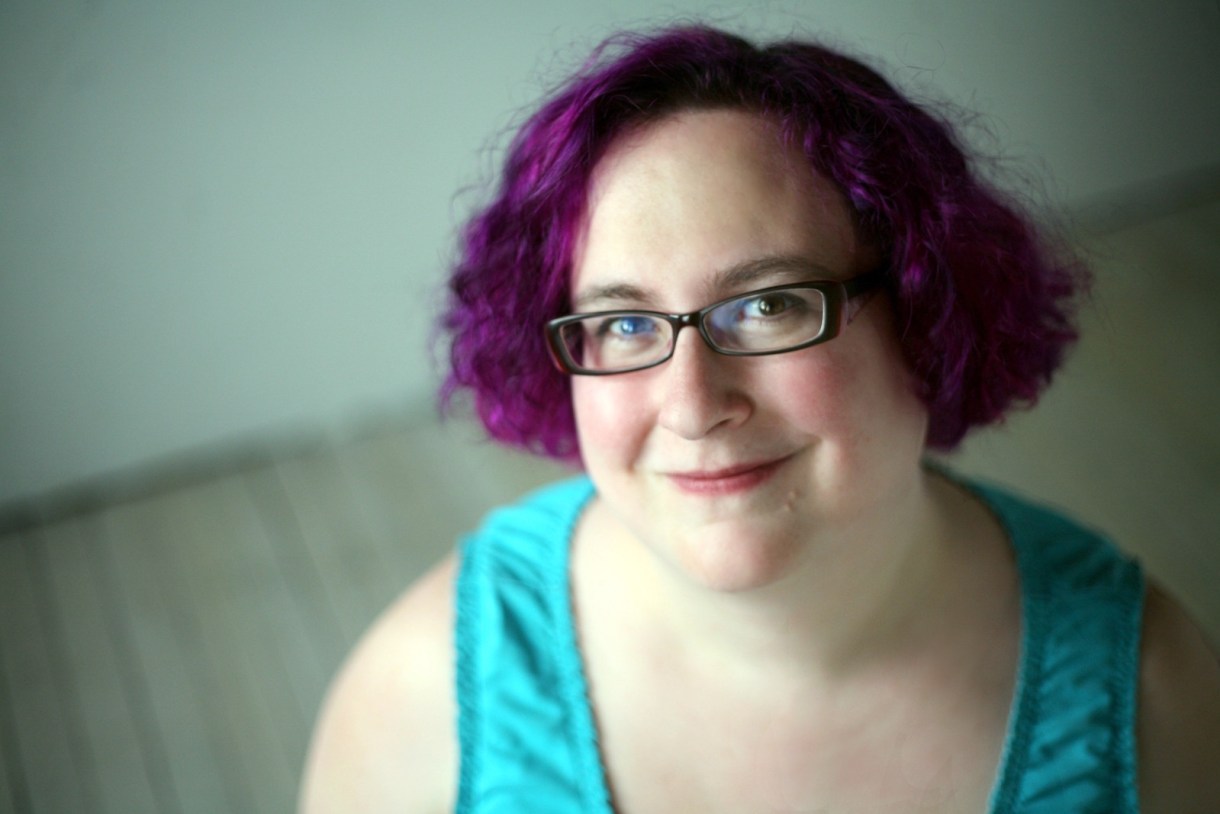 Hi Pace! Can you introduce your business/organization?
I help sensitive spiritual nonconformists live wild, crazy, meaningful lives. The heart of my business is Pathfinding, which is finding your heart's calling. The way to find your heart's calling is to bridge the practical and the profound. The calling of your heart is a deep inner knowing, but it needs to get out of your heart and into the world, so there's a lot of hands-on practical work as well. When the two combine, magic happens. And I do all of this online and on the phone, so I can help Pathfinders all over the world.
I'm a duopreneur. I'm the face of the business, but my wife and business partner, Kyeli, is the power behind the throne. I have a day job that I work at half-time (totally unrelated to my business) and I do all my Pathfinding work in the other half of my time.
How would you describe your approach to business? What personal qualities inform your approach?
I have a brilliant brain and a huge heart, so my business struggle has been to get them to work together instead of against each other. In the early days, it was hard for me to establish a solid business because I felt that my heart needed to be 100% involved with every tiny business move. This resulted in a lot of confusion in my audience and my brand, because my heart fluttered about like a bird, winging to and fro, giving my audience whiplash. Eventually I learned that I get to use my brain in balance with my heart; as long as my heart is the boss, my brain is amazing at organizing and systematizing. So now I use my brain to create the business structures, and I double-check with my heart to make sure I'm aligned and in integrity.
What does a typical day look like for you?  What is your workspace like?
On a typical day, I'll create one new podcast episode, have one coaching call, work on my seasonal project, and do the little fiddly bits that keep the business running. Creating a podcast episode involves deciding on a topic, inviting and scheduling a guest if there's a guest, writing a limerick for the introduction, actually recording the episode, writing up the show notes, doing a tiny amount of audio editing, then uploading it. The whole process takes about an hour and a half for an hour-long episode. My seasonal project is either a course that I'm teaching or a marketing outreach. If it's a course, then my day-to-day work varies: writing content to promote the course, asking friends and affiliates for help spreading the word, reviewing and improving the actual course materials, teaching the course, answering student questions, gathering testimonials to put on the sales page the next time I teach the course, etc.
I spend about 20 hours a week working on my business: I do my Pathfinding work in the mornings and my day job in the afternoons, because I need more creative juice and decision-making power for my Pathfinding work, and it runs low in the afternoons. Having a solid routine helps me conserve my precious decision-making power for important decisions instead of squandering it on decisions like "When do I want to do this?" I do almost all of my work online and on the phone, so my workspace is minimalist: just a desk on which sit my laptop, my phone (with really swanky headphones), and a pile of Enneagram books.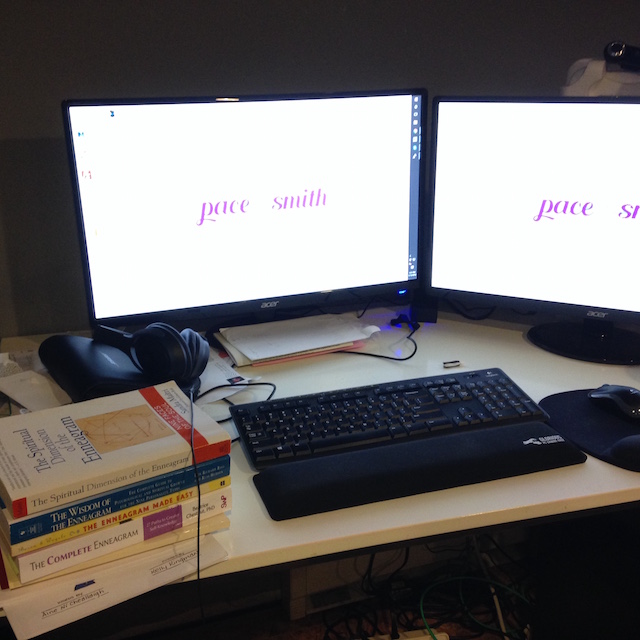 When did you know that this was what you wanted to do? And what were your early goals, your first steps? 
Once upon a time, my wife Kyeli and I made plans to attend a weekend-long event. The event organizers asked for volunteers to give presentations on anything that interested them. On a whim, we suggested communication and relationships, since that was something we enjoyed talking about. On the way to the event, we brainstormed a few bullet points and put them on a whiteboard.
We gave the presentation, and it was a lot of fun! Afterward, almost everyone who attended came up to thank us for how much they had learned! Two people even sought us out the next day to tell us how a piece of advice we gave had helped them that very weekend!
My heart felt so full that I knew I had to do more of this. I had to teach, I had to help people, I had to open my heart.
We started teaching more communication workshops in the evenings and weekends. We co-wrote a book, The Usual Error, writing for an hour each evening after I got home from my day job.
My early goal was simply to feel more of that heart-full feeling I get when I help others. My next goal was to be able to do that for a living. After three years of building, I went to half time at my job. After two years of half time, I quit my job entirely. And after three years of full-time self-employment, I went back to half time at my day job – but that's another story.
Why do you do this? What makes you spring out of bed in the morning? What's the best thing about the work you do?
The thing I love the most about my work is the feeling I get when I disappear in flow, when I'm channeling whatever is needed. I'm doing my best, I'm using the skills I've learned, but I'm using them without attachment, without ego. This can happen when I'm coaching, when I'm podcasting, when I'm teaching, when I'm writing – but whenever it happens, I know that I'm on the right path.
And the worst?
The worst thing about my work is that if I'm not careful, I become my own asshole boss. I create a to-do list for myself full of bullshit I don't care about, because I feel removed from why I'm doing it. I focus on all the sales and marketing I have to slog through to get to the delicious heart-full feeling. I need to constantly remember to keep my heart open so that I don't accidentally turn my dream job into drudgery.
What are the key challenges you face in your work? What are your tactics for overcoming these?
Time management and marketing are my two biggest challenges. The reason marketing is so hard for me is that there's no clear feedback loop. I do some marketing, some people enroll but not as many as I hoped. Why? It could be that my copy was poorly written. It could be that my offer itself wasn't compelling enough. It could be that the timing was off. It could be that my outreach didn't reach enough people. It's hard to know what the reason is, and that makes it hard to improve. The best way I've found to overcome this challenge is to treat marketing as both an art and a science. If I do the same thing multiple times, I can do science. I can try different techniques and measure the results. And as for the art, I learn from artists who are better than me. I take courses on business and marketing, I read books, and I hire coaches. All of these investments have paid for themselves many times over.
How do you approach time management?
My number one time management technique is to separate planning from doing. I have a CEO hat and an employee hat. When I'm wearing my CEO hat, I plan. I create to-do lists, appointments, and schedules – but I don't complete any tasks. Then I take off my CEO hat and put on my employee hat, and I can do tasks without worrying whether I'm doing the right thing. If I don't keep my hats separate, I exhaust myself by constantly second-guessing my own plans, and waste time deciding what order to do things in.
I run my entire business in 20 hours a week by automating, delegating, and systematizing. Anything that can be automated – for example, scheduling my Pathfinding coaching clients' appointment – is automated. Anything that can be delegated – for example, putting together my weekly newsletter – is delegated. And the rest is systematized as much as possible. If I teach a course and it goes well, I turn that course into a template. Next time I teach a course, I'll use the same software, unless there's a good reason not to. Next time I teach a course, I'll use the same enrollment schedule, unless there's a good reason not to. Systematizing the structure of the course frees me up to focus on the content.
And what about work-life balance? Has your social life been impacted?
Having my life partner as my business partner has been both very bad and very good, but in the end, far more good than bad. It's created a lot of opportunities for conflict, but we've gotten through them and have come out stronger in the end. It helps a lot with work-life balance, because we get to spend time together working on our business.
The biggest way that my business has impacted my work-life balance is that I'm often exhausted in the evenings. I'm tired from making decisions all day, so I just want to chill out. This is usually fine, but when there's a life issue that needs to be addressed, I'm not at my best. The best way we've found of managing this is to set aside some time on Saturday mornings to deal with these things if they can wait. That way, I'm fresh and ready to solve problems, and I still get a full day to rest on Sunday.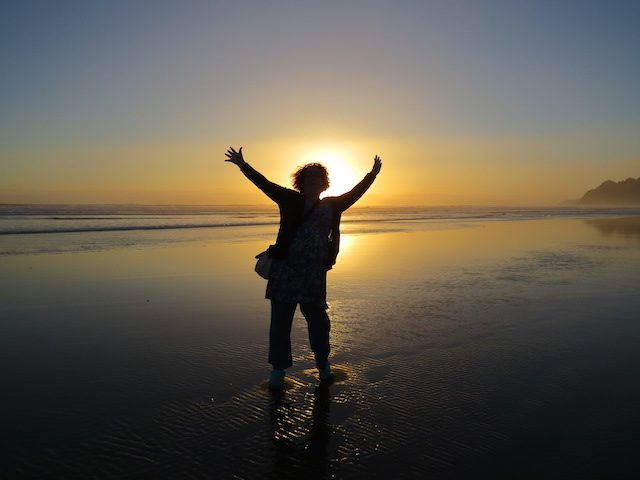 Let's talk money for a moment. Can you tell us about your financial situation when you started out?
I bootstrapped my business using my savings. I kept my startup costs low, and since almost all of my work is online or over the phone, I don't have a lot of overhead. 75 percent of my business income comes from coaching, and the rest comes mostly from teaching online courses. I started out with a "launch and pray" business model, in which I would build up to two massive course launches per year and pray that enough students enrolled. This was super stressful because when it didn't work, I didn't have a solid backup plan. So, I shifted to a more sustainable business model in which my coaching clients sign up for a six-month coaching program. This makes my income steadier and more sustainable.
Is your business sustainable now? How do you feel about the money side of following your arrow?
My business pays about half the bills and my day job pays the other half, with a bit left over for savings. It's completely sustainable. I make enough money to take care of my wife's medical needs and to help put my son through college – and I get to do it by helping others and doing what I love. What more could I ask for?
I think a lot of entrepreneurs view having a day job as a failure, and I think that's a dangerous and harmful point of view. If you place the entire burden of making a living on your precious heart, that heavy burden can be enough to crush it. Your heart needs to be free. Your heart needs to express itself truly, and it's difficult to listen to your heart's truth when your brain is freaking out about paying the bills. Personally, choosing to return to half time at my day job was the best possible thing for my business. It's been challenging to squeeze everything that needs to be done into 4 hours a day, yes, but that's nothing compared to the feeling of lightness and possibility that I feel knowing that my family will not suffer if I take a risk in my Pathfinding work. My business can't grow without taking risks, and my heart can't express herself truly without taking risks. Having a day job gives me the financial freedom that my heart needs to play.
Where would you like to see yourself in five or ten years' time?
Ha! I'm so full of surprises that I can't even predict where I'll be in one year's time. I could make a plan of where I'd like to be in five years, but that plan would come from my brain. If I got attached to it, that would make it harder to listen to my heart. That said, here are some futures that my heart resonates with. I'd like to write a book about Pathfinding. I'd like to teach in-person workshops about the Enneagram. I'd like to do more speaking. I'd like to continue learning, continue loving, and continue being of service.
How do you market your business?
Word of mouth, guest posting, and guest podcasting.
What's the most valuable tool in your kit?
My two virtual assistants are my most valuable helpers. I sent out my want ad to my own mailing list, because you can train someone on a skill, but you can't train them to care. They keep my business running so I can focus on the parts that only I can do.
But they're not tools! My most valuable tool is Asana. It's a checklist web application, and it's what my team uses to make sure things get done the right way every time.
How does being LGBTQ impact on your business (if at all)?
Being queer, trans, and generally non-mainstream is a big part of my brand and my audience. My website doesn't say, "This is for queer people" because I was surprised to find that many of my coaching clients aren't queer. So I focus on the psychographic instead of the demographic: sensitive spiritual nonconformists. It's not about who you love or who you fuck; it's about who you are and what you believe in.
What three websites, blogs, books or people do you rate for business advice or ideas about your work?
Heart of Business taught me everything I know about doing business in a heart-centered way.
Finding Your North Star by Martha Beck is a great book about following your heart. It's the best book on Pathfinding I know of until I write my own.
Big Magic by Elizabeth Gilbert is about fanning the flames of your creative spirit, and about what to watch out for when trying to make a living from creative work.
Finally, what's your hot tip for queer women who want to start their own business?
Own it, grrl. The world is getting queerer and queerer, and all the big businesses that refuse to acknowledge that are in their death throes. Your time is coming. Follow your heart. Do what you love. Start now.
---
Read all about Pace and her work at pacesmith.com. You can also hang out with her on Facebook, Twitter and Instagram!
Are you a queer woman of colour running your own business or side-hustle? Do you know someone who is? We would love to hear from you! Email beth at autostraddle dot com to tell us all about it.