One of my favorite stories about Lorena "Hick" Hickok — the Associated Press reporter who covered Franklin D. Roosevelt's presidential campaign and then became the two decade-long lover and confidante of Eleanor Roosevelt — is that she refused Secret Service protection. Not because she thought she was above being targeted by all manner of goons as she traipsed in and out of the White House and Eleanor's bed, but because she really believed no prospective assassin or kidnapper could take her down. She stood six feet tall, weighed over 200 pounds, refused to apologize for any inch or ounce of her size, and laughed at the White House when they suggested that one of FDR's enemies might snatch her up. She asked if she looked like she could be folded to fit into the trunk of a car. The Secret Service agreed she was, in fact, too tall and not quite bendy enough for that; and it was the end of the discussion. She and Eleanor traveled the country like Thelma and Louise without any kind of bodyguard.
Hick was as high society butch as they came in the 1940s. She loved women, especially powerful, feisty, brilliant ones. She clomped around when she walked, took up as much space as she wanted, stood too close — staring down and unblinking — to every man she met, loved sports, refused to tolerate injustice, and could not keep her mouth shut. Insolent, they called her; and she laughed at that too. Her laugh, you will be unsurprised to hear, was "booming." Eleanor Roosevelt adored her.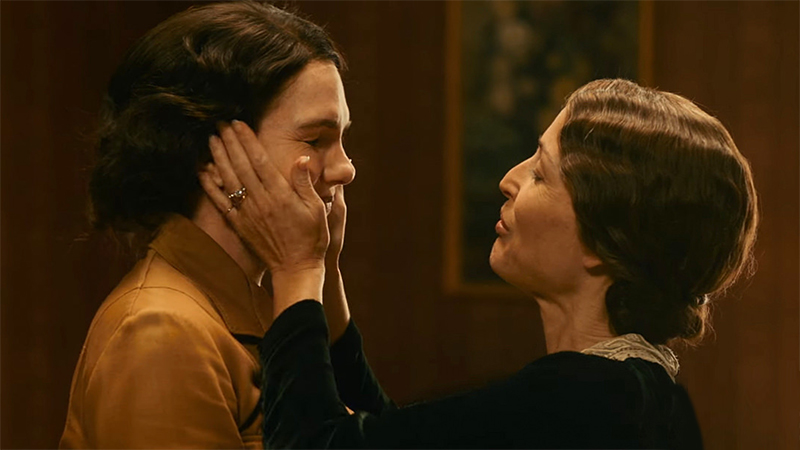 Showtime's new mini-series, First Lady, which stars Viola Davis as Michelle Obama, Gillian Anderson as Eleanor Roosevelt, and Michelle Pfeiffer as Betty Ford, promised to be the first TV series to go there with Eleanor and Hick. Executive producer Cathy Schulman told reporters "it was time" — and I couldn't agree more. But I was also kind of worried, if I'm being honest. The choice to cast the super-thin, five-foot, eight-inch Lily Rabe as Hick was an odd one. So much of Hick's character was informed by her size and sexuality, and Lily Rabe — well she's a straight woman who, um, would fit into the boot of a car? I was never going to miss out on one of the most epic queer and political love stories to ever (barely) be told, though.
Let's get the bad news out of the way first: My fears about Lily Rabe were founded. Her Hick actually spends an extraordinary amount of time simply lounging around in Eleanor's bed, acting as a sounding board for Eleanor's personal and political struggles. And, look, it's great to see these two women snuggled up together, don't get me wrong! Certainly it's never been done before and I'm sure it's blowing the minds of nearly every not-queer person watching. But I also expected to see Hick striding around the West Wing, towering over the press room, bossing people around in a way that would give Anne Lister a run for her coal money. She struggled finding her place in Eleanor's world as much as Eleanor struggled to find her place in the White House. Unfortunately that's not the Hick I've seen in the episodes I've watched so far.
But! There's also plenty to love! Gillian Anderson is, of course, perfect. From the moment she appears on-screen — cheating to win a game of croquet against one of FDR's advisers — her face, her body language, her voice, her entire presence craft the story of Eleanor's frustrations about being iced out of FDR's administration after her crucial role in getting him elected, of her struggles to be taken seriously as one of the brightest political and legislative minds of the day, of her complicated relationship with her husband, and of her relief and awakening at the hands of her pal Hick. Eleanor often felt like she was the only one around FDR who really understood that the majority of Americans were starving, some of them to death. I could feel her rage coursing through me in the second episode when, at a fancy dinner party, FDR asks her to cut it out with the Social Justice Warrior stuff and just let everyone have a nice meal. It only makes her stand up and get louder.
The reviews for First Lady haven't been kind, with many critics calling it a wholesale caricature — but I don't think that's entirely fair. It's hard not to tell historical stories through the perspective of the present, especially our present. In fact, there's a prescience to Eleanor's fury on behalf of sick and impoverished Americans suffering through the Great Depression that feels just right in 2022.
Plus, Eleanor and Hick's chemistry really is lovely. They cannot get enough of being seen by each other. Which is really what falling in love is, don't you think? And theirs is a love story, one that's been deliberately erased from history time and time again. They deserve their moment, and so do we. Eleanor Roosevelt famously said that the future belongs to those who believe in the beauty of their dreams. Seeing Eleanor and Hick on TV has been my dream for a long time. My next, bigger dream is to see Hick played by an imposing butch lesbian. When she stands tall and declares no one's gonna mess with her (or her woman), I want to believe it.