There's just over a month of summer left and I intend to spend it baking and eating as many berry studded baked goods as I can get my hands on. Pretty soon the mountains of berries at the farmers markets will be replaced by apples and pears and pumpkin spice everything. I love fall but I'm not quite ready to say goodbye to summer, especially 'cause I realized I haven't written a summer berry recipe for my vegan friends yet! The horror! Here's hoping all will be forgiven with these muffins. They have everything you want in a summery muffin, namely two types of berries, banana for a little natural sweetness, walnuts for crunch, just a hint of spice and a wonderfully moist crumb. Plus given the lack of dairy and nutrient boost from the flax eggs, they're actually pretty healthy! I love having these for breakfast because the bursts of berry flavor in every bite are the perfect way to start the day. They're also so quick and easy to make you could pop them in the oven before your morning getting ready routine and have oven baked happiness ready and waiting when you're done.
Not only are these super easy to make, they're also incredibly convenient which is why I love making muffins. They're so portable and perfect for the times you need to grab and go. At times that I'm especially busy or just having a hard time motivating myself to make breakfast and need something quick and easy I always turn to muffins. I made these for friends last week before we headed out for a coastal hike in Malibu and they were a huge hit. We ate the entire dozen in minutes 'cause they leave you wanting more and more tart berry, sweet lemon and deep banana flavor. Fortunately this recipe works with frozen berries as well as fresh, so when berry season is long gone you can still whip these up and think of warmer days. For now I hope you'll bring them along to your remaining summer brunches and picnics and have the sweetest, sunniest, berry filled days you can handle.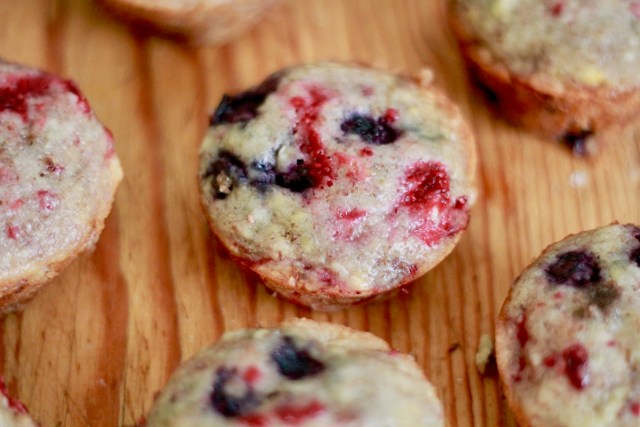 Ingredients:
2 tablespoons ground flax seed
6 tablespoons warm water
1 ripe banana
3/4 cup granulated sugar
1/4 cup coconut oil, melted
1/4 cup non-dairy milk
1/2 teaspoon vanilla extract
zest and juice of one lemon
1 1/2 cups flour
1/2 teaspoon baking soda
1/2 teaspoon salt
1/4 teaspoon ground nutmeg
1 cup blueberries
1 cup raspberries
1 cup walnuts, chopped
1. Preheat oven to 350° F. Oil muffin tin and set aside.
2. Mix and stir the ground flax seed and warm water in a small bowl and set aside to thicken.
3. Mash the banana in a large bowl, then add sugar, coconut oil, non-dairy milk, vanilla, and lemon zest and juice, and whisk together.
4. Sift the flour, baking soda, salt, and nutmeg into the wet ingredients and stir just until combined.
5. Fold in the blueberries, raspberries, and walnuts, then scoop batter into prepared muffin tin.
6. Bake for 20-23 minutes, or until a cake tester (or toothpick or chopstick) comes out clean. Remove from oven and allow to cool for 5 minutes in the pan before transferring the muffins to a wire rack to continue cooling. They're delicious warm so you don't have to wait too long.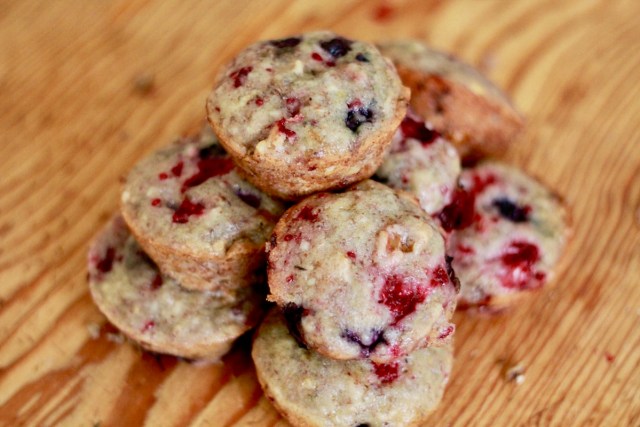 7. Enjoy your end of summer vegan berry bundles of joy!