Zucchini is one of my all time favorite summer vegetables mainly because its so versatile. I know so many amazing ways to prepare zucchini.  I grill it and stuff it into pita bread with hummus, bake it into frittatas and galletes with corn and goat cheese, sauté it with basil in a sweet ginger soy sauce to serve over rice, and of course, grate it up and bake it into zucchini bread. I have to admit though, traditional zucchini bread is a huge pet peeve of mine. Most of them are made with tons of sugar and spices more reminiscent of fall to mask the flavor of the zucchini and I just can't stand that! Zucchini has an amazing bright but delicate flavor, and comes into season in the SUMMER so why is the general practice to make it taste like something that should be eaten alongside a pumpkin spice latte in October? I don't get it, I don't like it, and I think it's a disservice to call something zucchini bread if it doesn't even taste like zucchini!
Clearly I have a lot of feelings about this summer squash, so a few years ago I baked  them all into this recipe. I wanted something that diverged from the traditional theme of zucchini bread and tasted more like something you'd want for breakfast on a warm sun-washed morning. The lemon and coconut oil lend the light and bright summer taste I dreamed of while balancing, not overpowering, the earthiness of the squash. Combined with a just sweet enough batter and those lightly toasted walnuts for crunch, this bread is dare I say it worth turning the oven on in July. It also disappears faster than I want it to every time. Thank goodness lemon and zucchini are plentiful all summer long so you can make this over and over and over again, and I have a pretty good feeling that you'll want to.
Ingredients:
1 cup walnuts
1/2 cup to 3/4 cup sugar ( I like mine less sweet so usually use 1/2 a cup)
zest of one lemon
juice of one lemon
2 large eggs
1/2 cup coconut oil, melted
1/2 cup lemon flavored yogurt (use plain greek yogurt if you can't find lemon)
2 cups all purpose flour
1/2 teaspoon baking powder
1/2 teaspoon baking soda
1/2 teaspoon salt
1 cup grated zucchini
Preheat oven to 350° F. Butter or oil a 9×13 baking pan and set aside.
Coarsely chop the walnuts, then place them in the oven while it preheats to toast for about 8 minutes. Remove from oven and set aside.
Place the flour, baking powder, baking soda, and salt in a medium bowl. Whisk to combine then set aside.
Add the sugar and lemon zest to a large bowl and rub the zest into the sugar for about a minute to release the lemon oils, then add the lemon juice and stir.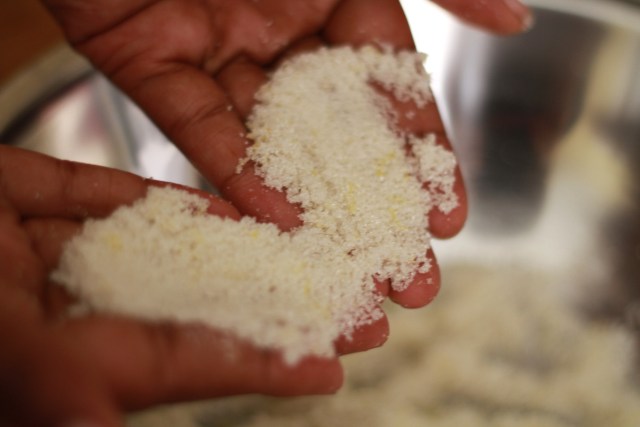 Whisk the eggs, coconut oil, and yogurt into the lemon sugar mixture until combined, then add the flour mixture and stir just until the batter comes together and all the flour is absorbed. Now fold in the zucchini, then pour the batter into your prepared baking pan and spread it evenly.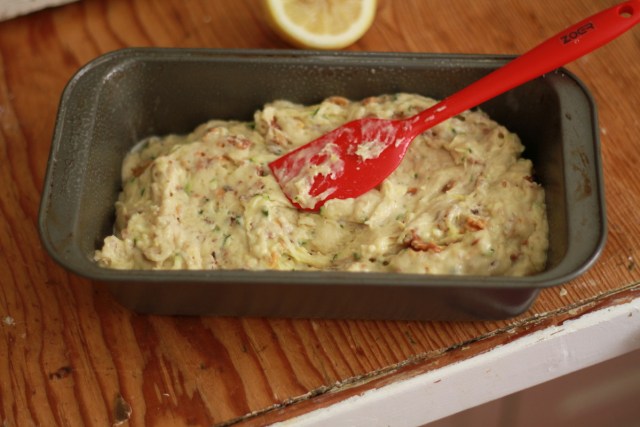 Bake for 30-40 minutes or until a toothpick, knife, or my personal favorite, a chopstick inserted in the middle of the loaf comes out clean.
Remove from the oven and allow to cool for 10 minutes before turning the loaf out of the pan. You may need to run a butter knife around the sides of the pan to loosen the loaf before turning it out,, then allow the loaf to cool on a wire rack for at least 10 more minutes before cutting.
Enjoy your little slice of zucchini sunshine!