So I know the holidays are traditionally all about cookies. Cookie swaps, cookie decorating parties, all cookie everything and I love a good cookie, I really do, but I don't love the amount of time and energy it takes to make giant batches of cookies during what is considerably the busiest and most stressful time of year. Sometimes I'm ready and willing to tie on my apron and bake till my kitchen is redecorated in butter, flour and confectioners sugar but at the times that I need a holiday treat to gift or snack on and want it to be a real chill process I turn to peppermint bark! I first discovered peppermint bark back in high school. My mom had gotten one of those giant gift baskets full of random snacks, crackers, jams, you know, the ones with off brand products with questionable expiration dates. I was rooting through it looking for chocolate and the only thing left was white chocolate peppermint bark which I was originally bummed to discover but then I tried it and ended up eating the whole bag.
The next day I spent my study hall looking up peppermint bark recipes in the library and realized it's essentially the most customizable holiday treat out there. You can swap out or layer different kinds of chocolate – which I did 'cause I'm team dark chocolate all the way – and add things like orange zest, cranberries and crystallized ginger. There are versions with marshmallows and pretzel pieces, M&Ms, walnuts, Nutella! The combinations are nearly endless, so, as always, I trust that you'll try some options out and let me know what you created in the comments!
For this recipe I wanted to keep it simple, 'cause it turns out this is my favorite version of all. There's something about salted dark chocolate melting in my mouth and the refreshing crunch of mint at the end that just really does it for me. Hopefully this will do it for you too. It's simple, delicious, festive, and so easy to make. Plus you can easily double this recipe, make a bunch of batches and wrap them in cellophane bags tied with ribbon for gifts and bake sales. It's also incredible broken into smaller pieces and sprinkled on top of ice cream. Just sayin', you could be eating a peppermint bark sundae and watching Life–Size 2 in 20 minutes. Those are some Saturday plans I can get behind!
---
Ingredients:
12 oz dark chocolate, broken into small pieces
1/2 cup candy canes (5 large or 10 small depending on the size/brand)
1/4 tsp coarse sea salt
1. Line a quarter sheet pan with parchment paper and set aside. Place the candy canes in a clean kitchen towel or ziplock bag and smash them like you're gonna smash your goals in 2019. Set aside.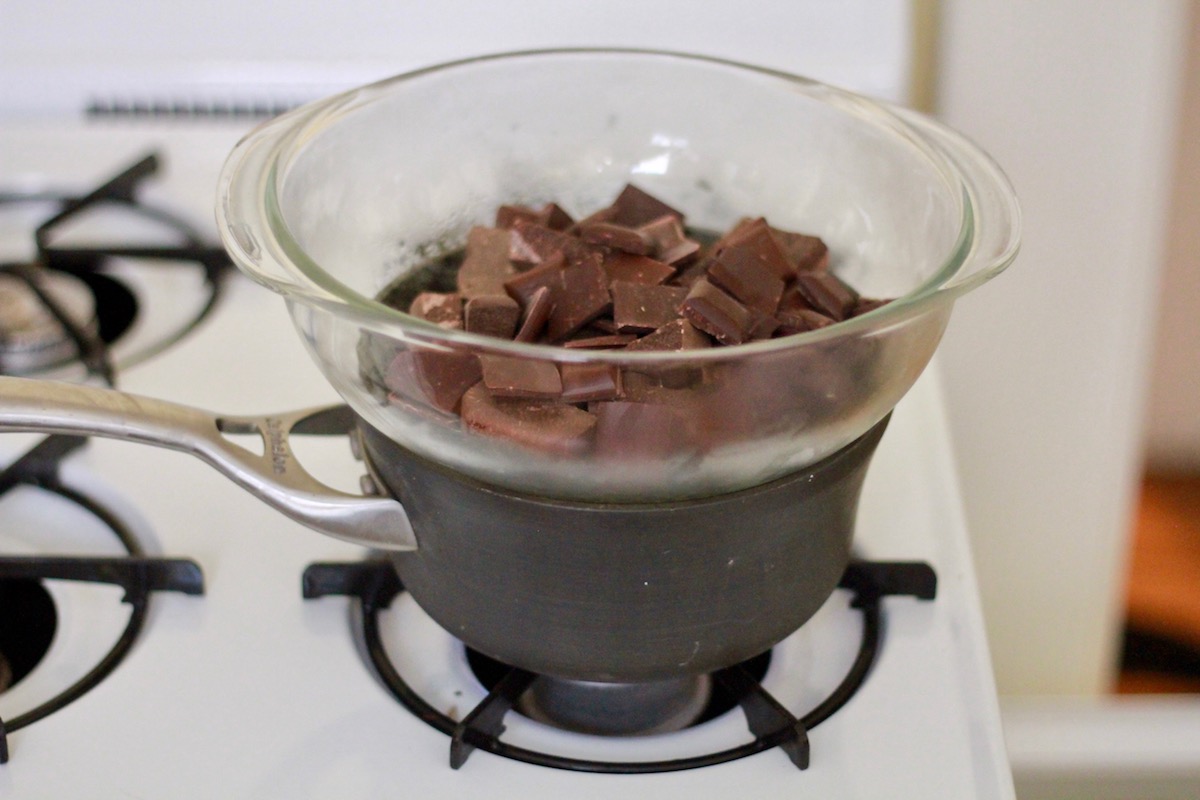 2. Next you'll need to set up a double boiler to melt the chocolate, so take a small saucepan, fill it with water, and bring it to a boil then reduce to a simmer. Now, place a heat proof (preferably glass) bowl on top of the pan and add the chocolate.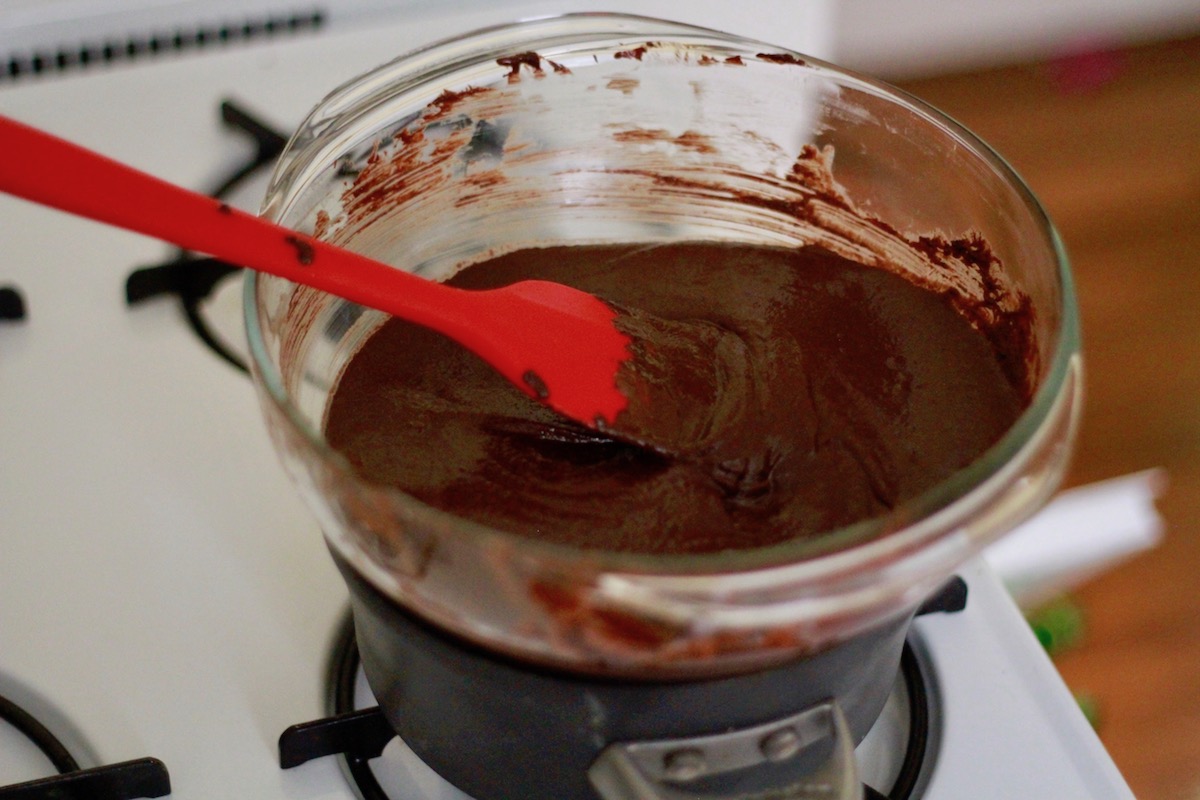 3. Stir constantly until fully melted.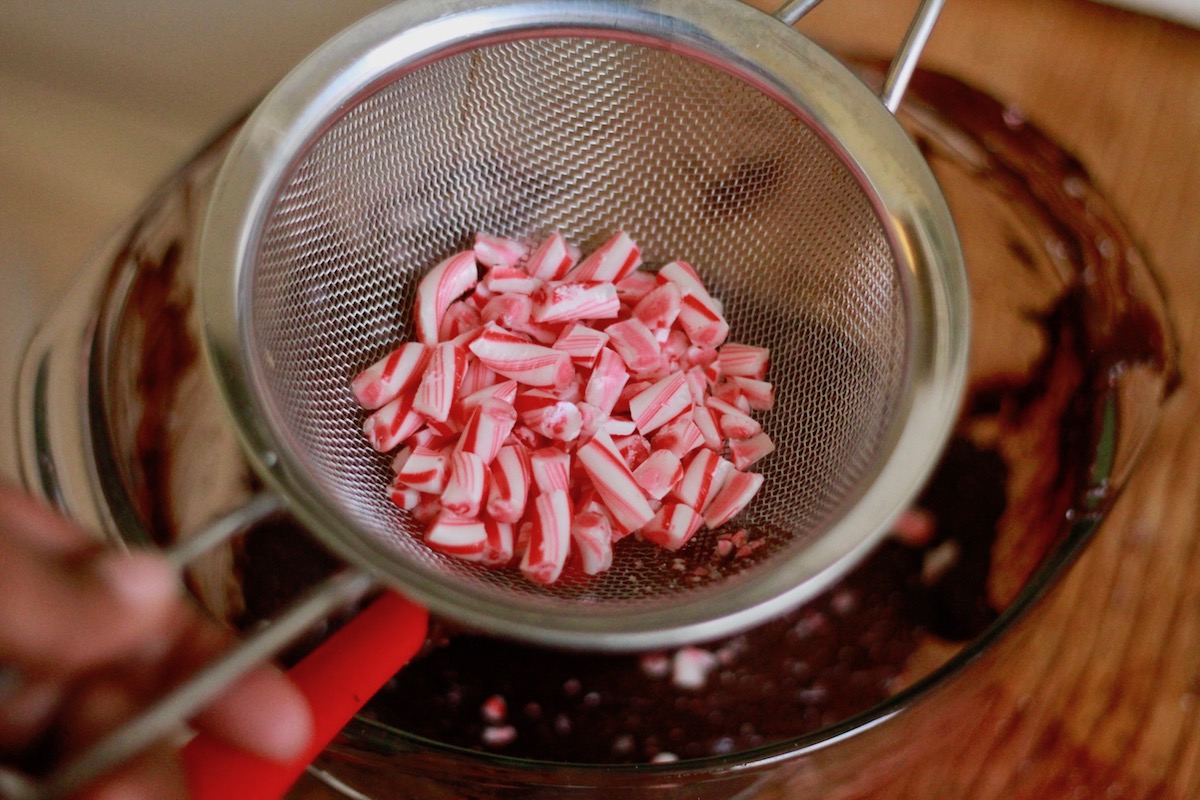 4. Once the chocolate is melted remove it from the heat, grab a metal sieve or strainer, hold it over the melted chocolate and sift the smaller crushed candy pieces into it. We want the small bits of peppermint to fall into the chocolate for flavor. 
5. Stir the chocolate then pour it onto your parchment lined sheet pan and use a rubber spatula to spread it into an even layer. 
6. Sprinkle the sea salt onto the chocolate.
7. Then finish with the remaining candy cane pieces.
8. Place in the freezer to cool for 5 minutes, or if there's no space in the fridge for 15-20.
9. Once the chocolate is fully cooled (you can poke it with a knife to check, if the knife sinks in it needs more time, if it causes the chocolate to shatter it's done!) break the peppermint bark into large chunks.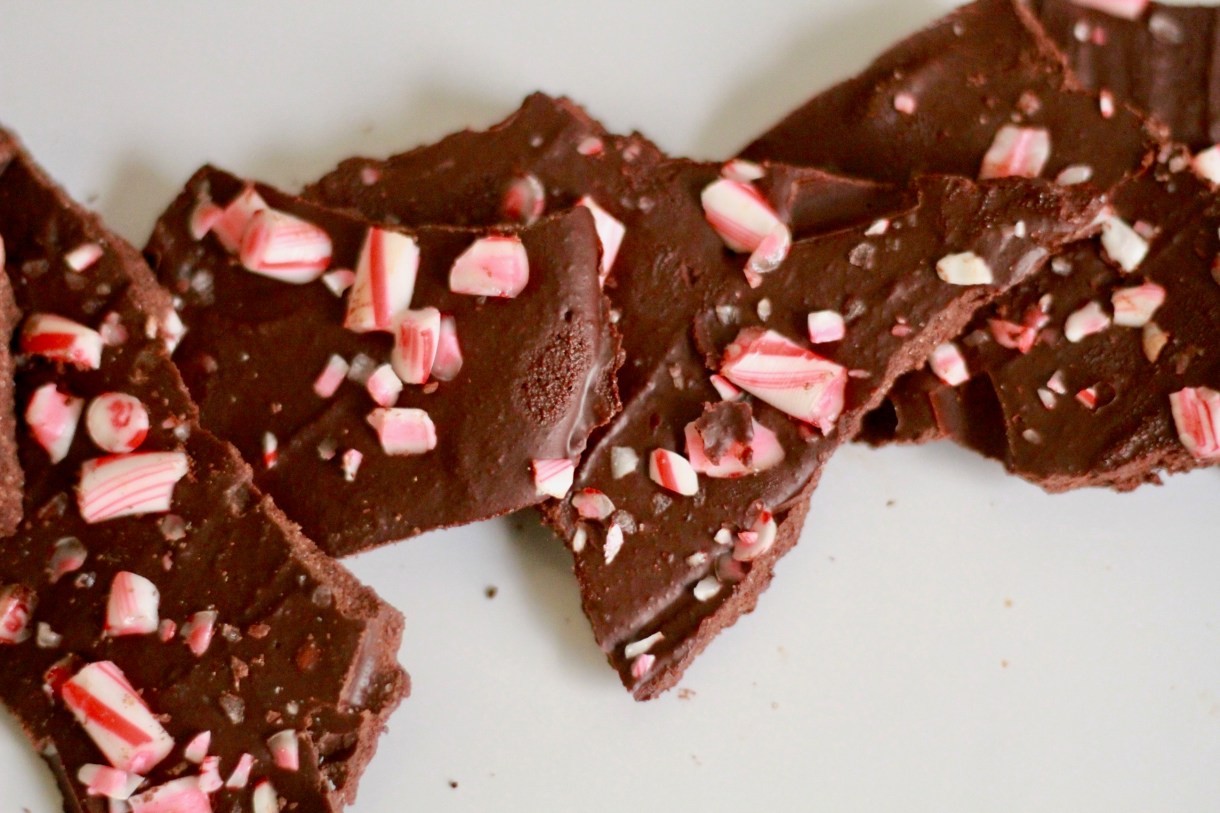 10. Eat and be merry!