If you're a foodie or into keeping up with culinary trends, you may have noticed there's a whole lot of love around Labneh going on. For those who haven't had the pleasure of meeting labneh yet, it's a middle eastern yogurt/cream cheese fusion that's perfect for swooping things through. It's thicker than greek yogurt, thinner than cream cheese, creamy as can be and has a tang comparable to buttermilk. In the last few months I've seen labneh topped dishes popping up all over Los Angeles and I love it cause I can't get enough. I've had it with pita and roasted vegetables, as the base for my honey citrus salad, and at breakfast full of granola. It's also incredible swirled into tomato soup. Earlier today I saw a recipe for preserved lemon and labneh cheesecake that I will be making as soon as I finish writing this. Of all the adornments for labneh I've tried – these bananas are in a league of their own.
The warm caramelized bananas alone are a treat, but coated in this deep maple and brown sugar sweetened sauce that essentially candies the walnuts, they're mouthwatering.Then you place all this warm, actually melt in your mouth, goodness over the cool, tangy cloud of labneh and its expectation exceedingly delicious. The labneh curbs the sweetness of the bananas and almost absorbs them into it's creaminess leaving just the walnuts behind for a nice crunch. Using a base of labneh rather than ice cream also lands this solidly in the group of desserts that are also breakfast approved! I would happily eat this for breakfast every day. I literally rolled my head back and let out a deep guttural groan when I took my first bite so I really mean it – I would eat this every damn day. My taste tester said that if they went to a new restaurant and ordered this, they would go back just to order it again, so just do yourself a favor. Buy some bananas this week, look to your local mediterranean or specialty food store (if your grocery store doesn't have it) for some labneh, and get this into your life.
Ingredients:
4 large just ripe bananas, peeled and sliced in half lengthwise
6 tablespoons unsalted butter
1/3 cup brown sugar
3 tablespoons dark rum
2 tablespoons maple syrup
1 teaspoon vanilla extract
1/4 teaspoon salt
1/4 teaspoon ground cinnamon
1/8 teaspoon ground nutmeg
Pinch of cayenne (optional)
1/2 cup walnuts, roughly chopped.
1 cup labneh
Serves 4
1. Melt the butter in a large skillet over medium heat. Once melted add the brown sugar, rum, maple syrup, vanilla extract, salt, cinnamon, nutmeg, and cayenne (if using). Whisk everything together until the sugar is completely dissolved and the mixture starts to bubble. About 2 minutes.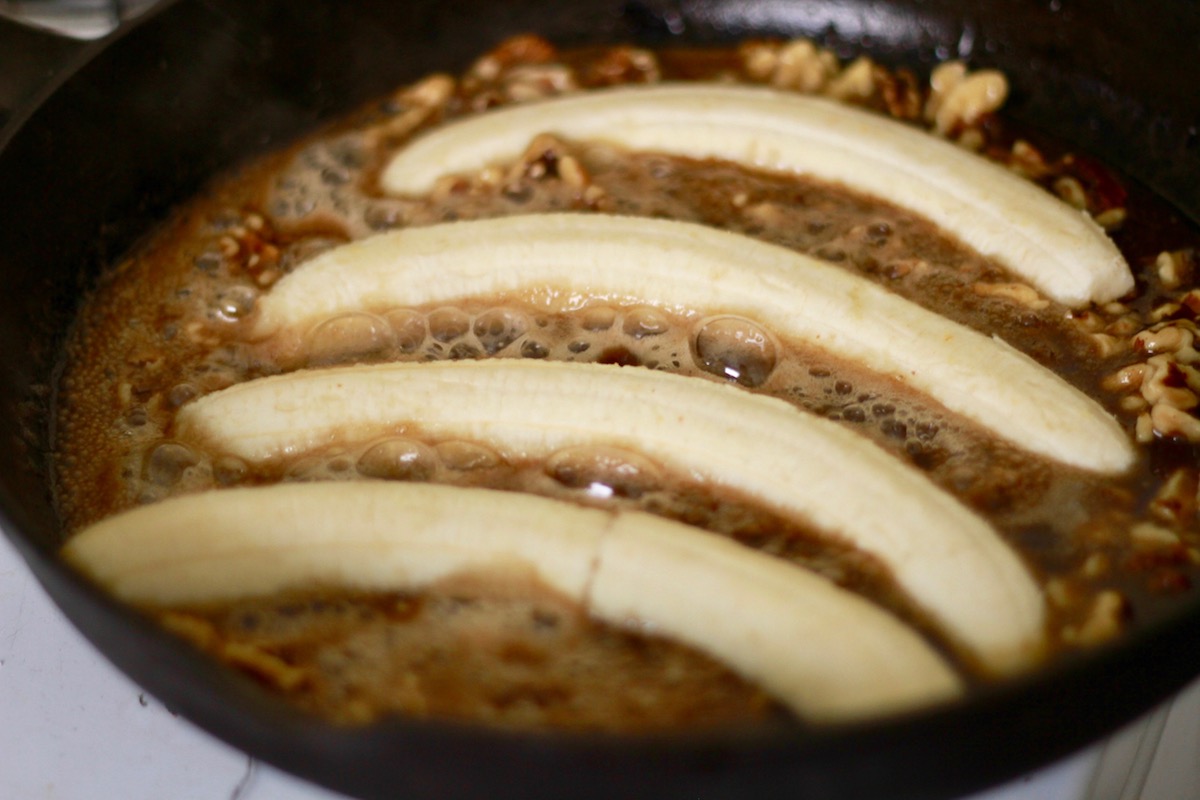 2. Once the sauce is bubbling, stir in the walnuts, making sure every piece gets coated. Then add half the banana slices to the skillet cut side down. Cook for about two minutes or until golden brown and caramelized.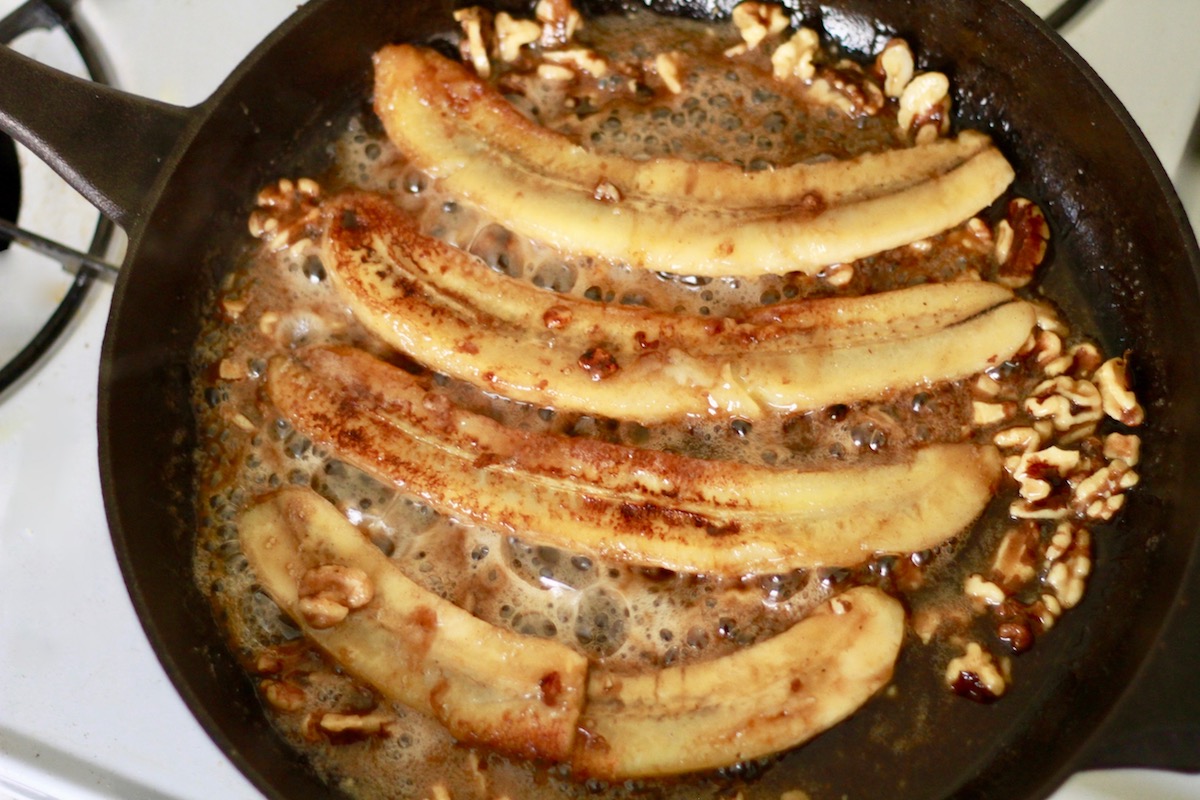 3. Flip them very very carefully and cook on the other side for two additional minutes. Remove from the skillet. Repeat with the remaining slices of banana.
4. Spread about a 1/4 cup of labneh on each plate, then place two slices of banana on top and drizzle with the walnut sauce.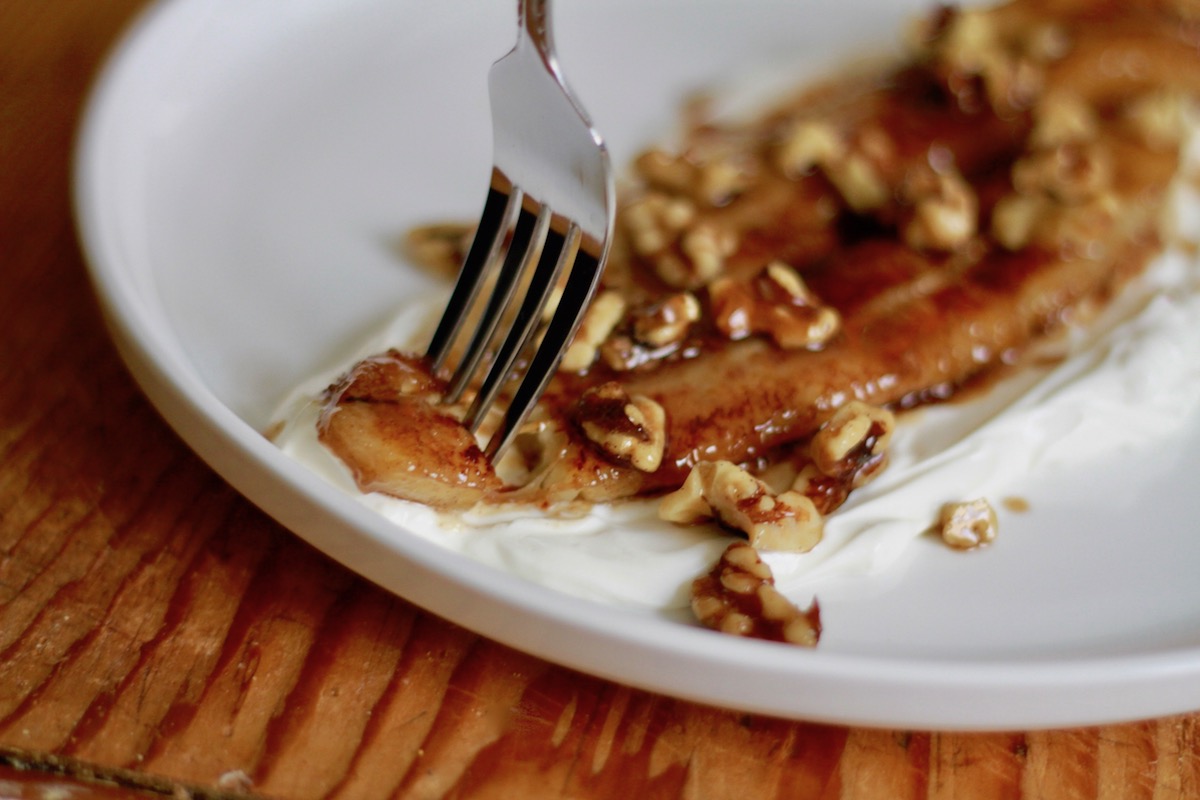 Swoop that banana through the labneh. Don't be surprised when your eyes roll back in enjoyment.