It's hard to believe that I was happily baking a tiny chocolate cake just two weeks ago 'cause happy is not a word I'd use to describe my state of being the last two weeks. I had a family crisis that stopped my world and consumed my life, and any chance I had to tune out from my personal struggles and check on the state of the country made things worse because the news was so unbelievably heartbreaking. All I felt was despair. It really sucked. I'm only just starting to process and get back into my usual schedule, and trying to find my "normal" again is incredibly hard work. My energy drains so quickly and small things feel like epic undertakings. I know it's just temporary, I have support and I'm well versed in taking things step by step, but it's still hard to find the path to feeling okay when the structure of your life comes crumbling down around you.
I also know I'm far from the only person who's been struggling to get through the last few weeks, and I'm not the only one who tends to lose my appetite and forget to eat in times of high stress either. When I'm facing hard things in life it's so easy to fall into a pattern of neglecting my body and its needs, especially when it comes to eating, but i've learned from many a hangry experience that keeping myself fed on the hard days is the most important thing to do.
Our nervous systems can't function properly when our bodies are calorie deficient, and I know I need all the brain power I can manifest to face the challenges in my life, so at times like these that I turn to quick and reliable comfort foods that I can make on auto pilot, that yield multiple servings, and that are easy to grab when I need them.
This banana bread has gotten me through some rough days, y'all, and these last couple weeks were no exception. On the days when I can't imagine leaving the house for food but also can't handle deciding what to order in, this bread is always there. I tend to have frozen bananas at all times now specifically so that I can whip this up in an emergency and it's also my go-to baked good for others when they need support. I make it for my friends who've just become parents, for breakup brunches, housewarmings and coffee dates. There's rarely an occasion at which a warm loaf of banana bread wouldn't be welcome.
I don't know what it is about that makes it so good for comforting the soul, but it really is the best. This banana bread is also my favorite one ever because naturally, I make it exactly how I like it. I like my banana bread to really taste like banana, not spices, so I leave them out and use four bananas instead of the usual two. Of course you're welcome to add your favorite spices: pumpkin pie spice is great in this bread and 'tis in fact the season! I also love a banana bread with a moist tender crumb, a hint of vanilla, and a little walnut crunch and that's what you'll find here. It's simple yet flavorful and will fill you up in the best way. The maple brushed banana slices on top are optional but I don't see why you wouldn't want sweet, soft slivers of caramelized banana atop your bread so I suggest you go for it. Now turn on that oven cause it's baking time.
Ingredients
4 very ripe bananas
1 cup brown sugar
3/4 cup (6 oz) plain or vanilla greek yogurt*
1/4 cup coconut oil
1/2 tablespoon apple cider vinegar
1 teaspoon vanilla extract
1 2/3 cups all purpose flour
1 teaspoon baking powder
1 teaspoon baking soda
1/2 teaspoon salt
1 cup toasted walnuts, chopped
Note for my vegan boos: there's a new vegan greek yogurt alternative made by Ripple that works PERFECTLY as a substitute for the yogurt in this recipe. If you're dairy free and you can get your hands on some, try it out!
1. Place the oven rack in the middle of the oven then preheat oven to 350° F. Oil a 9×5 loaf pan and line with parchment paper leaving a few inches of overhang on each side so you can use it to lift the bread from the pan when done. Set aside.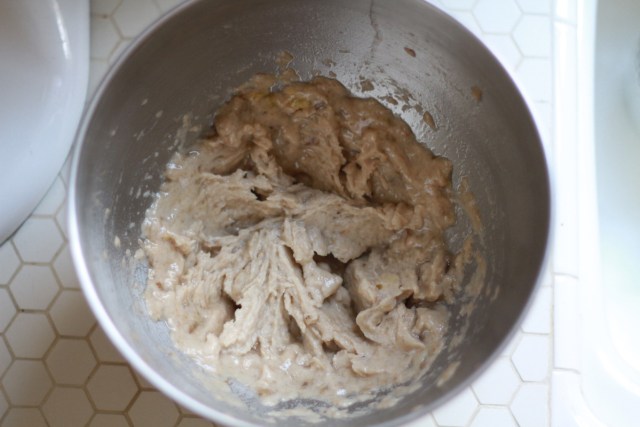 2. In a large bowl, mash three of the bananas to the chunkiness of your liking. I like to whip mine with the stand mixer but this is also so good with chunky hand mashed bananas.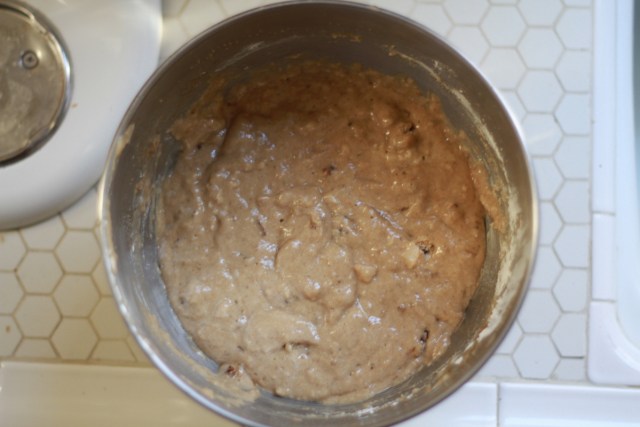 3. Add the brown sugar, greek yogurt, coconut oil, vinegar, and vanilla to the bananas, and whisk until combined. Pour the walnuts into a sifter then add the flour, baking powder, baking soda, and salt and sift into the wet ingredients. Stir the flour into the batter just until it's all mixed in the but the batter is still chunky. Now fold in the walnuts.
4. Pour into your prepared baking pan and jiggle it a little to make sure the batter is evenly spread.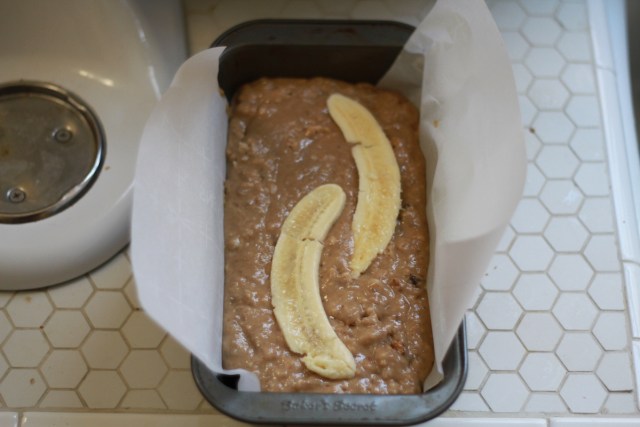 5. Now grab the fourth banana and slice off two (or more!) 1/4 inch or smaller slices, place them on top of the batter, and brush them with a little maple syrup.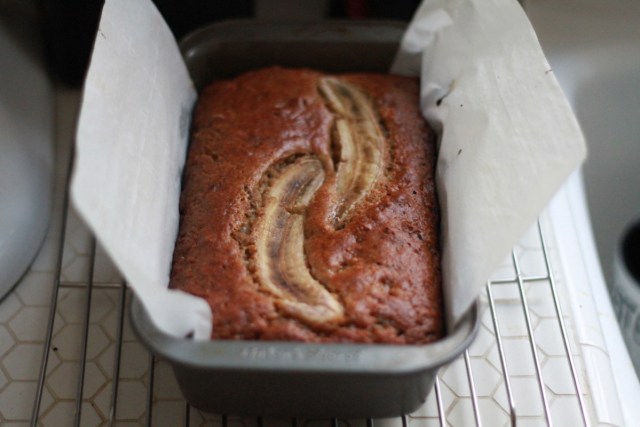 6. Bake for 40-50 minutes or until your preferred form of cake tester comes out free of batter. I like my banana bread to be just a little underdone so I usually take it out at 35 or 40 minutes, go for 45 to 50 if a little bit of gooey batter isn't your thing. Place the pan on a baking rack and allow the bread to oil in the pan for 10 minutes.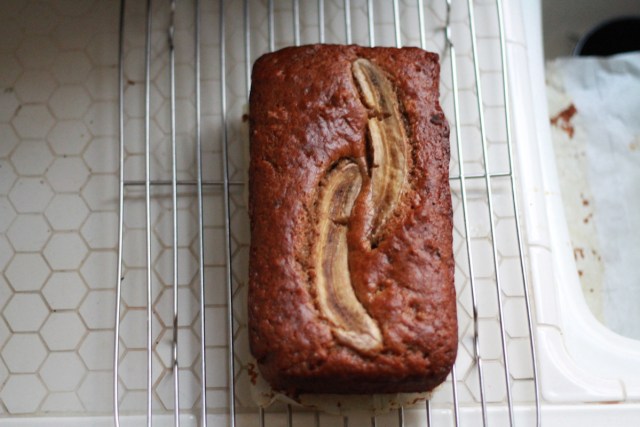 7. Now use the parchment paper to lift the bread from the pan and place on the cooling rack to finish cooling. Of course you can eat this warm but give it at least ten more minutes of cooling time so the middle can finish baking. Great time for a dance break to keep the blues away. Also just a heads up, the bananas will brown as the bread cools so don't worry!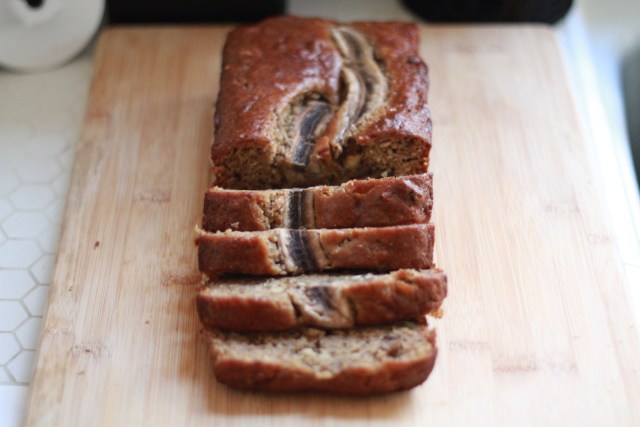 8. It's finally time to slice it up, and enjoy. Preferably with some coffee or tea, a friend or loved one, and a smile.