I'm kicking off the New Year by sharing my ten all-time super-top number-one most-favorite fan fictions. I've been reading and writing fic since like 2007 and I've kept at least one of these stories with me that whole time. All of these are on my Kindle, even though I could probably recite them from memory by now.
---
Pairing: Helen and Nikki, Bad Girls
Plot: A superbly in-character AU in which master composer Nikki Wade agrees to let award-winning actress Helen Stewart follow her around and get to know her so she can portray her properly in an upcoming biopic. This is the first fan fiction I ever read, and I haven't been the same since. I went on to write hundreds of thousands of words about these two.
Length: 67,000 words
Despite her reservations, Helen had gone out into the rain with Nikki. They'd followed a trail through the woods for about half a mile and Helen was surprised at how much the canopy of the trees protected them from the downpour. Helen had been walking slightly ahead of Nikki when they'd emerged into an overgrown field on the far side of a particularly dense thicket. The sky seemed to have brightened and the rain had become more of a drizzle. She stopped abruptly and looked around. The whole world looked freshly washed and leaves shivered in shades of emerald as water pearled and dropped from their tips. The silvery sky lent a slightly surreal atmosphere to the scene and she felt the stillness seep into her.

She'd pulled the hood off her head and listened to the whisper of the rain and the patter of water as it dripped off the trees in the woods behind them. She could smell the dampness of the ground under her feet and she'd closed her eyes to concentrate on the faint, heady aroma. Eyes still closed, she'd turned her face up to the sky and welcomed the soft caress of the rain. Her lips curved into a smile and when she'd opened her eyes, they'd looked straight into Nikki's.
---
Pairing: Naomi and Emily, Skins
Plot: An AU that will make you forget about fucking Skins Fire. It's Naomi the artist and Emily the accountant and the story of how they meet one day in a laundromat and it derails both their lives. Completely in character, savagely romantic. The whole thing is just breathlessly written and really funny too.
Length: 79,000 words
Emily gasped at the shock of her bluff actually being called and Naomi took advantage of her parted lips to dart her tongue softly between them, tasting her mouth, the heat of it spreading throughout her entire body. I'm going to take this feeling with me, she thought. Because I can never be this girl's friend. Her heart contracted painfully as Emily slowly pulled back. And here comes the goodbye, in three…two…one…Emily's tongue slipped against hers, Emily's mouth opened as Emily moaned into her, and Emily's hand finally let go of the brush as she reached down to cup her face, deepening the kiss. The brush fell to the floor as Naomi pulled them both down the couch so that Emily was lying full length above her as her hands immediately grabbed for her, holding her there. Oh god, went her brain. Oh god, oh god, oh god.

Her hands tangled into the red hair, stroked around the back of her slim neck, traced down over the worn tshirt feeling the shape of Emily's shoulder blades, before they slid down her back, curved around her waist and slipped under the cotton to feel her warm skin. Their tongues lashed together as the heat overwhelmed them, Emily's fingers digging into her head as they tried to meld themselves together. Emily's mouth tasted sharply of Corona and lime, and some kind of vanilla lip balm. She's kissing me, Naomi's brain finally caught up. She's kissing me and she's not stopping.
---
Pairing: Bering and Wells, Warehouse 13
Plot: Every ship in every fandom has a pirate AU, but this is the best pirate AU of them all, and the best Warehouse 13 fic, full stop. (Which is saying something; there are so many delicious Bering and Wells fics on the great wide internet.) H.G. is a pirate ship captain (obviously) and Myka is a do-gooder first mate of a Warehouse-type ship (again, obviously), and they throw each other's lives off course so good when H.G. rescues Myka from the cruel seas.
Length: 56,000 words
H.G. Wells was widely acknowledged as an excellent swordswoman. Her battles in the service of the Warehouse were still the stuff of Agent legends and her blade was whispered to have bested every foe it crossed.

But in Myka Bering – a woman raised from birth by a father who had no son and therefore passed all his skills and expectations on to her – Wells found her equal.

Myka wasn't just good with a blade, she was a natural. And not just with the rapier or the cutlass, but the longsword, the knife, the sabre, even the katana: Anything with an edge to it, she handled as if it were merely an extension of her arm. What had begun as a friendly offer to help Myka regain reflexes dulled slightly by injury soon turned into a daily duel that would have made even the most hardened swordsman gape. The entire ship became their sparring circle, leaving the crew to make sure they stayed out of the way (while they placed wagers).
---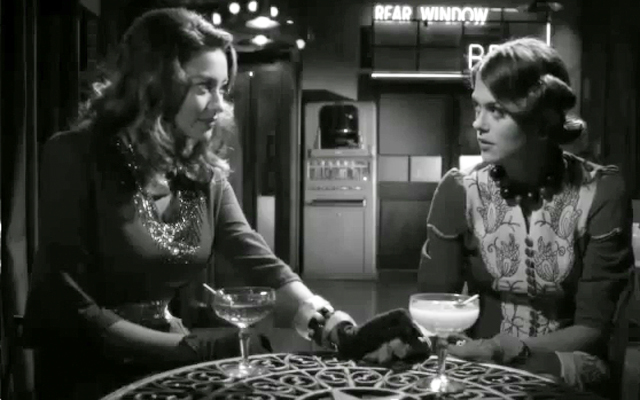 Pairing: Emily and Paige, Pretty Little Liars
Plot: Not only has Joseph Dougherty written some of the best episodes of Pretty Little Liars, he writes fan fiction about Paige and Emily for Amazon Worlds! This man is a national treasure. All of his novellas will make you swoon until you pass out or vomit rainbows. Each of them is set on the same timeline in an alternate world where Paige and Emily meet each other at Rosewood High in 1964. (Bonus: Mona and Ali are really good in the last book!)
Length: Novella-length
There was no one on the street, no one walking in the storm. Even if there had been, someone on the sidewalk would not have been able to see that the two girls sitting next to each other on the glider were holding hands. The table would have blocked their view. But there was no one on the street. No people, no cars driving by. Just the rain. The Earth might have been uninhabited, except for the two girls on the porch holding hands.
---
Pairing: Redguard Dovahkiin and Aela the Huntress, Skyrim
Plot: It really bums me out that there's not more RPG femslash. The possibilities in Skyrim and Mass Effect alone are endless. This is my favorite Skyrim fanfic. Aela is such an arrogant badass, but she meets her match in the Dragonborn.
Length: 19,000
The business of Skyrim isn't about love. The people of the harsh land, the native Nords and those who choose to settle there among the ice plains and marshes, aren't generally looking for love. There is peace in the wind swept plateaus, and even a luxurious sort of solitude, but seldom do people expect to find love.

It is poetic the way it happens for those in the icy north – they are almost always caught by surprise. Battle and harsh weather are expected, famine and natural disasters are anticipated, bandits all too common. But love and all the complications and benefits of it cannot be prepared for in advance and seldom foreseen. the surprise is what makes the Nords fall harder, because it is always true and strong when it hits them, just like the hearts it inhabits.
---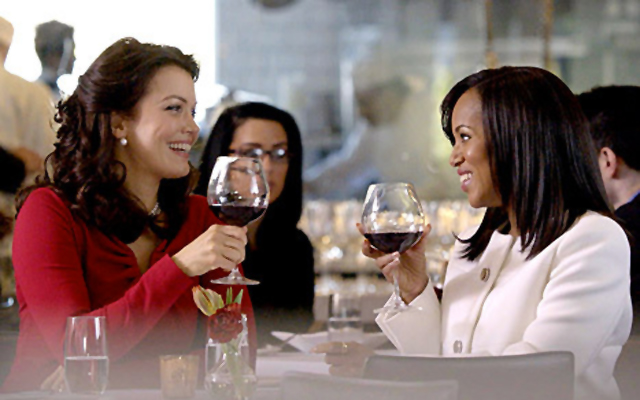 Pairing: Mellie and Olivia, Scandal
Plot: What if Mellie divorced Fitz, ran for president, hired Olivia to manage her campaign, and fell in love with her? I know, man. I know. That's the dream. I love Mellie and Olivia more than words and I hate Fitz as much as I have ever hated any fictional character in my life. More than Delores Umbridge, even? This story makes me very happy.
Length: 4,000
Mellie turns toward her and looks into the mirror behind them as Olivia pulls out a tube of lipstick. She drags the color across Mellie's bottom lip before stopping and staring at the plump flesh. Mellie feels something deep in her gut clench. Then Olivia kisses her. Gently at first, waiting to see if Mellie will allow it and she doesn't even like the woman 50% of the time but Olivia's mouth is wet and sweet and willing against her own. It's enough. It's too much.

She groans and leans into it. Pulls Olivia's legs down and around her waist tightly and it's been so long since she hasn't had to kiss someone for the cameras. Since she sincerely meant it. Stephen is sweet, a great match for her, but he's not who she dreams about.
---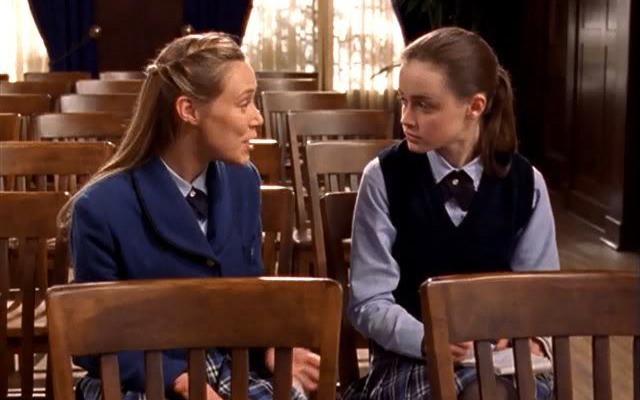 Pairing: Paris and Rory, Gilmore Girls
Plot: Amy Sherman Palladino might as well have written this fic for how in-character it is. The dialogue is so perfect, especially everything that comes out of Paris' mouth. Sometimes in my waking dreams, this is exactly what happened when Rory went to Yale.
Length: 5,000 words
"You're kidding again," Paris said.

"Well, babbling. I like that too."

"Babbling," Paris said thoughtfully. Then she stood straighter and put her arms behind her back. "As I was saying. I would like to make you a proposal, and I would like you to do me the courtesy of seriously considering it before making a decision."

"You have my undivided attention," Rory said.

"I think that it's time that you face the fact that you will never find happiness with a man."
---
Pairing: Jill Pole and Susan Pevensie, The Chronicles of Narnia
Plot: There are very few things in literature that make me as mad as what C.S. Lewis did to Susan Pevensie. What a load of misogynistic bullshit that guy hurled at her! So this little ficlet that puts Susan back in the world of Narnia and lezzes her up and uses straight-up biblical apple imagery to do it? Yes, please, and may I have another.
Length: 2,300 words
In fact, it was not a good night at all. Peter and Edmund seemed tired and strained. Lucy's laugh was too high and the lights too bright. Susan went past, dancing, in the arms of one man after another. Jill felt small and young and out of place, and after midnight when she could leave quietly she slipped away to the stables and buried her face in Puzzle's mane. She felt rather queer and all choked up, as miserable as if she was getting a cold, but no one got ordinary illnesses in Narnia. She sniffed twice and told herself to buck up, and she was just thinking about patting Puzzle on the nose and going to bed when she heard footsteps behind her.

She turned round.

Susan was standing in the doorway. She was smiling very faintly, and her gown in starlight was all gauze and iridescence and her skin inside it as white and soft as a Christmas rose. Her hair had come loose and hung in shining waves over her shoulders, and her eyes were very bright.
---
Pairing: Harley Quinn and Poison Ivy, DCU
Plot: I've read probably 50 fics where Harley and Ivy finally admit they love each other and Joker is the worrrrsssst. This is the very best one of them. It's intense and kind of dark and but also delightful.
Length: 58,000 words
The rage was now being augmented by a stream of tears, "And you know what makes me so sick? I mean, it makes me physically ill, Harley. The very idea, that after everything I've done for you- everything I continue to do- I actually have to compete with that son of a bitch for your affection! I spend all this time and energy on someone that wouldn't know the definition of a healthy relationship if her life depended on it, which judging from your injuries- it does depend on it. Honestly, I don't know why I bother with you anymore! You'll never want me the way I want you!"

She turned as though she were about to leave, but then she spun back around to face the blond, "But how dare you come into my house and tell me that I don't know what love is!"
---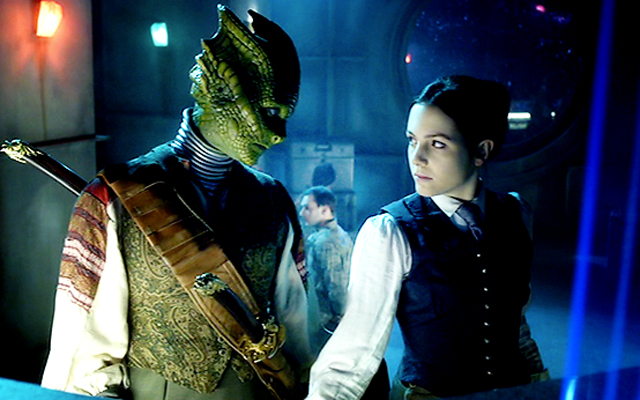 Pairing: Jenny Flint and Madame Vastra, Doctor Who
Plot: Jenny and Vastra are one of my favorite fictional couples ever, and there are so few well-written stories out there that really do them justice, but this one just nails it from every angle. It's their first meeting, first blood, first argument, first kiss and first time. It's as sweet and funny and sexy as the characters themselves.
Length: 7,000 words
Another pause, and then Vastra decides that for goodness sake this is all entirely ridiculous, and crosses the space between them and takes Jenny in her arms and kisses her, in the manner suggested by many romance novelists to be the most effective. (Vastra, much to her own shame, has developed a bit of a habit for human romance novels. Jenny reads them all the time – penny dreadfuls and the like – and she started lending them to Vastra and now somehow Vastra has more than Jenny does, although she keeps them hidden under her bed because she'd never hear the end of it if Jenny ever found them).

This kiss is substantially better than the first, though. Jenny makes a sound in the back of her throat like a startled child and throws her arms around Vastra's neck and Vastra thinks – goodness, how very endearing, and holds her close, and feels her soft and warm Jenny's mouth is. Her long, thin fingers have found the lesser crests on the back of Vastra's head and the touch of her hands there is… inspiring, to say the least.
---
Your turn! Please share your all-time favorite femslash fan fics from any fandom in the whole world!