Welcome to the 19th recap of the second season of Faking It, an educational program about turning scrap metal into puppets from the network that brought you Newlyweds: Nick and Jessica.
---
We open on the Walk Down the Hallway of Shame, starring Karma and Shane, who appear to have suffered some extreme inclement weather and have also forgotten how to button shirts and wear shoes. I wonder what happened in that hotel room! Probably hijinks. You know kids these days.
---
Cut to Karma's bohemian outdoor shower, which she emerges from to find Amy, bearing lattes and an apology for over-reacting. After all, Amy admits, it's not like Karma would ever go through with a ridiculous threesome!
Karma: Wow, thanks Amy, coffee and slut-shaming is such a nice way to start the day!
Karma says the threesome was a fun-filled event involving lots of kissing. Lots of it! So much partial-nudity and lip-smushing. If it was possible for humans to grow plants by kissing, these three would've created a modest container garden.
Like between Karma and Shane, for example. There was some Sharma kissing. In fact, Shane kissed Karma and said, "now I know why everybody's in love with you." Amy calls bullshit on that tale, so Karma starts over. In this story, Karma and Shane reluctantly swap spit, decide to pretend like the other is Channing Tatum, hop into bed and enjoy an all-night romp that has left Karma a little sore in the neck!
---
Back at Shane's House of Shame, Liam wakes up next to Sasha and tries to bolt before Shane gets home but lo and behomo, here he is with donuts and lattes.
Shane wasn't okay with Liam/Sasha before, but after spending the whole night banging Karma, he knows it'd be hypocritical of him to stick to that position.
In Shane's recap of the terrible threesome, Karma kissed Shane and said, "Wow, I've always wanted to conquer a gay guy." Liam calls bullshit on that tale, so Shane starts over. In this version, Karma compliments his kissing, Shane says he's good at more things than just kissing — and Liam's gotta go fuck Sasha in the shower BYE!
---
Back at the Hipster Tofu Scramble Ginger Tea Cafe, Lizbeth and Leila gush over Lauren and Bobby's triumphant dance at Lauren Junior Prom Under the Sea, and Lizbeth announces that she went all the way last night! That's right: she had The Sex.
Who would've thought that Lizbeth would've been the first of their threesome to have sex? Not Lauren, which's why this confession inspires her to chat up Tommy, commanding him to come over that evening for sexual intercourse. This has been a confusing week for Tommy, hasn't it.
---
Felix's Bedroom. Amy's obsessing over Karma's impending downward spiral: Karma's had a very hard year and she's living in a juice truck and clearly hasn't attended class since before the show's premiere and this sexual experimentation is surely her first step down the water slide towards opiate addiction, unplanned pregnancy, and huffing computer duster on a shoplifted scooter.
Felix suggests they skip the horror movie in Amy's head in exchange for seeing a horror movie at the movies! Little does he know that Felix and Amy going on a date to see a horror movie is precisely how I would define "horror movie" to myself.
---
Chez Fawcett, later that evening. The parents are away on a couples' retreat and Lauren's wearing a football jersey and high heels and is ready to do the horizontal mambo with her #1 Man…
…when it turns out that her #1 Man has invited like seventy other men to her house… and uh, a keg… and a bunch of women! Lots of beer!
Oh, and also: Karma! She says the party invite was all over tumblr. Probably under the #Karmy tag.
Amy and Lauren are stressed to the max. I mean, somebody's juggling Farrah's gnome collection and the music is super loud and should they call the cops? Of course not, there are already too many extras on payroll this episode.
Karma's doing body-shots which Amy finds absolutely horrifying. This is one of those two-episode downward spirals, I can tell, the most brutal kind of all the kinds.
Shane yanks Amy away from the sticky situation on her surely expensive table just as Felix shows up for his big movie date and is surprised to discover he wasn't the only one invited. Karma tells him that clearly his plans for the evening have changed, and anyway, he should try a beer even though he says he doesn't drink! Loosen up! Your Dad's not here! Unbutton a top button on your cardigan! Get gum in your hair! Karma never drinks and look at her now! Tommy and Tommy's Friend overhear the reference to Felix's Dad and say they won't trust him not to narc on them unless he gets drunk with them. So off they go!
Shane's freaking out that Sasha and Liam are dirty dancing like a couple of randy teenagers, but Amy's not here for that: he slept with her best friend, why the hell is he talking to her about anything! Shane points out that she also slept with his best friend. So if you've created yourself a "Faking It" drinking game by this point, and I hope you have, now would be the time for you to take a drink for "Liam and Amy's drunken romp is mentioned in a spiteful manner." Everybody else is drinking, so!
Sasha's dumb as dirt, by the way: it takes Shane about three minutes to convince her that Liam wants a long-term relationship, that their teacher/student situation is dicey, and that she should return to Jake, her Navy Seal boyfriend. So she leaves to do that while Liam's getting her a drink.
---
Upstairs, Lauren and Amy wipe lentil vomit from their bathtub while Lauren explains why she's gotta lose her V-Card tonight to Tommy, even though he's a jerk. She dumped Theo, Lizbeth has already had sex, and if she doesn't have sex with Tommy this very evening, she will probably die alone. The good news is that we all die alone, so.
Shit has quickly gotten out of hand at this particular party. Felix is killing it at Beer Pong. Liam bumps into Karma and spills beer all over her shirt. Apparently she's not wearing a bra 'cause the chest-area of her body situation remains censored for the remainder of the party. Amy finds Felix, apologizes that they had to skip out on Scary Movie 4: Lesbians Sleeping With Men, and Felix says he's not like all those other Sons of the Principal. He's a Cool Son of the Principal. So Felix and Amy agree to spend the evening mocking their brethren, but Felix's first pick — that girl dancing on the table, a cautionary tale — turns out to be Karma! And thus, Amy leaves Felix for Karma for the 18th time since the beginning of their two-day quasi-relationship.
Why arrereoufreaingking outttt, implores Karma to her dear friend Amy who is Just Trying to Help Her. It's just nihijipples! Everybody has 'em! FREE THE NIPPLE! Karma reminds Amy of earlier that morning when Amy said that she didn't think Karma was the "type of girl" who'd have a threesome. By "remind" I mean that Karma yells "What, you think I'm not that kind of girl!!?" Karma tells Amy she didn't ask for her help and Amy can just leave her alone. Because Amy is wholly incapable of not freaking out about this situation, Karma's basically just asked Amy to handle her freakout privately, maybe in another room.
Amy catches up with Felix and says they can get back to her fave activity of making fun of people! It's only a matter of time before she invites him over to hate-watch The Lizzie McGuire Movie and eat Chubby Hubby out of the container.
Felix: You wanna hang with me now? You see that's probably not a good idea because I'm drunk and I'm bound to say something stupid like how much I like you—
Amy: I like you too.
Felix: Yeah but you see it's not the same, you know, because ever since Prom all I can think about is our kiss but all you seem to think about is Karma.
Amy: Felix, that's not true —
But before Amy can continue, Liam rushes in and yanks her aside to talk about what else? KARMA. She's out of control! She's a maniac, a maniac on the floor
And she's dancing like she's never danced before! Amy asks if this night could possibly get any worse, which is the universally recognized queue for this night to get worse: Wade shows up with a generic-looking wavy-haired blonde he calls "Honeybear."
Amy and Liam berate him for showing up here after having a threesome with Karma and Shane. Honestly I've got no idea why that would make it inappropriate for him to attend a party at which they're both in attendance, but let's roll with it. Nobody's called in a noise complaint either, so I'm already living in a weird space of uncertainty w/r/t realism regarding this episode. Wade says the threesome didn't happen, but Liam and Amy don't believe that for one second! After all, their eminently trustworthy best friends assured them that it did indeed happen, and that's all the evidence they need!
Wade's story goes a little different: Wade told Karma and Shane to kiss, and the two struggled to even get their cheeks in the same geographical area.
…and amid this struggle, Wade announced I CAN'T DO THIS! I WAS JUST DOING THIS TO PROVE I'M OVER MY EX BUT CLEARLY I'M NOT.
If only he'd known that everybody was just doing it to get over their ex! Alas, so now Wade has reunited with said ex, she thinks it's romantic that he ditched a threesome for her, and here we are.
---
Lauren, the toppiest top in Topsville, yanks Tommy upstairs to her room and throws him on the bed, declaring it officially Time To Have Sex. Tommy can't, though. He just can't. Lauren doesn't understand — he'd always begged her to have sex before… and then it dawns upon her: everything changed when he found out she was intersex.
Lauren: You planned this whole party just to avoid having sex with me?
Tommy: I'm sorry, I'm just a little freaked out.
Lauren: Because I'm a freak?
Oh, Tommy. Oh, dear dear terrible awful very bad no good Tommy! I would serve up a "we were rooting for you!" gif but the truth is none of us were rooting for you. We didn't like you before, and now we like you even less. It's time for you to go home. Also, Tommy, it's Intersex Awareness Day! Maybe you should go educate yourself and then decide if you deserve to walk the same gorgeous green earth as Lauren Cooper, Inventor of Lauren Cooper Junior Prom and Esteemed Student Government Official.
So she pushes him on the bed, stomps out the door, slams it, barrels down the stairs and announces, hoarse and angry and in true Lauren Cooper Style that THIS PARTY IS OVER. Nobody cares.
---
Liam's furious at Shane for lying about the threesome, but Shane says he only did it 'cause Liam was gonna sleep with Sasha. But Liam was only gonna sleep with Sasha because Karma was gonna sleep with Shane. So basically it'd be best for everybody if they could all agree that they are terrible, petty, hopeless people, and go start a home improvement show where they accidentally hit each other with hammers.
Shane says Liam sleeping with Sasha would be way worse than him sleeping with Karma! Really though? I feel like your friend's siblings aren't totally off-limits, but maybe I live in some weird ethical borderland of sin and despair (although for the record I have never dated a friend's sibling!). Sleeping with your best friend's ex for no reason besides spite and vengence, though? Yeah, that's legitimately awful.
Shane: Just goes to show, you can never trust a Booker.
Liam: Hey, you know how you're always wondering if you're a bad person? You are.
Oh, so it turns out that Sasha's ex Jake lived within a three-minute radius of Blue Oasis all ths time, 'cause just then he shows up with Sasha ready to kick Liam Booker's ass.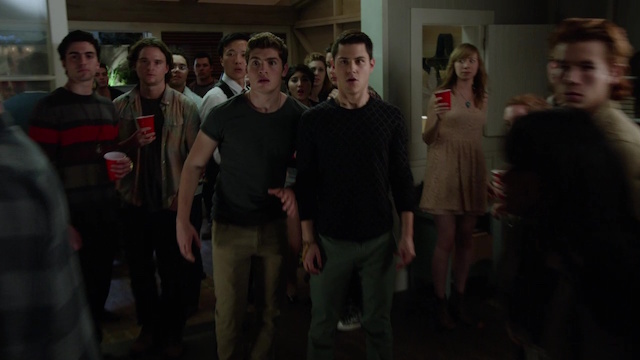 Liam tells Jake he only slept with Sasha to piss off Shane! That doesn't help much, it just makes Sasha as bloodthirsty as her boyfriend — but luckily Shane picked up some MMA from his ex, and stops Jake in his tracks with some fancy arm move only strong people on TV can do.
Liam thanks Shane for having his back and Shane says he doesn't have his back, and Liam can find somewhere else to sleep tonight. SO THERE.
---
Back out at the Laguna Pool of Texas Twilight Danceparty Eveningswell, Karma's chugging beer using a popular method that gives me really bad frat party flashbacks when Amy shows up.
Karma calls Amy "Mom" and says she's not interested in being scolded. And as for the threesome, Karma says, who cares that she lied about it? It's not like Karma is grilling Amy about whether or not she broke my heart by buttering her biscuit with Felix! (Don't worry, there was no biscuit-buttering.) Then Lauren Cooper kills the electricty and yells at everybody to GTFO of her pool party, because Lauren Cooper. Nobody leaves, including Karmy:
Amy: Do you have a crush on Felix, is that what this is about?
Karma: What? NO!
Amy: You started acting weird after I asked him to prom.
[pause]
Karma: I thought he asked you.
Well, this is awkward.
Karma: So did you really want to go to prom with him or did you just not wanna go with me?
Amy: Both.
Karma: Typical Amy. Can't make up her mind!
Karma gesticulates so wildly to demonstrate the act of Amy being unable to make up her mind that she promptly falls backwards into the pool.
It's funny for a second and then it becomes scary 'cause Karma just hangs out down there for a while until Amy dives in to rescue her mermaid. Karma rises to the surface, and then Amy. Nobody's paying attention to them or to Lauren, and they're only paying attention to each other, drenched and gasping.
"I'm sorry," says Karma. "That last thing I said was a low blow."
"I'm sorry too," Amy says. "I just don't understand what's going on with you."
"Well, that makes two of us," says Karma, a little drunk still.
"MAYBE YOU'RE IN LOVE WITH AMY!" I yell at the television set while hurling gummy bears at the screen.
"You're moving on and so is Liam, and I'm still here, sad, lonely, homeless Karma," Karma says. She's doing that thing we do, that unfair stupid thing, where we feel so lonely and hopeless that we blow everybody else's happiness up into this big thing that it isn't: Liam hooked up with Sasha. Amy and Felix went on one tepid date and get along okay. Neither of them have "moved on." They're just… alive, dipping their toes into the very earliest beginning of a potential thing and neither of those things are even going all that well, really. But forget all that, Karma's sad and this is the story she's telling about it. This is what feels true to her because she is young and the world is small and she's lonely.
"I didn't want to be her anymore," she continues. "I thought that I would be 'Karma who dates bi guys and has threesomes and gets drunk at parties!'"
"You left out 'shows everyone her nipples,'" Amy responds.
"That part was oddly freeing," Karma admits.
But Karma has never wanted to be Karma! She didn't want to be unpopular Karma so she decided to be lesbian Karma but then she wanted to be Liam's Karma but then she didn't want to be Liam's Karma and then she said she was gonna get a new haircut but she never did.
"Look, I know things are hard for you right now," says her best best friend Amy, "but I just don't understand why you're always trying to be someone else when the real you is so fantastic."
"Well, when you say it I almost believe it," says wet wet Karma.
"Then I'll keep saying it," says Amy.
"Thank you," I say to Amy. "Because I probably never will, but I trust you, it's cool."
"You're the best friend ever," says Karma to Amy, and they hug. And, then, as they release from the hug, Karma goes in for it, like for a real kiss, and then, as it so often goes when one person kisses another who wants very much to be kissed, she kisses her back, and this goes on for a brief moment.
Oh man, that moment when the straight girl kisses you like it was her g-ddamn idea. That moment.
…and then the lights go on.
Everybody's watching — Lauren, Shane, Liam, mouths appropriately agape / aghast — I mean, all things being fair, it is Liam who is The Most Aghast—
— and some extra goes "Yo, they're back together!" and when Karma realizes all eyes are on her she gives a party whoop and swims off, leaving Amy caught in the headlights in a pool in her own backyard.
---
Good news: Felix got home in time for curfew! Also, he drove his car into a fire hydrant.
---
Next week is the Faking It finale! Maybe we'll find out if Felix is gonna get a new car or if he's gonna have to just ride his bike everywhere. Maybe we'll catch up with some old friends!
Pages: 1 2See entire article on one page