Today we published a roundtable of LGBTQ Latinxs, members of the Autostraddle family who wanted to express their feelings about the horrific shooting massacre that happened a few days ago during Latinx Night at the queer nightclub Pulse in Orlando. People shared their hopes, fears, anger and frustrations, and they talked about how it feels to be a member of this queer Latinx family that is dealing with such a huge loss right now. We're lucky to hear their voices, but also, we're lucky that we're able to share our voices.
My great friend Cecelia messaged me yesterday about a queer Latino friend of hers who isn't out to his family. He's devastated by this attack and even more devastated that he can't publicly express his feelings because of his situation. We know he's not alone in not being completely out or not being completely safe, and we know he's not alone in needing a way to express his feelings about this tragedy. Cecelia and I talked and she said that she desperately wanted there to be a space where Latinx voices can be anonymously amplified in a time like this. Out Latinxs shouldn't be the only ones who get to mourn and speak up. We came up with Escúchame for Orlando, a tumblr where LGBTQ Latinxs of all types can anonymously share their feelings, their sadness, their rage, their love, their hope or hopelessness, without having to out themselves.
As the website says, Escúchame for Orlando is "a place for queer Latinxs to come together and let our voices be heard about the massacre in the Pulse nightclub in Orlando. This is an anonymous space because whether you're out to the whole world, or just to yourself, you deserve to be heard." You can anonymously, or not, send in submissions expressing whatever kind of feelings or thoughts or opinions you have on the shooting and the horrible loss of life and the reaction that the news and nation and world are having to it.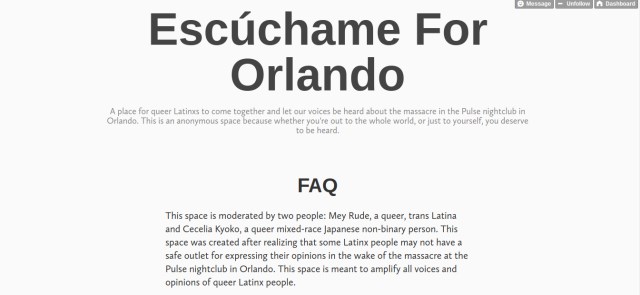 In order to anonymously submit your thoughts or feelings, you can submit under the name "anonymous" and using the email "escuchamefororlando(at)gmail(dot)com." Submissions in both Spanish and English are welcome. For more questions and more detailed instructions on how to submit, you can check out the FAQ page, which is in both Spanish and English thanks to Aracely Garcia.
Queer Latinxs are a family, and we need to stick together, especially in a time like this when we're being targeted and hated and killed and ignored. We need to be here for our primxs whether they were marching in a Pride parade last weekend, whether they're only out to their closest friends, or whether they'll never be able to come out. All of us deserve to have a space to speak out and all of us deserve to be listened to. We're here for you and we hear you.