Marshall Mathers' album releases tend to have a choreographed routine. The album drops, the critics cheer and everyone bobs their head while it plays on the radio. Then the public slowly starts to backpedal once they actually take the time to decipher the lyrics. Rather than listen to his accusers or learn a lesson from what he's done, Eminem'll hide behind an Un-offended Representative of the Mocked Minority to make it all better. It happened with The Marshall Mathers LP, it happened with The Eminem Show and it happened with Relapse. So as the Marshall Mathers LP 2 receives rave reviews on par with the first, Eminem hasn't forgotten any of his dance moves.
This was supposed to be an album that proved that Eminem could still be relevant to his fans. After over a decade screaming obscenities into a mike working out his anger issues, you gotta wonder how long that can be considered amusing. Instead of going at it alone, he paired with 2013 heavy hitters like Rihanna. But while his previous albums showed musical growth and seemed to show some degree of maturation, old habits stick. Rather than picking up a fucking thesaurus and learning a few words, he'd rather stick with his old favourites.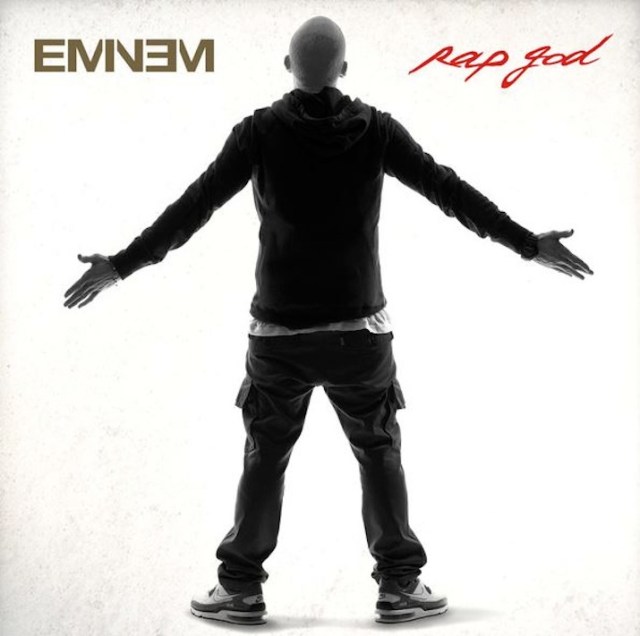 "Rap God" is the worst of the album, with lyrics so triggering I'd rather not post them in full. Time calls the single "divine" while The Week calls it out as blatantly homophobic. In an excerpt from a Rolling Stone interview Brian Hiatt questions Eminem's continuous choice of problematic slurs when the performer has the luxury of time and money to rework his music before it ever gets aired. Mathers does little more than a juvenile shrug.
HIATT: You've made it clear again and again that you don't actually have a problem with gay people. So why, in 2013, use "faggot" on that song? Why use "gay-looking" as an insult?
EMINEM: I don't know how to say this without saying it how I've said it a million times. But that word, those kind of words, when I came up battle-rappin' or whatever, I never really equated those words . . .

HIATT: To actually mean "homosexual"?
EMINEM: Yeah. It was more like calling someone a bitch or a punk or asshole. So that word was just thrown around so freely back then. It goes back to that battle, back and forth in my head, of wanting to feel free to say what I want to say, and then [worrying about] what may or may not affect people.
In 2010 Eminem patted himself on the back, "supporting" gay marriage and claimed at 37 he had grown into a "new tolerant me." So why has he regressed at 41? Maybe he's just too blinded by his talent and privilege to realize that there are people around him, people that still get those slurs used against them. "I'm glad we live in a time where it's really starting to feel like people can live their lives and express themselves."
While it's expected that Eminem riles up audiences for millions of dollars while defending his ignorance as artistry, it's still upsetting when his apologists show up. Eminem made a point of performing with Elton John in 2001 because "…being that he was gay and he had my back, I think it made a statement in itself saying that he understood where I was coming from." Instead of feeling used, John happily fulfilled the token role, justifying his participation as acceptable since he'd never work with someone truly homophobic. John was lambasted by members of GLAAD and other gay support groups, but he said he had to do it to break down barriers in music. Now, a dozen years later, Sia is the one playing chaperone.
https://www.youtube.com/watch?v=aOPptzZL7wo
Sia worked with Eminem on "Beautiful Pain." But after Sia had a lengthy Twitter discussion with HuffPo writer Keo Nozari where she was reminded of just how powerful those slurs still are, backpedaled.
Sort of. She generously decided to donate her side of the earnings to the Los Angeles Gay and Lesbian Centre, but not before defending her participation.
I know personally that he is not homophobic, but a performance artist. I would never work with someone I believed to be homophobic. I respect that he can be misinterpreted in the worst way by the ignorami, and that scares me, but I respect him as an artist and person.
While I want to give kudos to Sia for actually taking action when someone criticized the power of her complacency, Eminem isn't the one that deserves the respect here. We all love Sia as a performer and an activist and a fellow queer, but is anything accomplished when a token minority gets to step in to do damage control for a foul-mouthed prick? Call me an ignoramus if I'm "misinterpreting" the phrase "And now I should be able to break a motherfuckin' table / Over the back of a couple of faggots and crack it in half." He shouldn't be pairing with artists that are willing to defend his missteps, but rather make the effort to not make them in the first place. If Eminem follows Sia's lead and actually shows support without pointing at a token for approval, then that would be doing something different.
But until that day comes, there's nothing ground-breaking about resorting to slurs. There's nothing respectable about saying you support gay marriage while deriding the flamboyant ones. No matter how much Eminem preaches that this venom is coming from a persona separate from the "gay-loving" Marshall Mathers, it all rings hollow. Does anything happening behind his closed doors matter when he's on stage and on the radio calling everyone beneath him "fag?" "I think people know my personal stance on things and the personas that I create in my music. And if someone doesn't understand that by now, I don't think there's anything I can do to change their mind about it."
Hey Eminem, Marshall Mathers, Slim Shady, whoever you are, maybe you should listen to your own lyrics and take your own advice.
As time passes, things change everyday
But wounds, wounds heal
But scars still remain the same