ELLEN & PORTIA:
Your relationship role models are pulling their Hollywood power together in hopes of getting their own scripted series on the air. NBC has purchased a pilot of an untitled 30 minute comedy series about two contentious sisters (one of whom will be played by Portia). Ellen is set to executive produce. The show concept was apparently such a hot commodity that ABC, NBC and CBS were ALL fighting over it – which is a good sign regarding the show's dreams of making it to your television screen for a Spring premiere.
Ellen chatted a bit about the new show as well as Portia getting her American citizenship on The Tonight Show last night (you may need to watch the whole interview as this segment isn't available in a clip):
 JANE LYNCH:
The Lynch covers the October issue of The Advocate and gives a great new interview that give a peek into her real personality: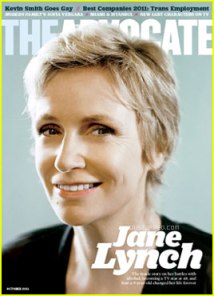 On love scenes with Cybill Shepherd on The L Word:
"We were both clothed because no one wants to see us middle-aged broads flopping around in bed. [Laughs] I had one love scene under my belt, and I'm a lesbian in actual life, so I'm sure she expected me to take the lead, which I did. She was absolutely wonderful and open to the challenge. We both had a good time."
On her style:
"I love fashion, and I love seeing it on people, I have a hard time with myself, though. I'm hard to fit. I have a skinny neck and a little head and a big ass. It's hard to dress that."
Finally, on her struggle with alcohol:
"Boone's Farm, that's a gateway drug. I think it's cheap. And it gets you drunk, and it's sweet, but boy, it makes you sick. I remember a friend walking home through the park in the snow leaving a trail of bright red vomit."
CHAZ:
Cher surprises Chaz by calling to Ellen and rips the Dancing With the Stars haters a new asshole. It's quote sweet to see Cher's support for Chaz during this ridiculous media overload.

ADAM LAMBERT:
I hate to be the barer of bad news, but Glambert has disclosed that his upcoming musical masterpiece will not be ready until early 2012.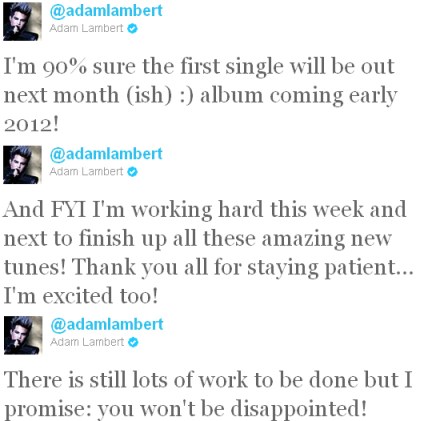 BROADWAY:
Queerty previews the a slew of brand new shows (well, a lot of revivals) opening on Broadway this fall.
KELLY CLARKSON / FLORENCE & THE MACHINE:
Some new music you won't have to wait for are the new Kelly Clarkson (Stronger) and Florence & the Machine (Ceremonials) records, which I need in my ipod earbuds yesterday. The cover art and tracklistings for Ceremonials (out November 1) and Stronger (out October 24) have been released!