I've been writing Drawn to Comics for three years, so it always makes me incredibly happy when I find new artists that I love. That's the case with Shan Murphy, an artist and cartoonist I recently met through twitter. She makes these really terrific short comics about cute animal people that are just trying to make it through life and be positive and good people and good friends. They're honestly such a great thing right now because they help remind us that there's good in the world. Thank you, Shan Murphy.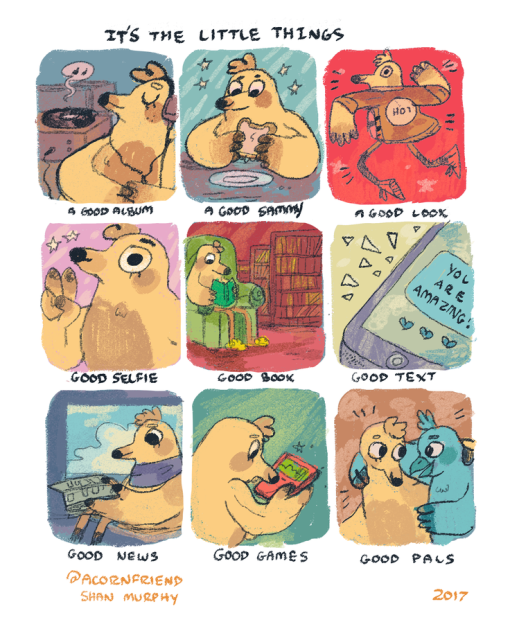 On her website she has a lot of Bird Comics that are some of my favorites; they're often personal and relatable, especially for millennials who spend a lot of time online and on social media. She writes about anxiety and hope and good things in life and friendship and life in general. When I was writing this I straight up cried reading this comic about friendships, and I've seen it many times before. When reading these, you just want to reach out and hug her characters, and then you remember that they remind you of yourself, and you want a hug, and then it's like you want to give the world a hug. It brings us all together.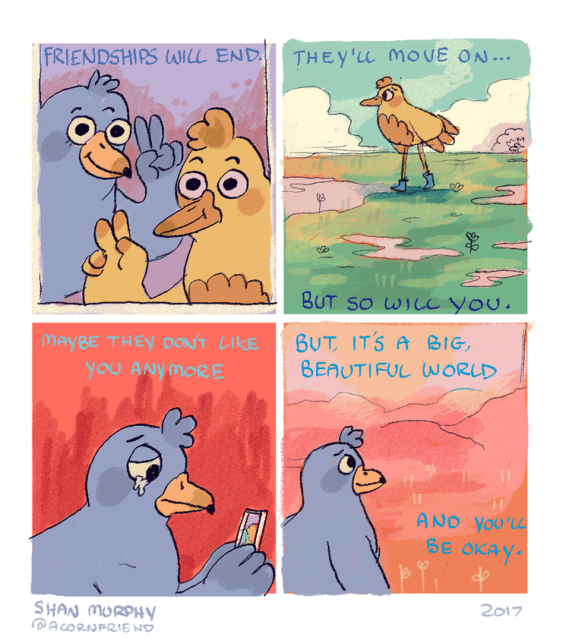 She also recently released a wonderful short comic called "Migrate" that's about two birds in a relationship, but also based on her real-life long distance relationship. In the comic, a native bird meets a migratory bird online thanks to some fanart. They start talking online, eventually talking on the phone and then moving on to skyping. Eventually they admit their feelings for each other and start dating, with the understanding that it's going to have to be long distance due to the nature of the types of birds they are. It's a beautiful and touching and beautifully illustrated with lush environments and wonderful, soft, feathery colors and textures. You can buy this comic to help Murphy and her partner move in together.
I also love her comics about bunnies, and her perfect Witch Apartment illustrations that I'm totally obsessed with. I mean, I am a little worried that she broke into my house and took pictures of me lounging around and then drew her own version of it, but whatever, the art ended up looking cool. The way Murphy is able to work with colors and textures to create these environments that just looks so busy in the nicest, most comfortable way is wonderful. She makes you feel like you're in an intimate kitchen of a housewitch who's about to make you soup and tea and tell you all about the creatures in the forest and which ones are her friends. I love it.
To keep up with Murphy and her wonderful work, you can follow her on Twitter and Instagram (where she also posts some delightful self portraits and drawings of Sonic the Hedgehog), and check out her website. Times are tough and life is rough, and it's hard to feel good about things. But if we remember to read comics like the ones Murphy makes and we remember to treat ourselves kindly and treat those we love the same way, we're gonna be okay. Thank you Shan Murphy for reminding us of that.
New Releases (April 19)
Buffy The Vampire Slayer Season 11 #6
Wonder Woman Earth One Vol 1 TP
Powerpuff Girls Power Up My Mojo HC
Mockingbird Vol 2 My Feminist Agenda TP
Scarlet Witch Vol 3 Final Hex TP
Mighty Morphin Power Rangers Pink Vol 1 TP
---
Welcome to Drawn to Comics! From diary comics to superheroes, from webcomics to graphic novels – this is where we'll be taking a look at comics by, featuring and for queer ladies. So whether you love to look at detailed personal accounts of other people's lives, explore new and creative worlds, or you just love to see hot ladies in spandex, we've got something for you.
If you have a comic that you'd like to see me review, you can email me at mey [at] autostraddle [dot] com.