As I mentioned at the end of last week's column, I went to Flame Con recently and had a wonderful time. Flame Con is the world's largest queer comic con, and queer cartoonists and artists from all around come to FlameCon to interact with fans and sell their art. Walking through the Artists' Alley is an amazing experience. It's full of comics and drawings and zines and buttons and stickers showing gay and bi and queer and pan and trans and gnc characters of all types being happy and being themselves. It's hard not to spend all the money you have in just one afternoon, and in fact, I bought a lot more comics and pins than I was planning on buying. But wow, was it worth it.
I've written about the delightful Wendy Xu a couple times before; with her art on comics like Mooncakes and My Neighbor Jianliang she's definitely one of my favorites. At Flame Con she was selling a new comic that not do I love, but that I'm in as an adorable deer girl! This is Wendy's first comic for kids, and it's so freaking great. It's about a young witch who travels to a a harbor town to live with her aunties and train to be a witch. It's got elements of Kiki's Delivery Service and Practical Magic, but Xu is so great at building entire worlds that there's no mistaking this comic as anything other than her story. I absolutely die for slice of life comics, especially ones that are about witch girls, and Xu creates such a perfectly comfy and interesting world. This is the kind of magical setting I want to see more of. It's completely familiar but it doesn't rely on the old tropes and settings and magical creatures that we usually see in American made fantasy stories. Xu's work is exceptional.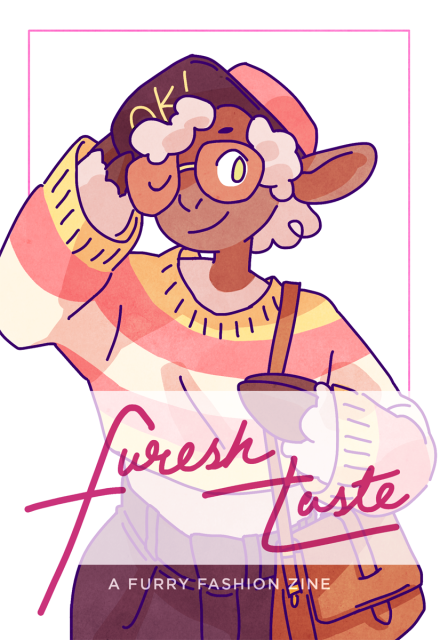 Speaking of me being a deer girl, my #FurrSquad side took over and I bought two fashion zines from Binglin Hu; Furry Fashion Zines, to be exact. But guys, they are so fucking cute. They're also really, really soothing in a great way? Like, flipping through them is a great way to relax and just slow your breathing while looking at something cute and not really having to worry about much else or what's going on in the world. I, for example, was trapped in College Station during Hurricane Harvey (we were actually safe, but it was my first hurricane so I was very nervous) and was stressing out, then I read Furesh Taste and its follow up, Tarovale: Spring, and felt relaxed and calm. It was great. I followed Lin on Twitter a while ago specifically because of these cute furry fashion illustrations. There's a strong sense of softness to them, something that feels like linen sheets or strawberries and cream. I wish to heaven and hell that I lived in Taroville. Look at these people. Look at this fashion! I can't wait to see more work by Binglin.
Two of my other favorite pickups at Flame Con are the baby minicomic by E Jackson, which I bought along with a baby pin, and The Magic Fish, a mermaid comic collection by possibly my favorite living artist, Trung. Of course, at a comic con, you don't only buy comics. I also came away with an amazing "Space is Gay" pin from Ashanti Fortson, a "Petty AF" pin from the wonderful Kris Anka and some terrific bisexual-themed stickers from Kate Leth. To carry all my stuff, I got a "Cute Witch" tote from Xu to match my shirt. FlameCon has some of the best comics, illustrations and accessories in all of nerddom, and I can't wait to go back and get more.
New Releases (August 30)
BTVS Big Bads & Monsters Adult Coloring Book TP
Wonder Girl: Adventures of a Teen Titan TP
Star Wars The Force Awakens GN
X-Files Origins II: Dog Days of Summer #3
Generations: Hawkeye & Hawkeye #1
Moon Girl and Devil Dinosaur #22
Unstoppable Wasp Vol 1 Unstoppable TP
Kim and Kim: Love is a Battlefield #2
---
Welcome to Drawn to Comics! From diary comics to superheroes, from webcomics to graphic novels – this is where we'll be taking a look at comics by, featuring and for queer ladies. So whether you love to look at detailed personal accounts of other people's lives, explore new and creative worlds, or you just love to see hot ladies in spandex, we've got something for you.

If you have a comic that you'd like to see me review, you can email me at mey [at] autostraddle [dot] com