One of my favorite cartoonists in the world, Mildred Louis, did the stunningly gorgeous cover art for the upcoming queer paranormal romance anthology The Other Side, and her art serves as a great preview for what's inside. As soon as you see her illustration, you're immediately ready for some equally engaging comics on the inside. When you see a comic anthology advertising queer paranormal romance, you expect a lot out of it. It's got to have creative and sometimes spooky settings, characters and goings-on; it's got to have cute and relatable romance; it's got have have a ton of queer stuff; and it's got to have great art and writing. The Other Side more than delivers.
This campaign is just a few thousand dollars short of it's goal right now, with two weeks left, so it could really use a boost to get it over that final hill. The book is edited by Melanie Gillman and Kori Michele Handwerker, who each also contributed to the collection, and features work by over 20 other writers and artists. I don't think there's a single comic in here that I don't like, which is quite an accomplishment for such a large and creatively diverse anthology.
People like Gisele Jobateh and Margaret Kirchner wrote super great ghost stories for this anthology. I absolutely love Kirchner's comic, "Tierra Verde," because it's a nice twist on the classic Latina ghost story La Llorona. Kirchner takes that tale and turns it into a mysterious and atmospheric western romance. I absolutely love it. Jobatch's comic, "Till Death," explores what an elderly couple's relationship is like after one of them becomes a ghost. It's a very touching story that shows the real power of love. In Natasha Donovan's "Dive," we get another kind of ghost story, one that feels like it comes from an old, dark, true place. Her art reminds me of Emily Carroll's work, or woodcarvings, which makes the story all that more effective. "Emma-FZR 400RRSP" by Mary E. Verhoeven is a ghostly, gay twist on classic songs like "Leader of the Pack" and "Last Kiss," with queer ladies and motorcycles.
I could go on and on about how great this whole anthology is for hours, but I'd like to talk about some of my favorite stories by cartoonists Drawn to Comics readers will be familiar with for a few moments. I've found a ton of cool new writers and artists to be a fan of, but also, plenty of Drawn to Comics favorites like Kate Leth, Katie O'Neill, Mari Costa and Other Side co-editor Melanie Gillman all have incredibly great comics featured here.
Leth and O'Neill teamed up to make an adorable comic, "Yes No Maybe," about a woman who uses a Ouija board to try to contact the ghost living in her house and folding her laundry who ends up making a date with the flirty ghost she conjures. Costa's tale, "Ouija Call Center," is a similar one, about a woman trying to contact her ex-boyfriend on, well, on the other side, who's communication session doesn't go quite as planned in the best and queerest way possible. Seriously, this one is just beyond cute. Gillman's comic, made in collaboration with Bitmap Prager, is about a non-binary person and the nervous under-the-bed monster who falls in love with them.
I've only talked about around half of the wonderful comics in this collection, there are plenty more that are just as great. I love ghost stories and other paranormal and supernatural comics and I love queer romance, and The Other Side has found a brilliant balance between the two. It's definitely a project worth checking out and supporting. These are some of my new favorite paranormal stories in any form of media, not just in comics. I love them like the characters in these comics love ghosts.
I'm also extremely excited to be able to show you all this wonderful excerpt from The Other Side in the form of Aatmaja Pandya's brilliantly adorable comic "Airspace" about two girls who flirt through guitar lessons and some supernatural hypnotism. Just like Pandya's other comics, including her terrific webcomic Travelogue, here she draws characters who are so adorable you just want to hug them and writes a story so warm and comforting that it feels like you got that hug you were looking for from the characters. After reading this comic I don't know how anyone can resist supporting this Kickstarter campaign.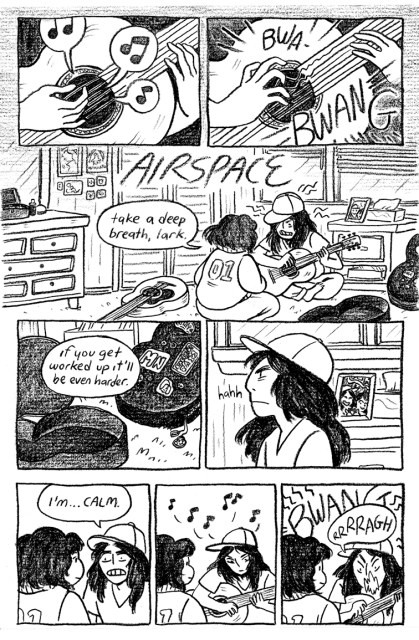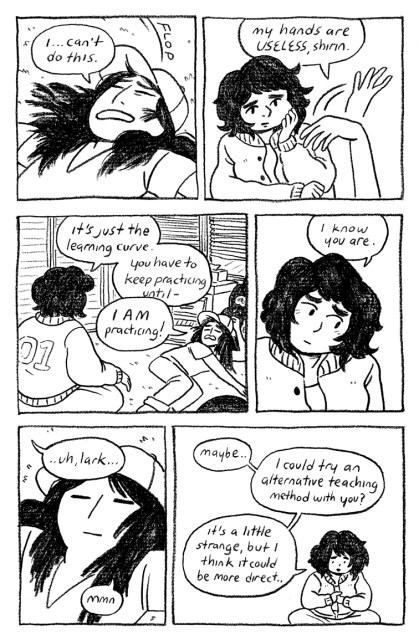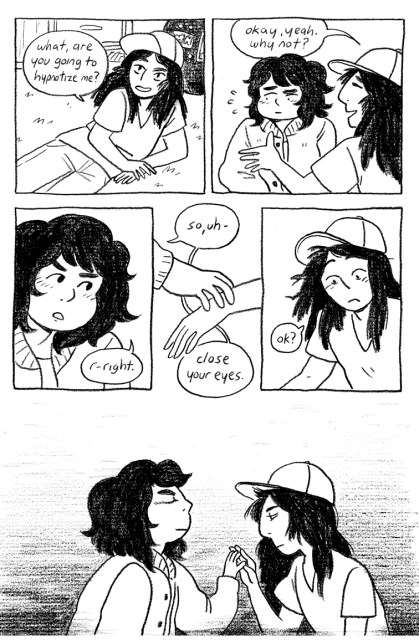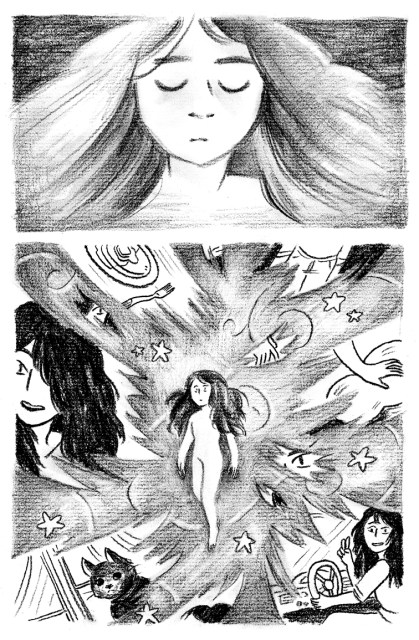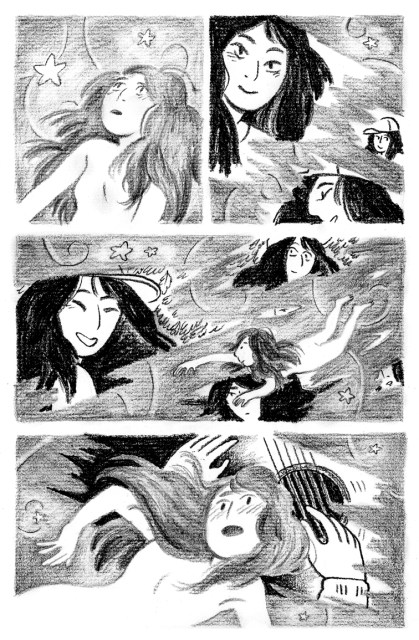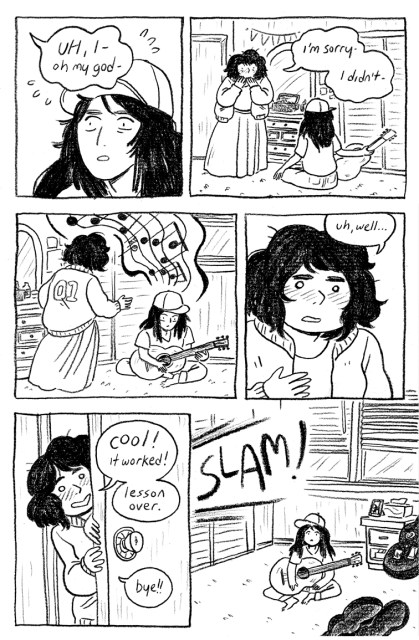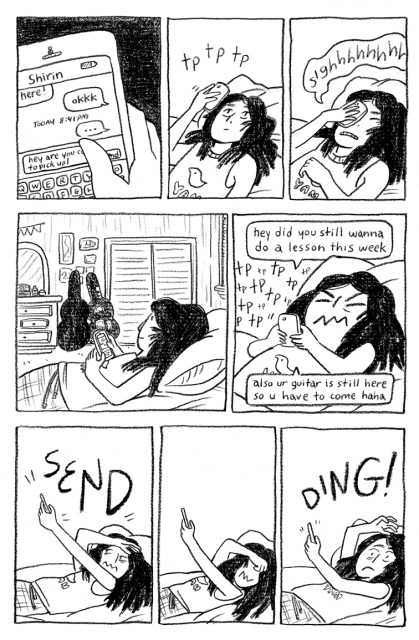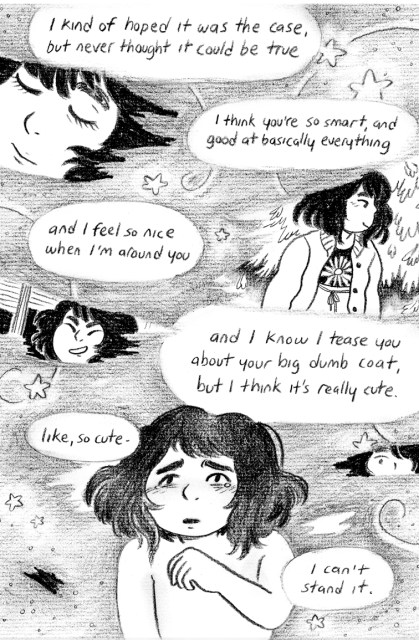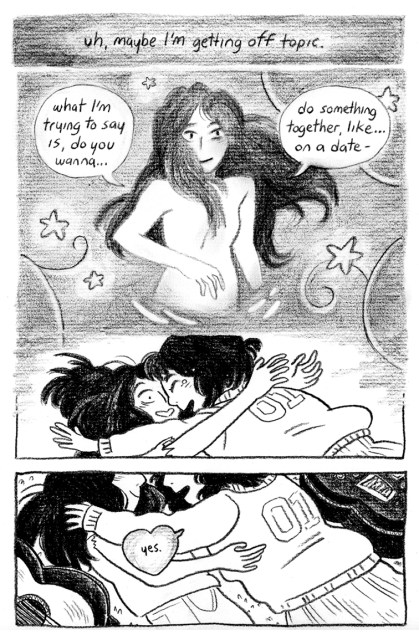 New Releases (March 9)
InSEXts #4 (Aftershock)
Adventure Time #50 (Boom!)
Steven Universe Vol. 2 TPB (Boom!)
Angel and Faith Season 10 Vol. 4 A Little More Than Kin TPB (Dark Horse)
Harrow County #10 (Dark Horse)
Leaving Megalopolis: Surviving Megalopolis #3 (Dark Horse)
Catwoman #50 (DC)
Gotham Academy #16 (DC)
Legend of Wonder Woman #3 (DC)
Starfire #10 (DC)
Delilah Dirk and the King's Shilling  (First Second)
X-Files Deviations #1 (IDW)
X-Files Season 11 Vol. 1 HC (IDW)
Codename Baboushka: The Conclave of Death #5 (Image)
Shutter #19 (Image)
Agents of S.H.I.E.L.D. #3 (Marvel)
All-New Wolverine #6 (Marvel)
Howard the Duck #5 (Marvel)
Mighty Thor #5 (Marvel)
Mockingbird #1 (Marvel)
Ms. Marvel #5 (Marvel)
Spider-Gwen #6 (Marvel)
---
Welcome to Drawn to Comics! From diary comics to superheroes, from webcomics to graphic novels – this is where we'll be taking a look at comics by, featuring and for queer ladies. So whether you love to look at detailed personal accounts of other people's lives, explore new and creative worlds, or you just love to see hot ladies in spandex, we've got something for you.
If you have a comic that you'd like to see me review, you can email me at mey [at] autostraddle [dot] com.