First Second Books is one of my favorite publishers, with books like Cucumber Quest, Tillie Walden's Spinning and On a Sunbeam, The Prince and the Dressmaker and This One Summer — and I'm excited to announce another book that I'm sure I'll love, Sarah Winifred Searle's The Greatest Thing. The Greatest Thing is a high school story about a girl named Winifred (the book is a fictionalized memoir of Searle's teen years) and the group of friends she makes in her sophomore year who help her figure out how to survive high school, body image issues, depression and bisexuality happening all at the same time.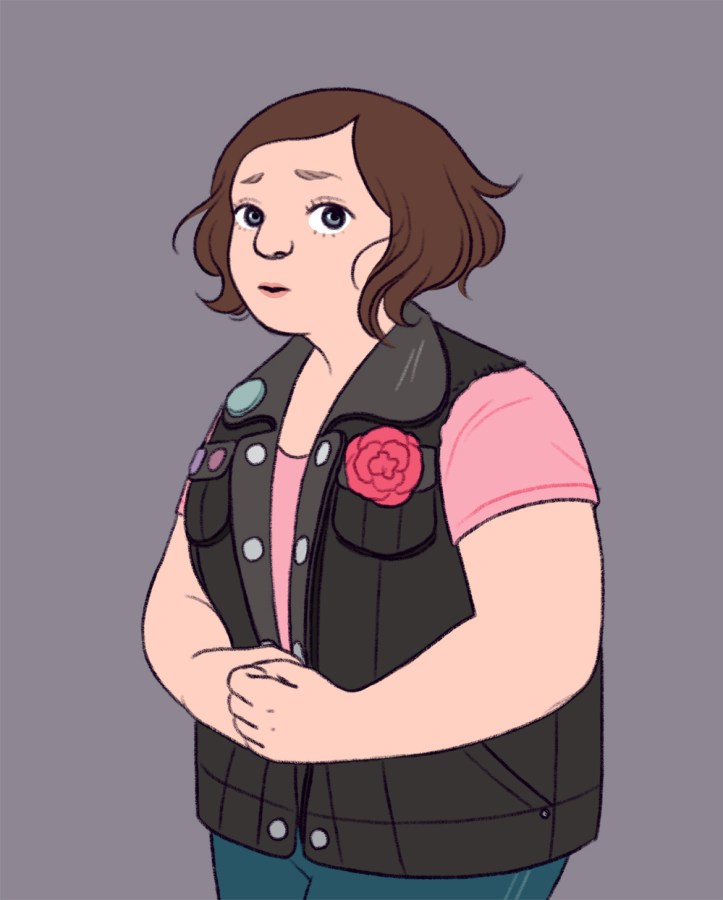 Winifred faces her sophomore year of high school with dread until she meets a pair of queer, punky freshmen. They teach her how to modify her clothing to feel more comfortable in her skin, using pins and patches to create a suit of armor. These new friendships and the comic zines they produce together keep Win afloat as she navigates issues of body image, disordered eating, and depression. The Greatest Thing is a fictionalized memoir about the kinds of well-meaning moments and quiet mistakes that help a person figure out not just who they are, but who they need to become.
You might remember Searle from her work on Fresh Romance, which I've written about here before, or her comics featured on The Nib or in Jem and the Holograms and Adventure Time. She also has an upcoming middle grade graphic novel called Sincerely, Harriet. She said she wanted to write this book for several reasons, including giving a highlight to bisexual characters at a time when queer teen lit seems to be thriving. "I fell for girls as well as boys, but it was never to seek attention," she said, "And despite the fact that I was fat, a broad spectrum of romantic experiences did not elude me –– seemingly against all odds, I was loved. But the fact is, it wasn't against all odds. This stuff happens all the time, and teens need to know that." She also wanted a chance to tell her own version of a story about teen mental health.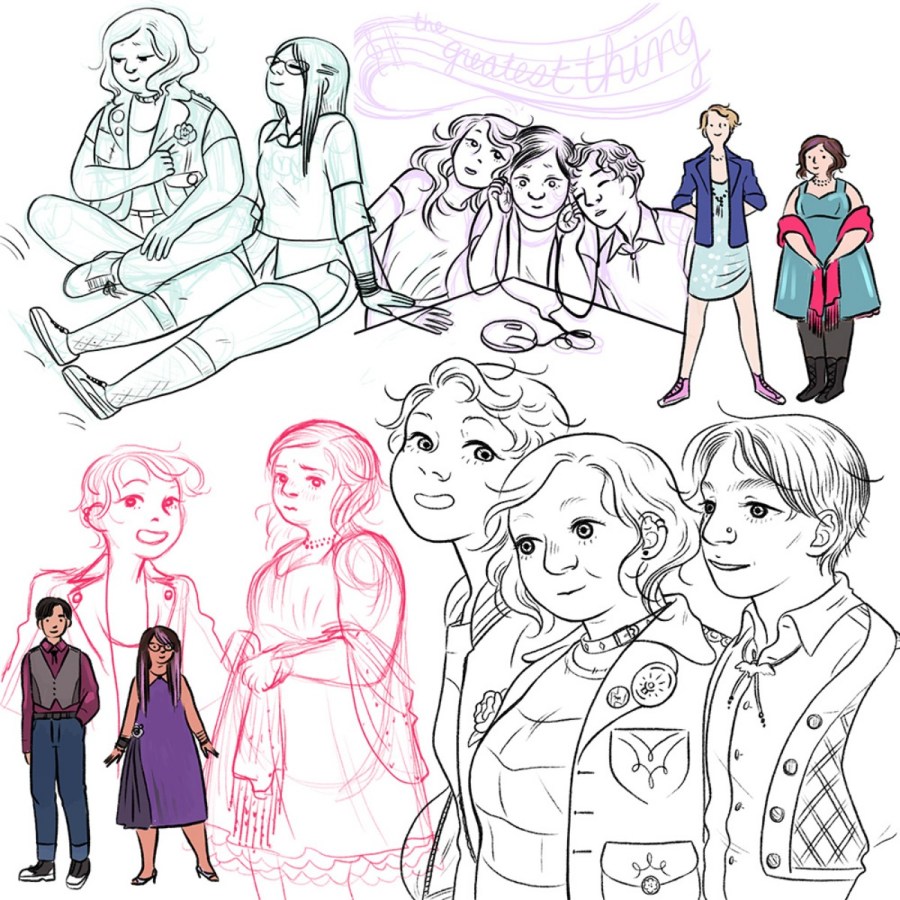 Searle says that she wanted to tell this story because she wants teens to have a wide variety of depictions of how people their age deal with mental health issues like depression and eating disorders. She hopes this book will give another perspective to these very common experiences, a perspective that can be very important for people to see.
…Popular media often sensationalizes teen suicide to the point that the character who dies ceases to be a fully-dimensional person and becomes this fetishized symbol of struggle, reduced to impetus for other characters' arcs. It's not that stories that explore this issue can't be done well –– the manga Orange will forever be one of my most favorite series of all time –– but Orange's strength lies in the fact that it's not about Kakeru's death as much as it is about his life. I wanted to push that even further; my book will focus the story on survival and how even small successes in mental health management are worth celebrating.
The Greatest Thing will hit bookstores and online retailers in 2020.
New Releases (May 16)
My Little Pony: Friendship is Magic #66
Supergirl: The Silver Age Omnibus Vol 2 HC
Cucumber Quest Vol 3 Melody Kingdom
---
Welcome to Drawn to Comics! From diary comics to superheroes, from webcomics to graphic novels – this is where we'll be taking a look at comics by, featuring and for queer ladies. So whether you love to look at detailed personal accounts of other people's lives, explore new and creative worlds, or you just love to see hot ladies in spandex, we've got something for you.
If you have a comic that you'd like to see me review, you can email me at mey [at] autostraddle [dot] com.