In the spirit of transparency, I've made three small contributions to two Democratic presidential campaigns.
---
Last night, the Democratic Party hosted the first of six scheduled debates of the 2020 primary season. Because of the sheer number of candidates — there are 25 declared candidates for the Democratic nomination (can you name them all?), 20 of whom met the qualifications to participate in the debate — the first debate is a two-night event, with 10 candidates appearing on stage each night. Last night's lineup was the result of a random draw of candidates who met the pre-determined threshold: they either have amassed 65,000 campaign donors, including at least 200 donors each in 20 states, or showed least 1 percent support in at least three polls.
The Participants:
+ Bill de Blasio – Mayor of New York City
+ Tim Ryan – Congressman from Ohio's 13th district
+ Julián Castro – Former Secretary of Housing and Urban Development
+ Cory Booker – Senator from New Jersey
+ Elizabeth Warren – Senator from Massachusetts
+ Beto O'Rourke – Former Congressman from Texas' 16th district
+ Amy Klobuchar – Senator from Minnesota
+ Tulsi Gabbard – Congresswoman from Hawaii's 2nd district
+ Jay Inslee – Governor of Washington
+ John Delaney – Former Congressman from Maryland's 6th district
With this participant slate, a little bit of history was made last night: for the first time ever, multiple women — Warren, Klobuchar and Gabbard — took the debate stage to campaign for a Party's presidential nomination.
---
The Frontrunner Remains the Frontrunner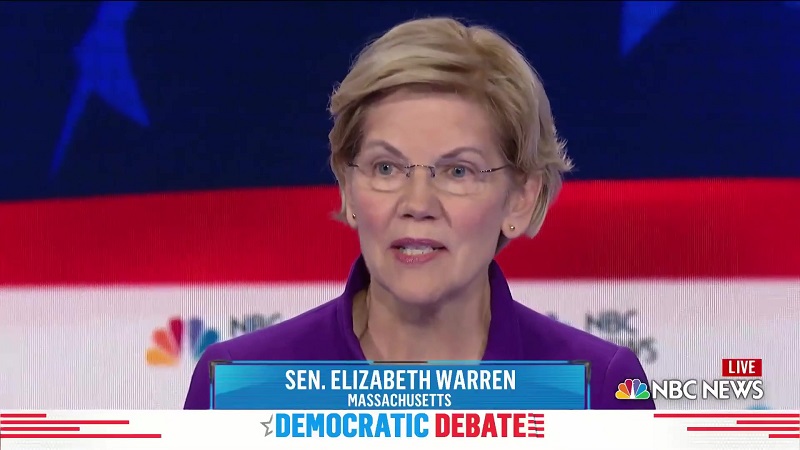 After a slow start out of the gate, Elizabeth Warren continues to improving her standing in the Democratic field, finishing consistently in the top three of national polls. With Joe Biden and Bernie Sanders competing in tomorrow night's debate, Warren became the de facto frontrunner for the night… and, going into a debate, that's always a precarious position to be in. On the one hand, being the frontrunner in the small pond gives a candidate the opportunity to really define themselves, but on the other, it also paints a large target on your back, making you susceptible to attacks from lower tier candidates who want to move up. Surprisingly, Warren succeeded on both fronts.
Warren was able to distinguish herself early in the debate on the economy and health care, two of the bread-and-butter issues of her campaign. The participant slate made it difficult for Warren to get in on every conversation, though, and after a strong performance in the first 45 minutes of the debate, we didn't hear much from her, despite her frontrunner status (it's also likely that most viewers tuned out so it didn't matter anyway). I was particularly disappointed to not hear Warren or Klobuchar talk about the trip they'd just taken to a temporary holding facility for unaccompanied migrant children in Homestead, Florida, as the moderator didn't go to them for answers during that portion. Overall, though, a strong showing from Warren.
The Massachusetts senator also avoided any direct challenges from her competitors. The moderator teed up a question to Cory Booker about Warren's plan to break up the tech companies, which he'd previously criticized, and Booker seemed to go out of his way to avoid firm disagreement with the frontrunner. Likewise, on the question of eliminating private insurance — which only Warren and DeBlasio supported — Booker seemed anxious to avoid the entanglement. The field seemed to miss that Warren's answer on health care last night was different than the answer she gave three months ago, with respect to maintaining private insurance coverage as part of the path to ensuring universal coverage. Given Warren's political rise — often at Sanders' expense, pollingwise — I'll be interested to see if she sees any criticism for the shift, because none of her opponents last night took that opportunity.
---
Castro Breaks Through
Julián Castro came out of the gate swinging, talking about the passage of the Equal Rights Amendment to address the pay gap and then reproductive freedom and justice on the question of abortion. But it wasn't until Telemundo's José Díaz-Balart asked him about his day one plan on immigration and his response to the picture of Oscar Martinez and his 23-month-old daughter, Valeria — the Salvadoran migrants who died attempting to cross the Rio Grande River — that Castro seemed to shift into another gear.
After noting his comprehensive immigration plan, he called the picture of Valeria and her father heartbreaking and said, "It should piss us all off."
Castro's righteous anger persisted as he laid out his immigration plan, including repealing Section 1325 of the Immigration and Nationality Act that the Trump administration's using to justify their family separations. When Beto O'Rourke wouldn't join him in supporting a repeal, Castro saw an opening to distinguish himself from fellow Texan, and pounced.
"I think that you should do your homework on this issue," Castro said. "If you did your homework on this issue, you would know that we should repeal this section." It was a standout moment in the debate — and, frankly, O'Rourke never fully recovered from it — and Castro did his campaign a great service going forward.
---
LGBT Issues Get Their Moment
On the anniversary of decisions in Lawrence, Perry, Windsor and Obergefell and, with Rachel Maddow serving as one of the debate's moderators, a question on LGBT issues seemed likely…but the question wasn't the first time the LGBT community was mentioned during the debate.
Asked a question about his health care plan coverage of abortion, Castro said, "I don't believe only in reproductive freedom, I believe in reproductive justice. And, you know, what that means is that just because a woman — or let's also not forget someone in the trans community, a trans female — is poor, doesn't mean they shouldn't have the right to exercise that right to choose, and so I absolutely would cover the right to have an abortion." Though he misspoke in referring to trans women as needing abortions, and is taking fair criticism for his confusion about the realities of how the healthcare needs for different members of the trans community intersect with reproductive justice, Castro's desire to include trans people in a conversation about reproductive justice on a national stage — a conversation that they've been often excluded from — was a notable moment.
Later in the debate, Chuck Todd asked Congresswoman Gabbard about why voters should trust her on LGBT issues given her specious record. While she acknowledged that her history isn't pristine, she pointed to her congressional record as a member of the Equality Caucus and her recent vote for the Equality Act in the House.
"Maybe many people in this country can relate to the fact that I grew up in a socially conservative home, held views when I was very young that I no longer hold today," Gabbard said.
But Booker was quick to interject that that wasn't enough. He added, "We do not talk enough about trans Americans, especially African-American trans Americans, and the incredibly high rates of murder right now. We don't talk enough about how many children, about 30 percent of LGBTQ kids, who do not go to school because of fear. It's not enough just to be on the Equality Act. I'm an original co-sponsor. We need to have a president that will fight to protect LGBTQ Americans every single day from violence in America."
---
Debates Will Winnow the Field
In a field this deep, it's hard to make a judgement, based on polling about whether or not a candidate should stay in the race. Sure, it seems ridiculous that Joe Sestak, the former Congressman from Pennslyvania's 7th district, would just join the presidential race this week, but if Klobuchar, Booker, Castro and O'Rourke are all polling at less than 4 percent, why not? As unwieldy as the debates are with 10 people on the stage, they'll do a lot to help narrow the field in the coming months.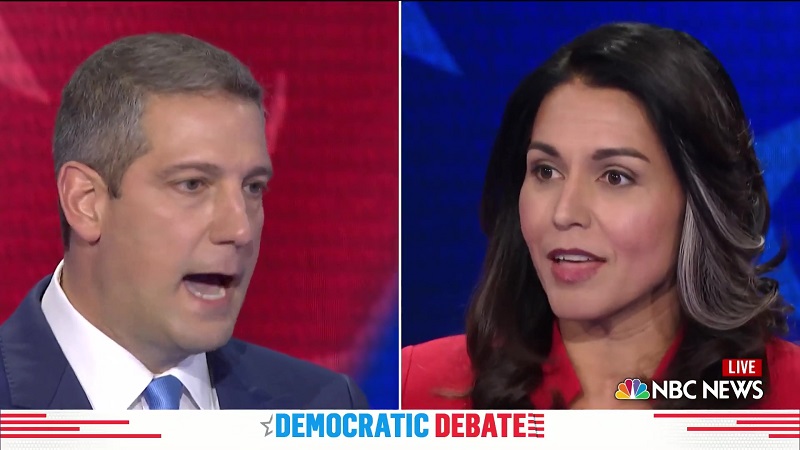 Who could be the first casualty, based on the first debate? Maybe Rep. Tim Ryan, whose prior claim to fame was launching unsuccessful campaigns to dethrone Nancy Pelosi in the House. During the debate, the Ohio Congressman tried to bolster his foreign policy bonafides by touting his membership on the the Defense Appropriations Committee and the Armed Services Committee… but then he went on to advocate the nation's continued involvement in Afghanistan, much to the dismay of everyone, including Rachel Maddow, and it left a perfect opening for military veteran Tulsi Gabbard to step in.
"Is that what you will tell — is that what you will tell the parents of those two soldiers who were just killed in Afghanistan? Well, we just have to be engaged? As a soldier, I will tell you that answer is unacceptable," Gabbard said.
The answer pushed Ryan so far back on his heels, that he erroneously blamed the Taliban for 9/11… it was a devastating moment for Ryan's campaign. While he's got until Dec. 11th to decide whether he'll stay in the race or run for his House seat again but this debate performance suggests that decision should definitely come sooner rather than later.
---
What'd you think of the first debate of the 2020 campaign? Did any moments or candidates stand out to you? Any candidate that you found underwhelming? What are you hoping to see from tonight's debate?