by Natalie and Himani
Last night, for the second time in less than a week, the Democratic candidates for president got together to debate the nation's most pressing issues. It was the final debate before Saturday's South Carolina primaries and next week's Super Tuesday slate.
Because you've already heard from me on a lot of these issues already this week, I recruited one of Autostraddle's newest contributors, Himani — the brains behind our expansive political survey — to join me to discuss all the fireworks from Charleston.
---
Natalie: So, I've watched each and every one of these debates — even dating back to when the field was so big, networks carried them over two nights — but you haven't, right? Is this your first debate of the primary season?
Himani: Yes, it is. Actually I think this is the first primary debate I've ever watched.
Natalie: That's interesting! Do you not watch primary debates because you don't want to see Democrats attack each other or is it something else?
Himani: For as long as I've been able to vote — 2008 was my first election — I always knew I would solidly vote Democrat so it felt a little like "oh well, why does this matter?" I realize now how ridiculous that sentiment is. I also read a lot more news than I watch, so debates are just not a great format for me to try to get a sense of who the candidates are and where they stand on issues I care about.
Natalie: So as a newcomer to the primary debate experience, how was it watching this debate?
Himani: It was… something. Coming into this knowing a bit about the candidate's political records and policy positions, honestly it's hard not to feel a little jaded to watch them spin what they've done or what they actually believe in to something that sounds good on TV. And then for so much of it they were all just really ripping into each other and you could almost see the moments where some of them were like "shit…what are we doing right now…we need to keep our eye on the prize and that is ripping apart Trump and the Republicans."
Natalie: This debate was an absolute shitshow. The worst debate of the primary season, hands down. I was almost sorry I asked you to tune in.
Himani: You shouldn't be. What were some of the things that made it a shitshow? What were some of the things that happened that made you cringe the most?
Natalie: I think political moderating is a very unique skill and not everyone can do it… and Norah O'Donnell and Gayle King just seemed unprepared for the onslaught. Then once one candidate saw that they could get away with talking over others and going over the allotted time, it became a bit of a free-for-all.
Himani: I was wondering about that. There was A LOT of talking over each other. I think what was also striking was how off topic the candidates were, right from the beginning when Bloomberg came swinging at Sanders about Russian interference in the primary on behalf of Sanders but the question from the moderator was about the low unemployment rate.
Natalie: Oh yeah! Candidates were like, "I'm going to talk about whatever I want whenever I want"… like when Pete pivots from a question on Syria to answering something about healthcare.
The thing that made me cringe, though? Probably the reactions from the audience. It was so disruptive and offensive, at points, that it was really frustrating.
Himani: Oh interesting, I didn't pay much attention to that. Can you talk a little more about that? Also, who is the audience in these debates usually?
Natalie: According to the DNC, all candidates were given equal allotments of tickets, but there seemed to be a disproportionate number of Bloomberg supporters. There was one early exchange between Bloomberg and Warren where she's rightly criticizing him for "allegedly" telling a pregnant employee to get an abortion when the audience just started booing.
Himani: Yeah, that moment was really hard to watch. It felt like the moderators also didn't really help and just kind of rushed that along. The way the whole situation played out, it felt like Warren had been out of line for raising it at all. But I don't think she was.
Natalie: I don't think she was either. That moment was, perhaps, the most shocking moment of the debate for me because I hadn't heard that story before. What moment or moments stood out for you?
Himani: I was surprised that Idlib came up. What's happening there is truly atrocious. What we're seeing in Idlib now is a long time coming, so the question felt really flat to me, to ask candidates "What would you do to push back regime and Russian forces and stop the killing of innocent civilians?" when really the question should have been "What would you have done to prevent this crisis in Idlib?" or "What do you think the long term strategy needs to be with Syria given that Assad seems poised to regain all rebel territory?"
Natalie: Did anyone answer that question to your satisfaction?
Himani: Warren started off her response by saying that the US needs to provide humanitarian relief, and I think she's right. Earlier in the debate, the moderators had asked about bringing combat troops back from the Middle East. Warren's response to that question was we need to strengthen all of our tools — the State Department, alliances, a strong global economy — not just the military. When discussing Idlib, she re-emphasized that point.
Bloomberg's response to the question on combat troops was striking too, though. He said that we should cut back the military as much as we can but "if we learned something from 9/11, people plan things overseas and execute them here… this is a dangerous world. And if we haven't learnt that after 9/11, I don't know what's going to teach us [that]." I was shocked to hear that sentiment come up in that way in a Democratic debate in 2020.
---
Highs & Lows
Michael Bloomberg – Former Mayor of New York City, New York
High:
Himani: Bloomberg was the strongest when he talked about gun control because he actually has some credibility in that arena.
Natalie: Agreed. I think Bloomberg's strongest when it comes to talking about his success with Moms Demand Action and getting gun control legislation passed in 20 states.
Low:
Himani: Every time he talked about his record in NYC. It was painful to watch him gloating about how much he improved education in NYC or increased affordable housing when those areas are still serious issues in New York in no small part because of his policies as mayor. Also, on stop and frisk, where all he could say was, "We let it get out of control," which is an utter failure to acknowledge that the policy was racist no matter the extent to which it was implemented.
Natalie: I agree with you about the low as well… specifically on stop and frisk, I'm really frustrated by the way he's allowed to rewrite history. The candidates talk a lot about the policy being racist — and it was — but he's also distorting the truth on how it ended. Stop and Frisk ended because of a judicial mandate, period. Not because of Michael Bloomberg, not because of the Obama administration (as Biden suggested in the last debate), but because a court stepped in and ended it.
Pete Buttigieg – Former Mayor of South Bend, Indiana
High:
Himani: I think Pete's strongest moment was at the beginning of the debate where he laid out the case for why Sanders would be a poor choice for the general election. He said, "If you think the last four years has been chaotic, divisive, toxic, exhausting, imagine spending the better part of 2020 with Bernie Sanders vs. Donald Trump. Think about what that will be like for this country."
Natalie: I agree that that opening salvo was one of Buttigieg's strongest moments. I thought he nailed it when he said that Russia's not particularly interested in who wins, they just want chaos.
Low:
Natalie: Buttigieg was was asked if Stop N' Frisk was racist policy and he was happy to opine about that, despite his own lackluster record with policing in South Bend. I'm not sure people in glass houses should be throwing stones.
Himani: Yes, I was also incredibly frustrated by that. It felt hypocritical, and I was disappointed the moderators and the other candidates didn't bring up any details about his record with race and policing. The other low for Buttigieg for me was just not playing by the debate rules. I felt like he was really one of the worst offenders when it came to cross talk and not staying on topic.
High:
Himani: I appreciated that Warren centered her answer on Israel around the idea that "it's not up to us to determine what the terms of a two-state solution are." So much of US foreign policy has been done from this standpoint of "America knows best," but really there are no good solutions to any of these issues. There's never been a good answer for how or how much the US should get involved, only that it almost always has gotten involved far too much and in the wrong ways when it was in the US's interests to take down or put in a regime.
Natalie: For me, though, Warren's high — and the most significant portion of the debate, in my view — was when she said we needed to get rid of the filibuster. She's been candid about this from day one that unless we roll back the filibuster, the progressive agenda is DOA… and I was glad to hear that emphasized last night.
Low:
Natalie: It was interesting to hear Warren come out of the gate and offer her first real critique of Bernie Sanders. She talked about how she and Sanders agree on substance, like Medicaid for All, but she's the only candidate to have provided any details for how to bring it to fruition, which his campaign hammered her for. I thought it was a good line of attack but that was it…she didn't seem to broach the issue at all for the rest of the debate.
Maybe she chose not to because Sanders was getting hammered by everyone else and didn't see the need to pile on but it did leave me questioning whether she's willing to go toe-to-toe with Sanders.
Himani: To me, it felt a little like this debate escaped Warren. She was middle of the road in terms of speaking time and, more generally, it felt like she was often in the background while everyone else hashed it out. She tried to get in the fray in the beginning of the debate with Bloomberg and with Sanders, as you mentioned. Both times, though, it felt like a moment that just passed by, in part because of the way the debate was moderated and in part because she didn't dig in the way some of the other candidates did.
High:
Himani: Coming into this debate, the big controversy around Sanders was around his comments about the Castro regime and the question of whether Sanders was going to alienate voters by being too apologetic of authoritarian communist regimes. I think Sanders got a win on that front when he was able to turn this around to Bloomberg. At one point, Bloomberg implied that President Xi Jinping of China was responsive to his people because he was responsive to the politburo. Sanders responded to that forcefully by saying, "Who the hell is the politburo responsive to? Who elects the politburo? You have got a real dictatorship there. Of course you have a dictatorship in Cuba."
Natalie: I've said it before but I think Sanders — though he seems to hate it — really shines when he talks about his personal story and then pivots to policy. We got to hear a little bit about that when he was asked if he was supportive enough of Israel. I wish he'd do more of it.
Low:
Himani: Though I thought Sanders fared well overall on the Cuba question, I thought it was a misstep for him to say his comments were no different from what Obama has said in the past. Obama isn't running for president and Obama has never identified as a socialist.
Natalie: That's a good point. For me — #unpopularopinion — Bernie Sanders has not been properly vetted to be president. He needs to be challenged and forced to confront his record so that, if he's the nominee, we don't have any October surprises. Last night was Sanders' first real taste of it as the frontrunner and, suffice it to say, the Vermont Senator did not like it. He was overly combative, he fumed at points…even responding directly to boos from the audience. It was not the senator's best night.
Joe Biden – Former Vice President
High:
Natalie: I'm loathe to pick a winner from this debate because it was terrible, but if I had to, it'd probably be Biden. I thought he had a great debate and probably needed to have a great debate. My high for Biden, though, was probably his response to the CDC's warnings that we're completely unprepared for a potential pandemic. A steady, experienced hand is who you want at the wheel during a crisis and Biden sought to cast himself as that.
Himani: I agree. I think being able to connect the Coronavirus situation with his involvement in setting up an office during the Ebola crisis was a strong moment for Biden in this debate. It was one of the few times I felt like he was talking about his time as vice president and actually talking about something he must have had something of a hand in, rather than something that happened while he was part of the Obama administration. (Biden's former chief of staff was the Ebola response coordinator).
Low:
Himani: The issue of the Obama administration's response to 2016 election interference came up, and Biden's response felt weak as to why Obama's administration didn't do more. He is a little stuck because I understand why that administration didn't do more — Biden was right to put that on McConnell — but I think this is still a sore point for a lot of Democrats. For someone who loves talking about all the positive things he was peripherally involved in by being Obama's VP, Biden didn't seem prepared to talk about one of the catastrophes from the end of that time.
Natalie: Recently, Biden's campaign dropped an ad attacking Sanders for openly pondering a primary challenge against Barack Obama in 2012 so I expected that we'd hear that attack on him last night and we did. The only problem, though, was the shot didn't land cleanly… he kind of tossed it out, in response to a question about the economy, and it just didn't reverberate the way it should have.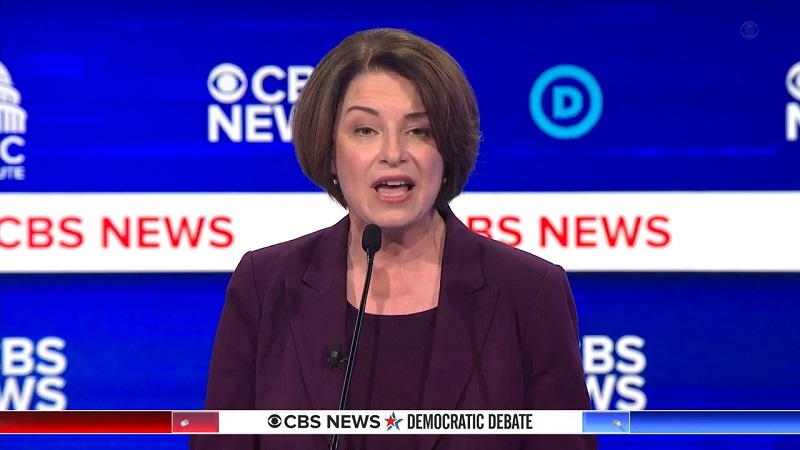 High:
Himani: I thought Klobuchar had a strong debate. At many points she seemed like the only adult in the room. She was one of the only candidates who consistently came back to what the Trump administration has been doing, rather than just fighting with the other candidates. One of her strongest statements, "If we spend the next four months tearing our party apart, we're going to watch Donald Trump spend the next four years tearing our country apart."
Natalie: Klobuchar definitely likes to take the mantle of the only adult in the room but I actually like it when she gets into the fray. I thought her high moment was when she and Biden got into a back and forth about the boyfriend loophole — the Violence Against Women Act only prevents access to guns for some relationships (married and/or sharing children) — and she was able to force him to acknowledge her leadership in trying to close that loophole.
Low:
Himani: There were many moments in this debate where it felt like the other candidates were either talking over Klobuchar or dismissing her. This happened with Sanders when she brought up the estimated cost of all of his programs and with Biden when she was talking about writing the bill to close the boyfriend loophole (on the subject of gun control). To me, this isn't Klobuchar's failing but rather speaks to ongoing issues about how women are treated in the political arena. It was difficult to watch such a gendered dynamic playout on national television.
Natalie: Klobuchar never gets attacked about her prosecutorial record in the way Kamala Harris did and it's frustrating to watch. Last night, she voiced support for legalizing marijuana and I wondered why no one bothered to challenge her on her record. Just yesterday, The Intercept published a story about Klobuchar's overzealous prosecution of a Minnesota resident for marijuana that led to the man's deportation. At some point, she needs to answer for her mistakes.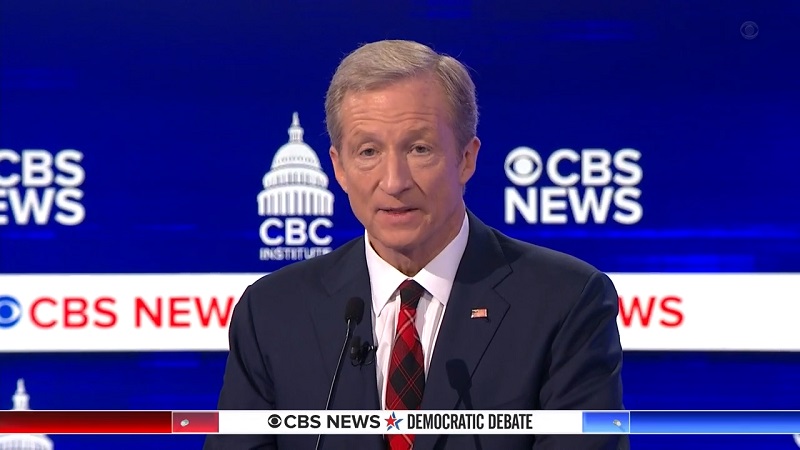 High:
Himani: I knew next to nothing about this man before watching this debate and now I know… something.
Natalie: I thought Steyer's best moment was when he attacked Republicans standing idly by and allowing this country to be attacked during the last presidential election. He said, "There was a hostile, foreign attack on our election last time and the president sided with the hostile foreign power… Where are all these patriotic Republicans who wave the flag, but when we're actually under attack, they side with our enemies? It's outrageous."
Low:
Natalie: Two things: first, Steyer's insistence on term limits is, perhaps, one of the stupidest policy prescriptions offered by almost anyone in the field. It may play well on TV but eliminating all institutional knowledge from Congress every 12 years would be a nightmare.
Also, I was surprised to hear Biden attack Steyer during the debate for his hedge fund's investment in Corrections Corporation of America, a corporation that operates private prisons and detention centers across the country. Steyer seemed surprised by the attack and stumbled with his response.
Himani: I agree with you, Biden bringing up his investments in private prisons clearly caught Steyer off guard and it was one of the few things about Steyer that I remembered from the debate.
---
Mercifully, the next Democratic presidential debate isn't until March 15 from Phoenix, Arizona. While I can't promise you better moderators or more adherence to the rules, one thing's a virtual certainty: South Carolina and Super Tuesday will ensure that some of the voices we heard from last night won't make it to the stage in Phoenix.
Now it's your turn? What'd you think of the debate?