Once again it's time for DeAnne Smith's totally awesome podcast Questionable at Best!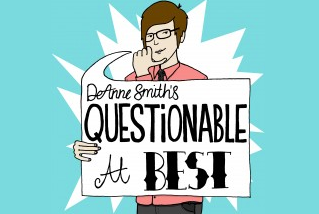 This week DeAnne is chatting with comedian Robby Hoffman as they try to answer the question "What's too Jewy?" DeAnne's not Jewish but Robby Hoffman is and it's delightful to listen to DeAnne's complete discomfort with the whole concept. The question was Robby's idea.
Who's Robby? Well:
Robby uses humor to describe her neuroses (think Woody Allen) as well as her life growing up in a family of ten children, as a lesbian in a Jewish Orthodox family.
There is also a discussion of whether or not scissoring is real and actually taking place between lesbians. Spoiler Alert: DeAnne has scissored.
I think you'll enjoy this one.