I was in middle school the first time I saw Undressed on MTV. I watched religiously as they explored queerness, sexuality and most importantly, masturbation. I would feel myself get excited to the point of slipping off my blow-up furniture while getting turned on by fictional unsupervised Caucasian teenagers. It eventually led to my own first attempts at masturbation.
I became a mini melanin MacGyver during bathtime in particular, mastering how to change the position of the water and its pressure using things from around the house. I figured out how to jailbreak my fathers' electric shaver into a vibrator and it worked: it was my first actual sex toy. I took notes of how to position it depending on how and where I sat or laid, wrote down how long it would take in different positions for me to come and even the volume that the TV had to be so you couldn't hear the vibrations. At the time, I wasn't just doing it because I was interested and horny, I took the data down because I was a baby queer living at home afraid to get caught exploring myself. It stuck with me, because now I'm more interested in sexual data than ever before.
The combination of data and sex is fascinating and with the advancement of technology, it's getting easier to have better orgasms. You no longer have to be like middle school Shelli and take bullet-pointed field notes on what it takes for you to come. Communication is arguably the most important part of sex, not just with a partner (if you have partner centered sex) but with yourself. But if you can have a toy help get you started on the path to great sex, why not use it?
Orgasms are fucking wonderful to me now, but weren't always. I was having bad sex for an incredibly long time with partners and alone. A few years ago I began learning what felt good to me and put those things into practice — along with sharing it with whom I was fucking. It was awkward until I made the decision to not let it be. I knew how to give women pleasure but I deserved to get it too. The concept of taking the time to discover and listen to what feels pleasurable to your body sounds time-consuming and daunting, but it's worth it and necessary.
There are other people in the world who want you to have great sex and stunning orgasms, other than me. They are smart as shit and have created toys that you make you come, show you how you did and let you share it! These two toys are doing pretty much all the work for you and as a babe who enjoys a good old bottoming time, I was thankful and very here for it.
I should give y'all a bit of a disclaimer first — your girl can come a lot. I'm multiorgasmic and know exactly what I need to take me there. So when you read that I came x amount of times, know that it might not be the average and that I am probably somewhere wet and kind of tired.
I wanted to start my research with something light and work my way up, the best choice for that was the Esca2 by OhMiBod. A BlueTooth enabled vibrator, meant mostly for internal G-Spot play, that can be controlled via an app. When comparing it to other internal vibes I've had in the past the first thing I focused on was how full it made me feel. My major qualm with similar toys is that I don't like feeling weighed down once it's inside me, but the Esca2 was lightweight and still managed to fill me up exactly how I like it.
The Esca2 was a good choice for me because I do enjoy penetration during sex, preferably from a partner's fingers or the occasional strap-on, and am a fan of a light-medium vibration. It was simple to download the user-friendly app and it was rather easy to connect the toy and navigate through the four vibe options — Rhythm, Tap, Touch and Club Vibe. It ran pretty smooth and it was extremely quick and easy to set up an account and get to playing. A stand out is connecting remotely for long-distance playing and that's exactly what I did.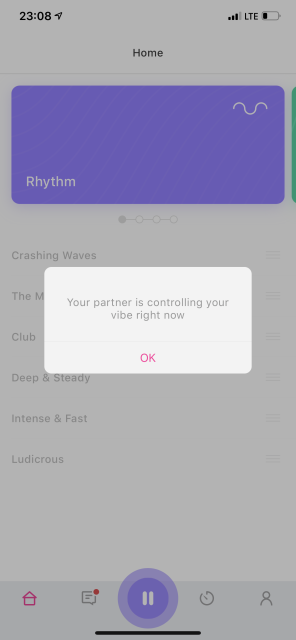 I had the babe that has currently been sexing me up (let's refer to her as Rabbi Sexenberg) download the app and it connected straight away. We made our way through the vibes while she was home for the holidays and research went pretty damn smooth. We chatted in the app and I gave her a few minutes in each section to try and make me come and when she did, four times total in 45 minutes of play, that's when I got to fulfill my sex data fantasies.
The data portion of this toy is slightly limited and not as in-depth as I wanted, but it does serve as a great starting point. When you have an orgasm you press the "Oh!" button to log it, and if you're using remote play it alerts the other user. Orgasming while using the app was low-key distracting. It has a chat mode where you, of course, are encouraged to sext while playing but it was a bit difficult to read, respond and come all at the same time. You can keep track of your orgasms in the apps "Ohdometer" where you can set a weekly orgasm goal for yourself and view your progression. I say it serves as a good starter because you (or your partner) can save whatever pattern used that led to your orgasm for the future. My suggestion is to further use said data to learn how to turn those virtual moves into in-person play. Make up for the lack of in-depth data by using what you have to encourage conversation, exploration and connection with your body and partner.
My favorite mode with the Esca2 to help with that is "Touch." It allows the user to use their fingers to create vibe patterns from light to strong vibrations. The Rabbi said "Touch mode just makes me want to be touching you," and to me, it felt like it would be the easiest for her to mimic when it comes to fucking me IRL. My least favorite was "Tap" where the user just taps a rhythm and sends it to the vibe. It felt like someone was just knocking at the door of my G-spot and I had no interest in letting them in.
The Esca2 gave me limited data vibes and I was searching for something that gave me charts, tips and a true breakdown of my orgasm, I thought it didn't exist until a friend told me about The Lioness. It's by far the smartest and most useful sex toy I've ever owned. I never thought something like this would be created where I can actually see my orgasm in the palm of my hands. My first thought as I took it out of the box was "Damn, this is a sturdy ass vibrator." It's hard but light, smooth to the touch and honestly just feels really good. I tapped it on my face, ran it up and down my arm and then stroked it to get a really good feel for it and it feels exactly how a toy clocking in at $230 should. It looked and felt expensive and sexy.
I'd come a long way since my DIY vibrator days and I wanted this toy to make me come really hard and really good and it did just fucking that.
I plugged it in to charge and downloaded the app while it did. Immediately realized that it was going to be much more in-depth than the Esca2. You can use The Lioness without the app, but why? The app has a built-in FAQ section called "Learn" and not only is it filled with the answers to basic questions about the vibe but has links, guides and even articles about all things sex. It feels like the people behind The Lioness don't just want you to have an orgasm and pass out, they want you to have the pleasure you deserve and it's going to teach you how to get it.
I was already excited and very turned on so once I was charged up (which only took about a half hour) I was ready to get it in. Unlike many vibrators, this one only has one motor and it is in the external nub of the toy and it is POWERFUL. The size, both length, and girth were absolutely perfect for me and probably not intimidating for someone newer to using vibrators and dildos. It's silicone-based and felt very soft when inside, I don't often use condoms on my toys when playing alone but in the past, I've had to if the material was a bit dodgy but everything else was great, so not needing to use one with The Lioness was a bonus.
I was confused about how it would get my data and I remembered reading their FAQs said simply to use it like any other vibrator and the data part comes in after your "session" is over, so I hit the button, grabbed the handle and went to town. I came in 5 minutes and it was one of the most powerful orgasms I've ever had.
After I came it was time to see my orgasm, and this is where it got even cooler. I grabbed my phone and went to the sync option, held down one of the two buttons on the vibrator itself, and a few seconds later I was looking at my orgasm. It collects the data by using three different sensors in the vibrator, a motion sensor, a temperature sensor and most important, a pressure sensor which measures the pelvic floor. When using it I didn't notice any of them so I was never taken out of the moment while playing.
The data was so amazing! There is an analysis of the session, a chart that shows the force used with the toy, the changes in the vibe you used during it, the changes in your pelvic floor during the session and the strength and length of your orgasm. My favorite is the session playback, It's a circle that shows the squeeze and release of your pelvic floor during the session – the smaller the circle, the bigger the pressure and which means the stronger the orgasm. It also allows you to make notes and add additional factors like if you were alone, on your period, under the influence etc. so that you can compare them to future sessions. This was wild to me and it made me feel happy, not just because I had fun times and great orgasms using these toys but because I felt validated in some way.
Filling those notebooks up with the data when I was younger wasn't just out of interest it was somewhat out of shame.
I would often read it back and try to figure out why I watched what I did to come, why a certain person on TV got me excited or why I even needed to masturbate at all. I was young, queer and confused and it followed me into my sexual years and it took me a long time to get comfortable with my own pleasure because of it. Toys like Esca2 and The Lioness are encouraging people to connect with their bodies and see what brings them pleasure. They encourage discussion and communication with partners so that the sex you are having evolves and gets even more pleasurable over time.
It's officially 2020, we are in a whole new decade and technology is getting more advanced by the minute. I have two hopes — that people keep using it to healthily enhance their pleasure and that somebody finds my old sex notebooks and sends them my way.