Girl-in-Greece: The Incredibly True Adventures of a History Nerd in Love with Mount Olympus: decided I wanted to visit Greece three years ago — right before all those dumb movies set in Greece flooded the marketplace and inspired my friends & family to assume I'd picked my destination because of Sisterhood of the Traveling Pants 2.
Also, we have created a special girl-on-gallery of photographs for our ex-web host, bluehost, and their Mormon buddies: Hot Girls Leave a Little Something up to the Imagination.

ON THE UPSIDE HE PROBS WON'T STEAL YOUR SON'S FLEECE: "My son "Bob" is leaving for his freshman year of college in August. Bob just received his roommate assignment and discovered that his roomie is gay … Bob would prefer a straight roommate.  When I called the university to ask if Bob could be assigned another roomie, the housing director said no …" (@dear amy, la times)
LOGO: Carlytron made this for Logo's NewNowNext Icons series. Watch it!: NewNowNext Icons – Stevie Nicks.
DRUNKITY DRINK DRINK: Good news! Ready to lose your virginity or write a blog post about your feelings? You're in luck, because boxed wine is making a comeback! (@forbes)
TRUE BLOOD: "Beneath the HBO hit True Blood's dark and sexy surface lies a reactionary, antigay worldview, writes Michelle Goldberg. Look closely at the vampires and you'll see the right wing's worst nightmares come to life." (@dailybeast)
OUTFEST: Tina Mabry's "Mississippi Damned" has won the grand jury award for outstanding dramatic feature at Outfest: "Bitterly honest and profoundly subtle, writer/director Tina Mabry successfully captures growing up in a world where possibilities and opportunities seem to die in the face of the suffocating reality of physical and sexual abuse, obsession, and a myriad of destructive compulsions." (check out their website here).

GLEE: Glee, glee, glee, glee, gleegleeegleeee and your foreplay, you torture us with your continued appearances, The Lynch doing no wrong-ed-ness, and your not-being-on-teevee yet-id-ness. Where did this sentence go, I dunno?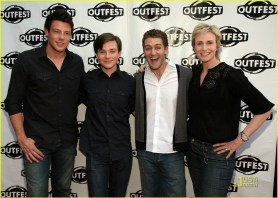 (@justjared)
NO IT'S NOT HANSON: "German pop sensation Kim Petras is blonde, cute and just 16 – but she used to be a boy!" (why the "but," bild.com? Why not just … an "and"?)"
OBAMA KNOWS: Addressing the NAACP in New York – "Discrimination is felt "by African-American women paid less for doing the same work as colleagues of a different color and gender. By Latinos made to feel unwelcome in their own country. By Muslim Americans viewed with suspicion for simply kneeling down to pray. By our gay brothers and sisters, still taunted, still attacked, still denied their rights." (@queerty)

MAIN STREET USA: Gay incident reopens Main Street plaza wounds: "This block of Main Street never should have been conveyed to the LDS Church. It was a recipe for ongoing resentments between the LDS Church and those who are not members." (@SaltLakeTribune)
ADAM LAMBERT: Adam Lambert shines in San Diego 'Idol' concert: "Looking like a glam-rock prince and wearing enough guyliner for an entire band, Lambert strutted, gyrated, shimmied and sang, giving his multiple-octave all to songs ranging from "Whole Lotta Love" to "Mad World." There's also a "timeline" of his "life in the fast lane." (@SanDiegoNewsNetwork)
GAGA: Did Lady Gaga Influence the Clothes At Haute Couture? There's a weird paragraph that compares GaGa to Ashley Olson's anorexic-chic. (@glamour.com)
SCHOOLED: The Ten Most Amazing Yearbook Photos of Rappers: Eminem, Kanye, Snoop, Tupac and so much more! (@funkjelly)
New York City: Is there an expiration date on when girls really must stop comparing themselves to Shane?
I've spent enough time in the bar scene and I'm ready to change my ways in hopes of meeting someone truly incredible. I should admit from the start that when I say I'm like Shane that includes some of the self sabotaging, havoc wreaking characteristics. I've felt pain and left trails of destruction, but if I fall in love with you you'll feel the world twirl around you on its axis. (NYC w4w, "So You Want Yourself a Shane?")
Seattle, WA: HOO HOO, DID YOU MISS THE PART ABOUT GOING EASY ON ALL CAPS Award:
HONEST,KIND,DRUG AND ALOCOHOL FREE LESBIAN SEEKING A BEST FRIEND TO RENT A ROOM FROM … I DO HAVE A 3 YEAR OLD WONDERFUL, LOVEABLE AND SOCIAL CHIHUAHUA THAT IS NOT A BARKER. YOU WOULD LOVE HER BECAUSE SHE TALKS AND HER NAME IS HOO HOO BECAUSE SHE HOO HOO TALKS. SHE LOVES EVERYONE AND IS NOT NERVOUS OR SHY. (seattle-tacoma wfw, SEEKING TO RENT ROOM FROM FEMALE FOR FRIENDSHIP/COMPAIONSHIP)

San Francisco: Why post a simple "seeking" ad on craigslist when you can also provide a 2,000 word breakdown of all your labels?: poly genderqueer intersexed butch beardyke ISO snacks, snuggles & Sex.
New York City: Just a snippet from our Terrible Poem Of the Week (sidenote: "yoke" doesn't rhyme with the last line of the verses before and after it, so really there's no excuse. FYI, those last lines include "you slept with a soul for sex" and "you remain hard and hedonistic.")
I left you my heart
Broken and beat
I left you my heart
Yes, with years and yearning to yoke.
(from NYC w4w missed connections: "I Left You My Heart")

Auto-Straddler of the Day
Intern Elizabeth:
Check out The Ten Geekiest Pieces of Furniture in the Universe (according to cracked.com, anyway.) I want the Periodic Coffee Table.
+
+
from Alex:
Weezer covers an awesome little mix of 'Kids' and 'Pokerface' at their shows these days. It is lovely.
+
+
from Laneia:
Read Wired's How to Behave: New Rules for Highly Evolved Humans. It will surely change your life/give you something to tweet about [which, according to the article, will leave you with 19 more tweeting opportunities throughout the day]. Even better in print! Subscribe, babies.