Jobs are so 2006. Sarah Palin quit her job and if she ever learns to speak in actual words rather than abstractions, perhaps we'll find out why. (cough*bookdeal*) Dan Choi and over 300 other gays in the military have been discharged this year for being homosexuals, and as you've probably noticed, the nationwide unemployment rate is out-of-f*cking-control  — although many are enjoying what they refer to as "funemployment." Perhaps you too have lost your job, been "downsized," or are living in perpetual fear that you WILL lose your job, causing you to do crazy things like work really hard instead of surfing facebook all day. OMG LIFE IS SO HARD. (No really; it is.) (And more complicated, too, when it comes to the lesbians).
Trying to do something about it will likely prove frustrating, so it's better just to laugh at yourself/sit around and bitch & moan with everyone else — like the girl who got fired by Woody Allen and then decided to make an entire movie about being Fired.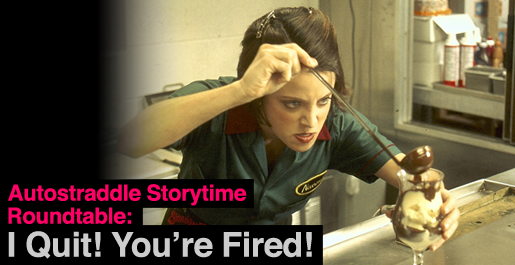 Let us reflect on the magic and the misery in this week's Autostraddle Roundtable: I QUIT! YOU'RE FIRED! All of these stories happened before the recession, so as you can see, misery can be found just about anywhere.

What's your best getting fired/quitting story? Please share.


Stef:
When I was at university in Philadelphia, my roommate Ben and I both got jobs at a casual Mexican restaurant in Center City called Hot Tamales. We weren't crazy about food service, but the pay was under the table, we had all the free tacos we could eat, and I kinda liked working in a place with a "HOT! HOT! HOT!" neon sign in the window.
The day we'd found the place just happened to have been the day their entire staff had thrown a mutiny and quit, so they basically hired whatever hapless suckers had filled out an application that day. From what I understood, they didn't actually often hire girls, and made sure that I knew that I was never allowed to prepare food – women just weren't smart enough to understand the complicated art of burrito assembly.
From what I understood, they didn't actually often hire girls, and made sure that I knew that I was never allowed to prepare food – women just weren't smart enough to understand the complicated art of burrito assembly.
Girls were only good for working the register, which I guess I was fine with, until the owner started making comments to me like, "Girls can't learn ANYTHING!" and asked me why I was even bothering going to college. This got old pretty fast, and after a while the constant misogyny outweighed the benefits of free burrito. I sucked it up and politely submitted my two week's notice, citing a need to dedicate more time to my schoolwork.
On my last day, my afternoon class happened to have been cancelled, so I came in early to help out with the lunch rush (for which the restaurant was often understaffed). When I walked in, the owners yelled, "WHAT ARE YOU DOING HERE!?" When I explained that I'd come by to help out, they snapped at me to leave and return only when my actual shift started.
A little weird, but fair enough – I got a cup of coffee and read the CityPaper for a bit. When I returned, the owners were gone – and so was my timecard. My roommate informed me that they'd decided I was trying to screw them out of an extra hour's pay, and that they'd fired me on my last day for my "snotty attitude."
Joke's on them – I continued to enjoy free Mexican food at their restaurant for months afterwards, and in the process learned how to wrap my own killer burritos.
I think Sarah Palin should get a job at Hot Tamales.

"Goodbye boss man. It's quittin' time."
(Judy, 9 to 5)

Intern Vashti:
My senior year of high school I was working at [redacted smoothie shop] and it was amazing. I loved it, loved my co-workers, and knew it was a big step up from the sketchy canvassing job I had the previous summer. By summer [I started in the fall], I had every smoothie recipe memorized to the *ounce*, knew the orders of all our regular customers, and was on my way to becoming a team lead. In May/June our store was falling behind in sales compared to the rest of the district. My manager started cracking down, firing some of the weaker employees and strictly enforcing the one smoothie per shift rule [meaning we couldn't give away free or discounted smoothies to friends and family anymore].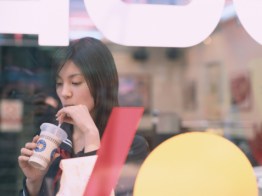 Some of my coworkers were becoming a little stressed about the possibility of getting fired but I was just stressed that I hadn't gotten my promotion yet.
About halfway through June I bit my tongue. I don't mean that metaphorically. I mean I physically bit my tongue. HARD. It bled for awhile and seemed fine, until the next morning when I woke up at 7:00 to a sharp pain in my mouth. I had to be at work by 7:45 to open.
My tongue had swollen up and I couldn't even talk without it hurting. My Mom called me in sick and though I felt horrible about leaving my coworker alone, I couldn't talk and Sundays were slow. I went to Urgent Care and they told me the infection was contagious, so obvs that was a good call on my part.
Moral of the story: Don't bite your tongue. It will get infected and then … you will get fired.
The next week was my pre-planned vacation and when I got home, I called for my schedule and was told I wasn't on it. I figured my boss had forgotten I wasn't going to be back that week [it wouldn't be anything new, she'd done it before] so I just let it be and called the next week. I was on hold for way longer than it should take to walk to the schedule board and back … when I finally got to talk to the manager she asked how my trip was and how my tongue was feeling and I said it was good and better and asked about my schedule.
"You didn't get anyone to cover the opening shift you missed two weeks ago," she said. "So you're not on it." I hung up in tears. What just happened? Was I fired? And if so — why? I'd never done ANYTHING wrong and I knew plenty who had.
I was told to go in and apologize to the coworker I'd left, so I did, but she was totally over it and also didn't get why the manager was freaking out. Another week passed … no update from my manager. I go back … AGAIN. … and the coworker I run into isn't optimistic about my future there.
I went home ENRAGED! BAWWHH! My manager didn't even have the decency to give me any sort of official [or unofficial for that matter] notification of my termination.
It's been a year since then and I STILL don't know my employment status there. I should probs look into the legality of my termination. Maybe I could get some money for my troubles.
Moral of the story: Don't bite your tongue. It will get infected and then … you will get fired.

"Janie, today I quit my job. And then I told my boss to go fuck himself, and then I blackmailed him for almost sixty thousand dollars. Pass the asparagus."
(Lester, American Beauty)
Pages: 1 2 3See entire article on one page