Congratulations! You survived your first week of school! If you're anything like I was, you were too busy Craigslisting your textbooks or catching up with your buddies to remember to go to the poster sale. Or you did manage to go, but couldn't fathom paying money to hang the Periodic Table of Beer above your bed. Either way, it's a bit too late as the poster hawkers have fled campus with their last copy of The Kiss and the remainder of their tiny golf pencils
So what are you going to do now? You could resign yourself to staring at four blank cinderblock walls for the rest of the year or you could make something yourself! Something that will make your dorm room look less like a cellblock and help you remember important dates in the future.
All you need is the ability to count to 31, a little bit of chutzpah and about 60 cents worth of masking tape.
Paint Chip Calendar
The Prep
You are going to need paint chips, a lot of paint chips. Assign each month a colour family and choose 4-6 shades within that range. One chip per day, you can do the math.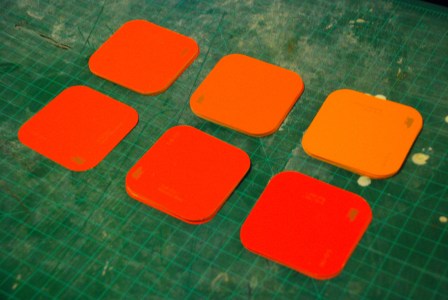 This of course brings into question the ethics of taking paint chips, which I don't feel guilty about. I support those businesses and brands by making other purchases. Speaking of which, you should remember to buy a roll of masking tape and a Sharpie.
The Assembly
I'm sure it's getting pretty obvious at this point, but I'll hold your hand because you're cute.
Decide on a month and arrange the squares into its weeks. You can choose to make stripes or checkers or subliminal messages. I like to keep my patterns "perfectly random" where similarly coloured tiles don't touch. This means I rearrange the squares ad nauseam until I realize I have to do this eleven more times.  I make my tiles point in random directions, but you should note that no one will appreciate this except for you.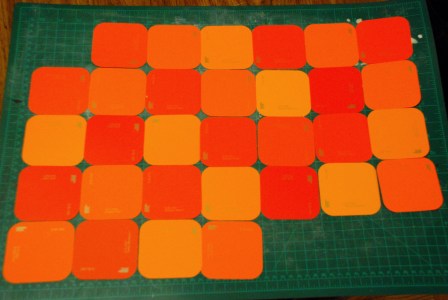 Now would be a good time to put down your beer and pay attention, otherwise October may morph into rebotcO. Flip over one column at a time, align your paint chips and tape them together. You have so many straight-edge options! The edge of your table! Your no-fun roomie! A handy dandy ruler! This fancy schmancy cutting mat! Just keep everything square so you don't have any gaps.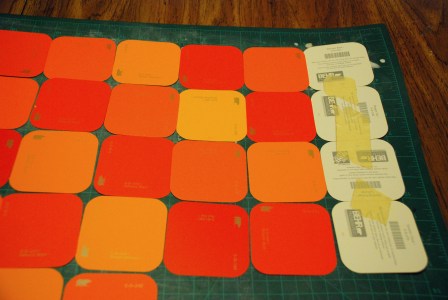 If you managed to complete everything without getting tape in your hair, congrats. Time to number your days and add in your important dates. I tried to number the tiles pre-assembly, but I inevitably got distracted until October had Tuesday the 11th, Wednesday the 10th, Thursday the 9th, etc. That warning may have been pointless because you may actually have an attention span.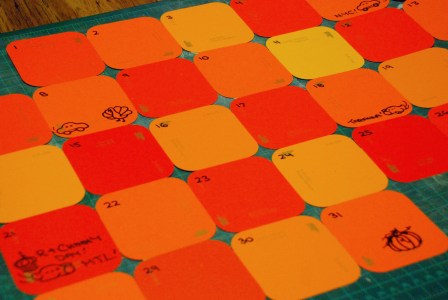 It's over! Time to show off your wares and turn your apartment/dorm/kitchen wall into a super organized art gallery. Hang the months horizontally to make a gradiated wall, vertically to form colourful columns of time or Tetris that shit to make everyday a bit difficult.