For most of my childhood my parents didn't allow cable TV in our house. As a kid, of course, this was the worst form of torture I could imagine. As pop culture marched steadily onwards, I feared, I'd fall further and further behind. Everyone would expect me to know things and I wouldn't. My lack of coolness would compound, I'd be a dork forever, and I'd never, ever be able to catch up on it all.
Most of those things turned out to be true.
As an adult, however, this situation doesn't seem all that upsetting. In fact, it only noticeably effects my life in two ways, as far as I can tell:
Pop culture references to The Simpsons go straight over my head.
I don't always watch TV, but when I do, I go hard. Like, really hard.
In the end, it doesn't matter whether or not you succeed in catching up; when it comes to TV consumption, it's all about the journey. So today I pass the torch to you, kid. Below is a list I've compiled of everything you'll need to maximize comfort and optimize performance in pursuit of the highest form of couch potato excellence: the TV marathon.

1. Performance Wear
How many episodes are there in your series — 20? 200? Whatever the number, you're in this for the long haul, so first and foremost you need to work on getting comfy. For me, this usually means ditching my pants and shoes at the door and getting into something with a stretchy waistband. Think pajama pants! Yoga pants! Boxers and a blanket in case your legs get cold!
You're the expert on what feels good to you, so take off your bra and get in there. Actually, you can probably apply this advice to all situations in your life. (I mean, no pressure. I just want you to be comfortable. You look cute today.)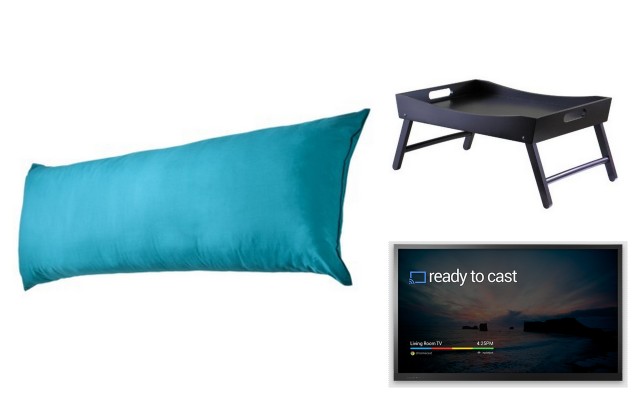 2. Equipment
Nowadays when we say we're "watching TV," a lot of the time this actually means we that have our eyeballs glued to our laptops. This is wonderful and convenient but if you really want to get serious, consider an upgrade to Chromecast. (Or Roku, if you have the cash and prefer a separate remote.) This nifty device puts the TV on your computer back on your TV. I got one for Christmas and it's just the greatest thing. This year I feel a renewed enthusiasm for sitting on my ass. Technology is a magic.
Now once you've got your TV casting wizardry set up, I want you to take a hard look and identify any other less-than-optimal conditions in your environment. Are you craning your neck up at the tv? Is your lower back supported? Do you have something to hug in case something scary happens on the show? A lot of problems can be solved with a body pillow.
Also, if you wanna ball like the Countess of Grantham (hint: you do), you need a tray with legs. You may not have servants to bring you breakfast in bed, but you can count on your little leggy wonder to provide a stable surface for your TV remote, cell phone, laptop, drink and snacks. I mean, you can put these items on the floor or the couch cushions, of course, but don't say I didn't warn you when you get up to pee and knock everything over. You're much better off investing in the tray.
3. Fuel
While you're binging on TV, you might as well binge on something else too, right? If you don't fuel your body you're just going to fall asleep and be sad and hungry and stuff. This is not the behavior of a couch potato champion.
When it comes to food selection, potato chips are a classic choice here. Grapes are a healthy and tasty option. I like rice cakes, in moderation, and ice cream sundaes. Themed cocktails are always classy, in moderation or otherwise.
Again, it's all about your personal preference, but comfort and familiarity are key. You want your attention on the TV, not the unusually slippery new stir fry mix that seems to anticipate your every move and run evasive maneuvers in the exact opposite direction of your chopsticks.
4. Game Plan
I've saved the best for last: choosing what you're going to watch and who you're going to watch it with. In my belief, there's a TV show for every situation. You're going to develop your own style here, but I've personally found great success with:
Orange Is The New Black – I watched this over the span of 1 week when my best friend from high school visited me last year. Entertaining multiple-night house guests can be really hard if you don't have lots of money, so remember: TV is your friend.
Star Trek: The Next Generation –  I binge watched this in college with my first boyfriend. And my second. I feel like if someone doesn't get Jean-Luc Picard they're probably not going to get me, you know?
Buffy The Vampire Slayer – I watched this on DVD while falling in love with the girl I was watching with. We went for Buffy after powering through Gilmore Girls, and it was the best decision we possibly could have made. This show is everything.
Game of Thrones – I've rewatched this series at least three times now, and I still can't really tell all the middle aged grimy looking white guys apart. I guess it doesn't matter that much, though, because they all keep killing each other off. Whatever. I'm in it for the Stark girls.
Firefly – I watched this with a revolving cast of companions going in and out of the host's dorm room. I went to RIT, where playing this show instantly attracted an interested crowd. Not sure I'd get the same reaction out here in the non-geek world.
House of Cards – I watched this last summer on my parents' couch while I was recovering from a gunshot wound. It was a really good distraction. 
Downton Abbey – Last year I watched this show all by myself one weekend when it was just too dreary outside to leave my house. Just putting it out there, there's zero shame in solo marathoning.
Veronica Mars – I'm marathoning this show with my girlfriend right now and we just finished season two. This show is so dark! But good! I'm nervous and excited about what's going to happen next season.
I could go on, but you get the drift. I watch a lot of TV and so can you. I believe in you.
So! Now that you've got your setup optimized, what are you watching? Can I come over? What kind of snacks do you want? Do you need me to bring another body pillow? It's cool if I take these off, right?
---
Autostraddle Kits is a series where we tell you all the stuff you need to be/do a thing you want to be/do. Lesbian Activist? Heartbreaking DJ? Wanton Sex Goddess? Food Historian? Sort of like if Amazon's Listmania and Amazon's "So You'd Like to Be A…" had a same-sex marriage and then had a baby.
It's like a playlist, but for all of your senses!
Got a request for a kit? ASS me!