It's never a bad time to lean into nostalgia on TV. It's not too surprising that in the last couple of crisis-filled years we've been more awash with remakes than ever, as we choose to chill with the comfort of the familiar. It also may explain why Fox chose to pick up this US version of a 2019 Aussie show that takes four men and four women of varying celebrity, thrusts them into one of the filming locations for iconic 80s film Dirty Dancing, and gets them to recreate every famous dance from the movie during a mercifully short 4-four episode run.
We are here today because one of those celebs is a full-blown celesbian: the highly successful TV and irl chef, Cat Cora! Watermelons aside, there is no obvious food component here, so it's a mystery why Cat Cora is on this show, other than her generally being a good egg (and probably picking up a paycheck). Aside from Cat, the only other person I recognise is Loni Love, with the rest of the roster filled out with the usual complement of reality stars, football players, WWE wrestlers and a Backstreet Boy.
Cat and her fellow celebri-pals are all overcome with excitement as they approach the recreated Kellerman's resort, with each making up a reason why this film means so much to them. Cat somehow links this aggressively heterosexual film with her being able to express herself as an out and proud gay woman, and I am out and proud of her for making this gay.
Overall, this whole setup feels one open-top bus ride short of being just a bunch of people on a Dirty Dancing theme tour. Don't get me wrong, this is a solid premise. We've had two years of pandemic-restricted living, which means we have a two year deficit of drunk people at weddings attempting the Dirty Dancing lift and injuring themselves horrifically. We are teased people falling off logs, people going head first into water, lifts going awry, all to a classic catchy soundtrack. Yes, it could have been a TikTok.
Without further ado, Cat and co have watermelons thrust upon them and are led into the staff room to see a bunch of dirty dancers…dirty dancing! Ok, we're getting right to it. The celebs are shocked to learn they will be given no lessons, there will be no pros gently but firmly guiding them through a life-changing process. They are just thrown in there to grind against each other in ways I cannot fully describe as I mostly had to block out the screen to not shrivel into a ball of awkward.
The presenter, Twitch, says he wants to see everyone dancing with each other so he can assess who has chemistry. Sadly, we do not get to see Cat Cora cycle through shimmying with all the women in her gold lamé short suit, and everything appears resolutely heterosexual. Loni Love admits she's grinding all up on the men, the women, probably even the wall. She is immediately my favourite.
Unlike my first gig as Autostraddle's celesbian reality dance competition correspondent, Cat is not paired with a woman but with a guy that was on High School Musical (Corbin Bleu), which is hopefully an advantage. I am obviously disappointed that no-one will be upending any heteronormativity here, but mostly weirded out by the competitors' goal of embodying the essence of Baby and Johnny, the movie's protagonists.
Each couple has 24 hours to come up with a dance routine, and Cat and Corbin are given Big Girls Don't Cry and implicit help from an off-screen choreographer. While practicing together, Cat admits she hasn't been this close to a guy in like 35 years, and I say internally, why break a habit that's obviously serving you extremely well? Cat's rationale for taking part part is to show her 6 (!) sons that she's cool, which presumably she otherwise struggles to do with her multimillionaire celebrity chef lifestyle.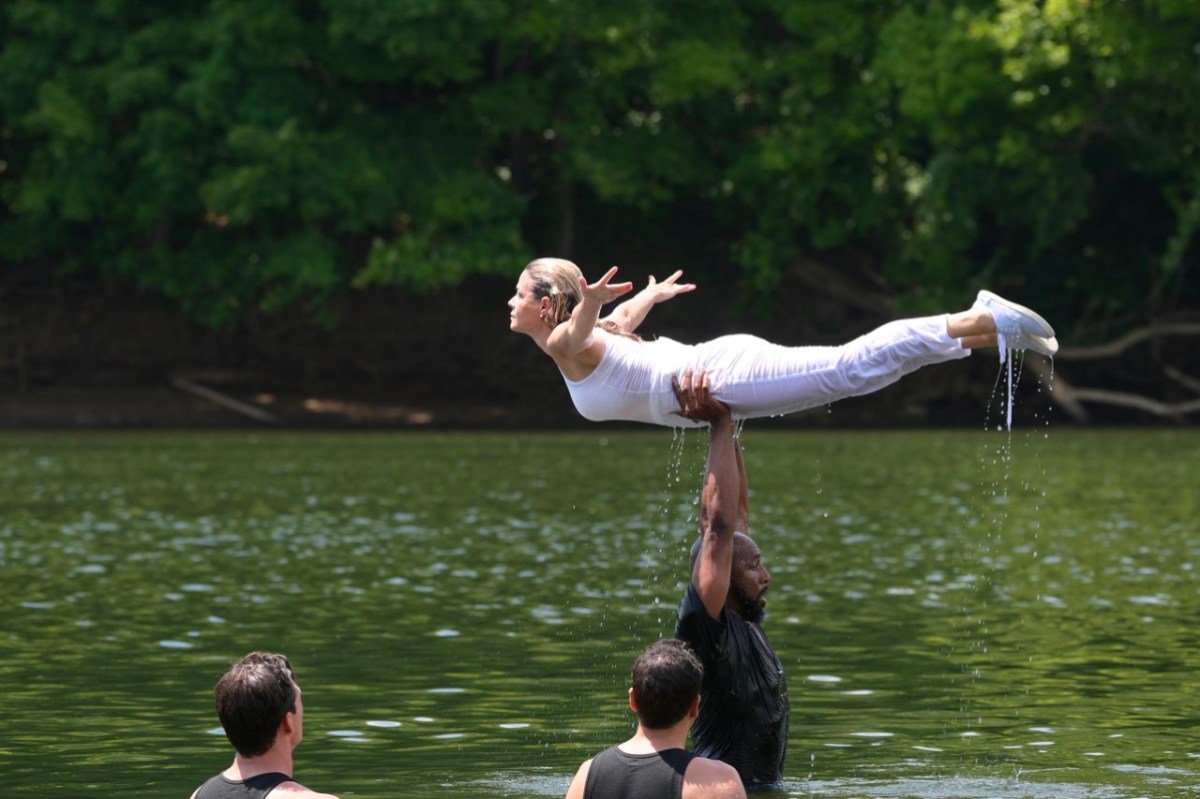 The couples keep up the practice, while we also cut away to several skits where our celebs re-enact move scenes that induce varying levels of cringe. I wonder if by the end of the show they'll have completely recreated the entire movie scene-by-scene. Something tells me they aren't going to be referencing the abortion storyline. Or will they!
As the pairs get ready to strut their stuff, Twitch reveals a twist: the contestants themselves must judge who is the "best Baby" and "best Jonny." This is surely an ingenious way of cutting down on judging fees, but also the stakes are rock bottom because no-one's getting sent home this week.
Cat and Corbin are up to dance first, and do an admirable job! They were clearly super focused and hard-working as a pair. Cat gets emotional afterwards, talking about how big a deal it is to do this when she's over 50 and has 6 (!) kids. Overall, all the pairs do a solid job and I don't completely die watching, not even when Howie the Backstreet Boy mucks up a lift.
When the floor clears the men pore over who embodied Baby best, and the women try and dissect the Johnny elements of each guy. This portion is essentially content-free and thankfully brief. They say nice things about each other! This is not how I've been led to believe American reality shows operate! I am briefly filled with joy and optimism for the world.
Cat wins the dubious honour of best Baby! The guys think she dances with a kind of innocence, which I interpret as her not wanting to get closer to a guy than she absolutely has to. So perhaps this is a win for lesbianism after all, despite the compulsory heterosexuality!
While I definitely never anticipated watching a show like this, it happily slides into the category of "things I wouldn't resent a friend having on TV when I was over". As someone who grew up falling asleep during Dirty Dancing at sleepovers, the movie has culturally infused my life which makes the premise just about work, but I can't promise the same mileage for everyone.
Next week the bar is raised and two of our cohort will pack their bags. I really hope someone falls off a log!