I don't know about y'all, but I had a pretty fabulous fuckin' week. Now that it's Sunday Funday, though, the past is but a distant memory – and cuter, more heartwarming things await. Let's dig in to some quite upbeat queer updates!
This Trans Girls' Got Quite a Support Network
Maria Muniz, a trans student at Rio de Janiero high school Colegio Pedro II, was fined for wearing a skirt to school by her administrators. A little over a week later, her classmates – across genders – wore skirts to school in protest. Now, the principal is re-evaluating the dress code and Maria's got no fines to pay.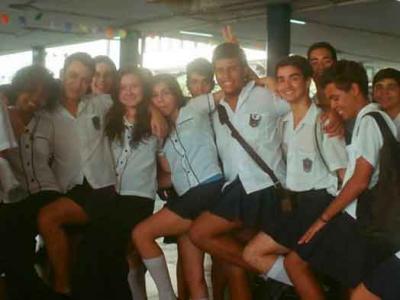 "For me, wearing a skirt was about expressing my freedom over who I am inside and not how society sees me," Muniz told Orange News.

"I am really happy about the way my classmates supported me and hope it serves as an example to others to feel encouraged to do the right thing," she added. "I was always taught at school to accept who you are. I am only trying to live that."
Students Take on a Homophobe with a Love Attack
James Madison University students took back their campus after an anti-gay preacher came around slamming on queers. Their method of attack? They drowned out his nonsense with a song about God's love.
Cara Delevigne in Menswear
Cara rocked out at a Burberry show this week decked out in menswear. It's a solid reminder that dreams really do come true.
Hillary Clinton Gets Slightly More Perfect
Hillary Clinton showed her feminist side at a recent event for the Democratic Women's Forum, expressing urgency in addressing the needs of working women and encouraging folks to vote for every woman on planet Earth:
I can't think of a better way to make the House work again than electing every woman on the ballot. There are 10 women running for the Senate, six women running for governor and I wish I could vote for all of them.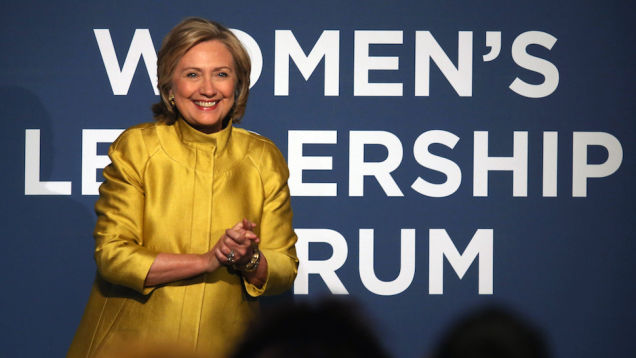 Consider it done, HRC.
Tegan, Sara, Random Choir Perform on Conan
It's every bit as deeply moving as it sounds.
North Carolina Just Might Be Ready for Gay Marriage – But Is the GOP?
+ New surveys show that the people of North Carolina, even if by a slim margin, are down with same-sex marriage and would also love to vote on it and get the whole marriage equality thing sorted out sooner rather than later.
+ Meanwhile, Young Conservatives for the Freedom to Marry are working on shoring up support for marriage equality within the Republic Party, one state and elected official at a time. Their goal? To shake things up in the party in time for the 2016 elections.
While the official stance of the Republican Party says the "the union of one man and one woman must be upheld as the national standard," … Young Conservatives for Freedom to Marry hopes that by the time the Republican convention rolls around in 2016, they will have recruited or persuaded enough like-minded party activists and young conservatives to remove the restrictive language and replace it with this: "We encourage and welcome a thoughtful conversation among Republicans about the meaning and importance of marriage, and commit our Party to respect for all families and fairness and freedom for all Americans."

To accomplish that goal, Freedom to Marry, a nonpartisan advocacy group, has launched a national grassroots campaign targeting Republican activists – the most powerful impediment to marriage freedom in the party – in key presidential nominating states that they can "agree to disagree" on same-sex marriage.
Inside South Africa's Gay Mosque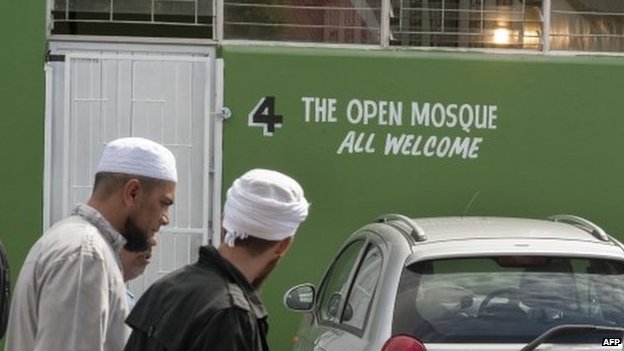 A new "Open Mosque" in Cape Town is a worship space for everyone, irrespective of gender, religious sect, or sexuality. Taj Hargey, its creator, developed it in direct opposition to extremism. "There's been threats about castrating me, beheading me, hanging me upside down," he said. "But South Africa has the most liberal constitution in the world – they cannot stop us opening today."
Clair Huxtable, Feminist Icon
Jezebel celebrates everyone's favorite feminist lawyer, 30 years after she first appeared:
Clair had no time for fools who tried to limit what she as a woman with a husband, five children and a law degree should be able to do.
Everyone's Trying to Count Us In These Days
The US Census this year will take note of how many same-sex couples live in the land of the free.
This is the Story of an Owl Who Found a Kitten and – Well, That's Kind of It
Cleo and Forbi love each other, special differences be damned.