Native fashion is on the rise and growing in the public's consciousness. From high-end couture that struts down the catwalk to edgy streetwear to the artisan running an Etsy shop, Indigenous people are here and reclaiming what's theirs through the art we wear on our bodies. Through fashion, designers are staying true to their tribal cultures, honoring their ancestors, giving voice to their experiences, and bringing much needed financial resources and hope to their people. They are also confronting the racist, culturally appropriating fashion business that profits off the theft of their culture and the non-Native consumers who fetishize them as a result.
---
Colonial Fashion & the Trendy Native
Cultural appropriation in fashion is not a new plight for Native people. However, the topic has become more widely known in non-Native circles. In more recent years, numerous articles have begun circulating the web instructing people on racist Halloween costumes to avoid which usually includes the "Pocahottie.wp_postsThe use of headdresses are now being banned at musical festivals. Victoria's Secret had to issue an apology for adorning one of their models with a headdress at their 2012 fashion show. Pharrell had to issue an apology for participating in the racist headdress photo shoot for the cover of Elle UK. Despite the Native community's continual outcries against racism in fashion, many fashionistas don't realize the difference between Native fashion and "Native inspiredwp_postsculturally appropriated clothing and accessories, and their implications for Indigenous people. By literally buying into cultural appropriation, as opposed to purchasing Native fashion, non-Native consumers are furthering the agenda of colonization.
 In the current highly publicized and in many ways admirable U.S. touring Native Fashion Now exhibit, sponsored by the Peabody Essex Museum (PEM), there is a culturally appropriated jacket by Ralph Lauren. The descriptor next to this item shows no recognition that he stole his designs from the Diné (Navajo). In fact, it states that he "borrowed extensivelywp_postsfrom the "Southwestern Native people.wp_postsIt goes even further to state that it "raises the questions about how fashion trends generated outside the community of origin sometimes come to define Native American fashion.wp_postsIt seems to the PEM, even when Native people are creating their own fashion, it's still defined by what the white colonizers stole from us.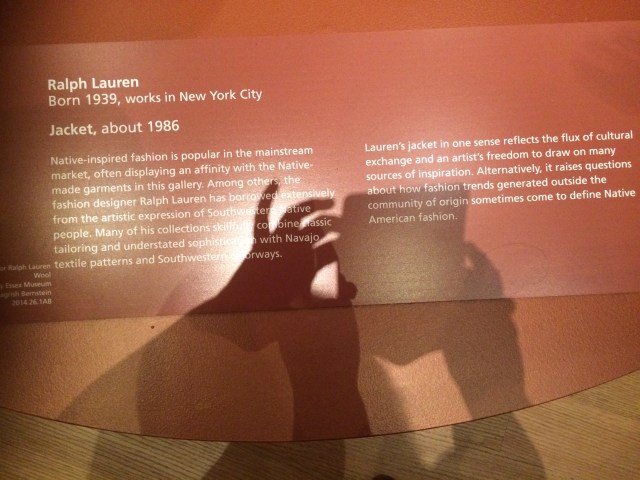 To be Native is to be righteously wounded and to be angry for all we've suffered. Despite what we've endured we continue to live on through our people, elders, youth, and our steadfast belief in our cultures. This is where cultural appropriation in fashion becomes a problem. The cultural theft of who we are is a modern day Doctrine of Discovery.  It is not only cultural appropriation and genocide, but it is also illegal under the U.S. federal Indian Arts and Crafts Act of 1990. This act made it illegal to display or sell any art or craft product that falsely suggests it is produced by Native people, is a Native product, or is a product of any particular Native person, Nation or organization within the U.S.
Despite this Act, many designers and companies use Native people, our names, and similes of our art without permission. The notoriously offensive and disgusting Urban Outfitters is one such entity. In 2011 they created a line of panties, flasks, and other items they described as "Navajo.wp_postsThe Diné have trademarked their name and filed suit against Urban Outfitters and their subsidiaries. Per the norm, the federal courts ruled against Native people in the first round of the lawsuit.  Staying true to their racist ways, Urban Outfitters defended themselves by stating they were only following the "Native American-inspired trend."
This issue runs much deeper than simply stealing Native names and art. It furthers our erasure, fetishization, poverty, and multiple forms of harm we have suffered due to 526 years of colonialism. More than 4 in 5 (84.3%) Native women in the U.S. have been abused in our lifetime and 96% of the sexual assaults we've suffered have been at the hands of non-Native men. We also have staggeringly high rates of alcoholism — 510% higher than any other racial group in the U.S. Urban Outfitters' products' hypersexualize Native women — who are literally hunted by white men — and have made a mockery of a community ill that was introduced to us by white colonizers. In addition to this, they have taken much-needed money out of the hands of Native communities as well as our ability to continue our traditional ways of life.
Non-Native designers and consumers are also uninformed regarding our regalia. There is a vast difference between Native fashion and Native regalia. Regalia is the adornment that often comes to the non-Native's mind when they think of Native people's clothing. It's the buckskin, feathers, beads, and quills. More often than not it's specifically the regalia of the plains tribes, which is what's been appropriated by Hollywood in the Western movie genre.
Regalia is only worn for special occasions and varies across tribal nations and bands. The individual regalia items often have their own story for the person wearing them. Headdresses, which are only worn by specific members of plains tribes, are sacred. Eagle feathers, another item sometimes used in regalia, are also sacred and are given to one on momentous occasions during their life. They are not used as a fashion accessory or statement piece for Natives and they are especially not for non-Native people to wear under any circumstances.
Each tribal nation has their own unique history and culture that can be seen in the arts they create. Many of our artists were taught at the knees of their elders and devoted many years to learning their stories and the significance of the work they created. The patterns and techniques used all have a deep spiritual connection to the people they belong to. As a result, Indigenous people are the only people who are equipped to determine what it is appropriate to share with those outside of our nations. The Urban Outfitters and Ralph Laurens of the fashion world are thieves who profit off Native people's genocide and loss.
---
Call To Action on the Catwalk
Native people are adaptable. We use our knowledge, gifts, and cultures to grow and change for our current circumstances. This can be seen in our role in the fashion business. The use of traditional designs and production techniques, as well as materials used, shine through in the awe inspiring, mesmerizing, and powerful work of our designers and their wearable works of art and political revolution.
Lloyd Kiva New, Tsalagi (Cherokee), is credited as the "Godfather of Native fashion.wp_postsHe was the first Native designer to gain recognition in the fashion world for his culturally inspired work. In the 1950s, he sold his customized designs in high end boutiques and Neiman Marcus across the U.S. Frankie Welch, Eastern Band Tsalagi, is a powerhouse in her own right. She's best known for her impressive 2,000 scarf designs and for adorning the elite women of Washington DC in her work. Many of Welch's designs feature the Tsalagi language — the first written Native language.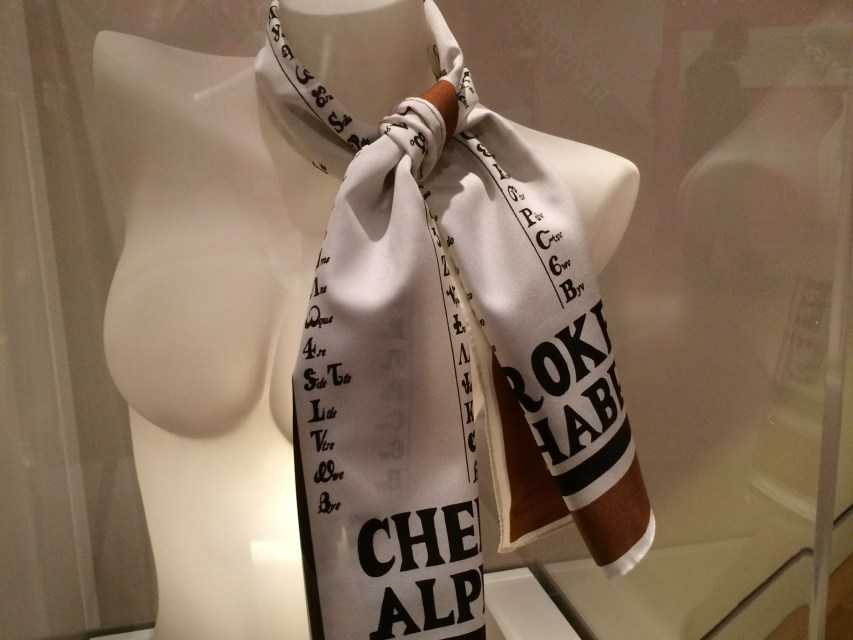 Our designers and trendsetters are now featured on Project Runway, writing their own fashion blogs, and creating fashion collectives to inspire and grow Indigenous fashion designers and their businesses. If the racist fashion world won't make room on their catwalks for our designers, then they'll kick the colonialist dress makers out of the way and create their own. The 3rd annual Indian Market Native Haute Couture Fashion Show made a splash in Santa Fe on August 20th. Jamie Okuma, Luiseño and Shoshone-Bannock from the La Jolla Luiseño Reservation, was one of the many designers featured in this year's show. Okuma became the youngest winner of the Santa Fe Indian Market's grand price at the young age of 22 for her stunning pair of beaded Christian Louboutin boots-currently on tour with the Native Fashion Now exhibit. She hand-stitched antique 1880s beads onto the boots until only the original red soles remained exposed. The end result was a work of art that was inspired by Western Tribal Nations that words cannot even begin to describe.
Always fresh, edgy, and rife with political statements, OXDX hosted their Fall Release event on September 17th.  With performances by hip hop artist Nataanii Means, Grownup Navajo, guest appearance of the Blue Bird Pinups, art, OXDX's fashion, and so much more all hosted by Bobby Wilson of the 1491s make this writer envious of all those in attendance.
---
Shop Native 'Til You Drop
You love Native designs, support racial justice, and want to contribute to the growth of Native fashion and communities? You're in luck! Below is a list of designers, artisans, and stores to shop from. Regardless of what your personal style is the Native fashion options are endless.
*If you suspect that any individual or company is selling "Native inspiredwp_postsproducts please report them to the Indian Arts and Crafts Board.
Dr. Jessica Metcalfe, Turtle Mountain Chippewa, is the owner and operator of Beyond Buckskin, a one stop shop for Native fashion, art, education, and social justice. Metcalfe's blog of the same name evolved into an online boutique in 2012. Beyond Buckskin's mission is to advance "creative small businesses located throughout rural and urban communities by providing an online store where customers can connect with Native American fashion designers and jewelry artists."
Many well known designers, such as Neechie Gear and Tammy Beauvais, as well as unique, one of kind finds can be found on this versatile site. Shoppers will also find artist and designer profiles and a lengthy list of Native and Indigenous stores to shop from. If you're a Femme on the hunt for glam jewelry and dresses, a boi looking for your next favorite tee or tie, or you're simply looking to learn more about Native fashion then this is the site for you.
The ever bold and vivacious fashion and art of Alano Edzerza, Tahltan Nation of the Raven Clan, can be found at his online gallery. Alano is a multimedia artist based in Vancouver. Edzerza Gallery offers reasonably priced streetwear and fashion for women, men, and children, as well as sterling silver, laser cut jewelry and fine art. Edzerza's designs focus heavily on animals, in particular the raven of which is his clan. Women's sizes go up to a 3XL and range from tees and activewear to tunics and dresses. His designs aren't for the wallflowers of the world. If you like to be noticed, then this is the designer for you.
In addition to creating fashion and art, Edzerza gives back to the Indigenous community through his involvement in a variety of Native arts organizations and by supporting Native artist entrepreneurs.
Louie Gong — mixed heritage Nooksack, Chinese, French, and Scottish — is a former child and family therapist turned artist. Over the course of his career, Gong has raised awareness of mixed raced and cultured people and families. This can be seen through his art work and fashion. Best known for his custom, hand drawn shoes that blend Coast Salish designs and his mixed heritage, Gong has expanded Eighth Generation's offerings to awe-inspiring wool blankets, vivid mixed media jewelry, tees, cards, art, and a great deal more. Eighth Generation recently opened their first store front location in Pike Place Market in Seattle, WA.
Best of all, when you shop Eighth Generation you're supporting the growth of other Native designers through Gong's Inspired Natives Project which aims to support Native designers to meet the commercial demands to produce their wares and to educate the public about the harm of cultural appropriation.
Ghost Dancer, born from an art experiment by Rhiannon Griego in 2008, is made of intricate, evocative, individually hand woven textile jewelry, clothing, and art, as well as beaded jewelry. Griego, from the Tohono O'Odham nation, has sourced many of her organic materials through trading posts and searches for yarn that is raised on reservations by the elder women who weave.
All sizes and shapes can be adorned by Griego's unique works of art. "I want everyone to be happy, to feel like the queen they are inside and if what I create with my hands enables them to radiate even more of the beauty that is within, I am doing something right."
As Ghost Dancer continues to expand Griego plans to work directly with First Nation people across the globe. Her metal working is expanding as well, and she will have metal sculpture and jewelry available in 2017. Rhiannon recently created and sold a stunning necklace she named "Standing Rockwp_postswith the proceeds being donated to the Sacred Stone Camp in order to help the Sioux of Standing Rock protect their water from the Dakota Access Pipeline. When you shop at Ghost Dancer not only are you supporting an amazing Indigenous artist and way of life, you're also supporting a Queer family member-Rhiannon is sexually fluid!
This body positive, Indigenous Etsy shop was founded in 2014 by Gloria Lucas, Mexican with Indigenous descent. Lucas struggled with bulimia and binge eating during her teen years — "I didn't know anyone else who looked like me and struggled with an eating disorder. I created Nalgona Positivity Pride in order to create a platform for our voices…something that was specific to the brown-Indigenous-Xicana community."
Her shop is full of tees that go up to a 5X, buttons, cards, stickers, and posters that have fun, empowering, and strong imagery to decolonize and impart a body positive message. Along with the Etsy shop you can also follow the happenings of Nalgona Positivity Pride through their soon to be relaunched website.
Cherie Fontaine, Anishinabe of the Sagkeeng First Nation, is a licensed teacher and founder and creator of Nishiin Designs. Fontaine learned to sew under her mom's tutelage and sewing soon became her passion. After having her son, Cherie left teaching and opened a children's clothing store. Her store went through several changes before Nishiin was born due to a need for Anishinabe designed products. With the support of family and her grandmother's industrial sewing machines Cherie launched her own line of items designed and created by herself. Nishiin offers beautifully designed hoodies, cloth purses, beaded jewelry, and moose hide handbags and accessories that are created from sustainable and traditional Indigenous hunting methods.
Fontaine's shop is located on the North Shore of the Sagkeeng First Nation in Manitoba. As Nishiin continues to expand Fontaine will offer more accessories, items made of leathers and corks, and will hire employees to help fulfill the orders. Never fear, though; Nishiin will remain entirely Native, made on the Sagkeeng Reserve.
As much an act of revolution as it is fashion, NSRGNTS "strives to produce products that can positively contribute to the collective heart and mind.wp_postsTheir streetwear designs are a stylish call to action. With tees for toddlers declaring them a "Warrior,wp_postsa long sleeve shirt that wittily incorporates the LA Dodgers logo to proclaim that you're on Indian land, and a deep scoop neck dress with the image of a a proud elder wearing a headdress there is no denying that this store has a righteous political agenda.
Their women's shirts go up to a size 3XL and the men's go up to a 5XL. They also sell skate decks, hoodies, leggings, cell phone cases, posters, and onesies for infants. They offer a line of products that is sure to win the heart of every racial justice nerd: "NSRGNTS Strike Back.wp_postsAlong with the goods to purchase are links to Indigenous political causes and news sites as well as the soon to come list of events and Pow Wows.
Devon Fiddler began working on her SheNative concept in 2013. It took two rounds of crowdfunding, financing, meeting with consultants, registering her business, and taking the leap of faith to leave her job to make her dream a reality; SheNative launched in April 2015. Created with the mission to empower Indigenous women and change the public's perception of Native women, Fiddler uses her company to create the change she wants to see. With a line of clothing and handbags that are simplistic in design, but deep in meaning, SheNative is spreading Indigenous feminism to the world. The Changing Herstory Dolman shirt, available up to a size 2XL in Heather Charcoal and Red, is perfect for the Femme Feminist.
Fiddler is putting her money where her mouth, is so to speak; SheNative donates a percentage of their profits and other resources to causes that empower Indigenous women and girls with plans to create a fund to support Indigenous women entrepreneurs.
For Bentonia "Tonyawp_postsBrown,  Navajo, jewelry making had merely been a hobby until she posted a photo online of a pair of earrings she made for an auntie. The requests began rolling in and T.Connor&Co was born. Slowly Brown's business blossomed from her staying up late to fulfill orders to hiring two employees and selling her items through her website, Beyond Buckskin, and a NY boutique.
Her work ranges from colorful and creative button style earrings that are priced for the fashionista on a tight budget to leather bracelets with cloth pendants — one of which is rainbow colored. There are also fun badge holder reels to dress up that drab work ID badge or conference name tags. Best yet, T.Connor&Co takes special orders. Send photos of what you'd like your earrings, bracelet, or badge reel to be made from and your wish is their command.
Tundraberry is founded and operated by Joni Edwardsen, Inupiak, from Barrow, AK. This funky yet traditional store offers accessories ranging from earrings and cuffs to bow ties and wristlets made from subsistence hunted seal fur. Seals are a primary food source for the Indigenous peoples of Alaska. Staying true to the Indigenous ways of hunting, Edwardsen never takes more than her family needs and she puts to use all that they take through her fashion.
Tundraberry brings economic growth to the Indigenous community of Barrow, an area with less employment options and a very high cost of goods, while allowing Edwardsen to continue her Indigenous way of life. It also provides the fashion conscious Femmes, bois, and studs of the world accessories with an edge to complete their outfits.