Reading the right poem can pull you into yourself and gives you the magnifying glass you need to understand your own guts. It's cheaper than therapy and calmer than journaling.
Reading Jenny Johnson's debut poetry collection, In Full Velvet, is more like a wielding a telescope. From the barber shop, the bedroom, the dyke bar, the street and the quiet corners of the heart, Johnson's poetry speaks into the story of queerness.
Johnson chooses her words carefully — she doesn't walk, she strides; a strawberry wound torn open through boy jeans is "glistening like pulp does after the skin of a fruit is pealed back clean with a knife." She wields precise language to probe gender, romance, nature and queer culture and to answer questions buried too deep to ask. It is full of pronouns, she/her pronouns, as Johnson describes the complexities of love, queer relationships, marriage and sex.
The poems in this work contain so much at once and transition fluidly between themes, scenes and stories. These marks of authenticity create intimacy with the author and blur the line between her story and our collective truth.
In "Vigil," she writes:
I am a woman who sometimes forgets that she is a woman.
So I always slip my shoes off and knock, at least three times

before crossing a threshold, before presuming I'm welcome here.
*
Out the window of a speeding car, a man yells, Dyke. And a slience bristles between us,

Hot ash about to blow across a paper city.
If you love someone, you must be the guardian of their solitude

Not that she ever needed me to guide her. Her biceps are firm
when she folds me over in the dark.
The title, In Full Velvet, is a reference to deer antlers, and the cover sports a drawing of same, as if we needed further proof that Johnson is our people. (For those who don't know, Klub Deer is the deer-branded, highly exclusive and exquisitely weird after-hours venue at A-Camp.) The book is an aesthetic delight, with a soft texture to the hard cover and embossing by the publisher, Sarabande; a pleasure to hold and read. Poetry is the only genre I refuse to read on an e-reader, and this book reminds me of exactly why. So many of these pages call for the pause you can take only when you start to flip the page and then catch your breath, glance at a line, and turn back to read again.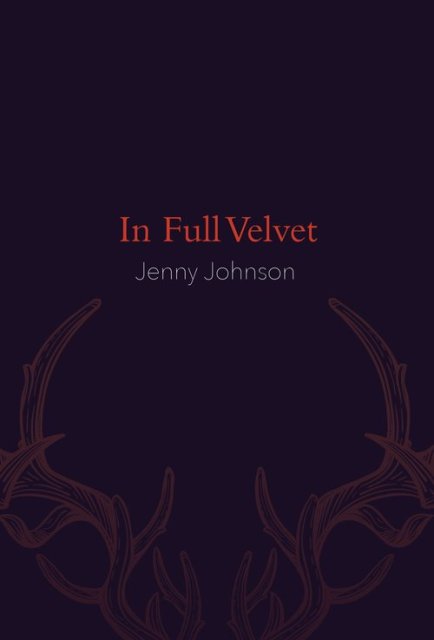 Johnson has written a decidedly apolitical book while still acknowledging and engaging with the inevitable politicization of queer identities, relationships and sex. It's an antidote to all the tweets and yelling that become harder and harder to drown out in 2017. She mentions The Price of Salt and The Well of Loneliness, and it feels like she is writing exactly and only for us.
Art can be a powerful tool for both resistance and healing, and so can self-knowledge. Spend some time with these poems and see what you find. Immerse yourself and be prepared to come out raw and clean.