Welcome to the Friday installment Boob(s On Your) Tube. You're here for Clarke and Lexa caressing each other's thighs and hips, so I won't ask you to linger on my words any longer than I must. (P.S. Billie Jean King guest starred on Fresh Off the Boat and it was a glory.)
---
Fresh Off the Boat
Tuesdays on ABC at 8:00 p.m.
This week, the two youngest Huang children bring home the results of a career test intended to tell them what job is a good fit for their personality. Although Jessica is pleased with Evan's result (Surgeon General), she's less happy with Emery's suggested career: flight attendant. After Louis sits the family down to watch Michael Chang compete in the Australian open, Jessica is quick to encourage Emery down the (potentially) more lucrative career path of being a professional tennis player.
"You boys are so lucky to have an Asian pro athlete to look up to. It's way more than I had," Louis says, flashing back to a memory of himself cheering for soccer referee Jin-Ho. Which, I've got to say — just under the surface of that slightly hyperbolic joke is a Really Real Thing. It reminds me of my dad's sudden, intense interest in basketball once Jeremy Lin made it big. My unquestioning adoration of figure skaters Kristi Yamaguchi and Michelle Kwan. My younger brother's pedantic insistence on reminding everyone he talked to about Tiger Woods's multiracial Asian background. It's A Thing. I appreciated it — just as I appreciated Louis's earnest defense of tennis to his sons: "Are you joking? This is the greatest game known to mankind. It is a sport that is both aggressive and elegant, just like your mother." So good!!
Even better, when Louis, Jessica and Emery go to the tennis court for practice, Billie Jean King is there! She's in Orlando 183 days a year for tax purposes, and — after Emery dominates the Under-16 Regional Tournament and fires his parents as coaches — is willing to give free lessons to the emerging champ. The two get matching "success perms," but decide to call it quits when Emery realizes that he doesn't want to leave home just yet to pursue tennis as a full time career.
---
Grey's Anatomy
Thursdays on ABC at 8:00 p.m.
Written by Aja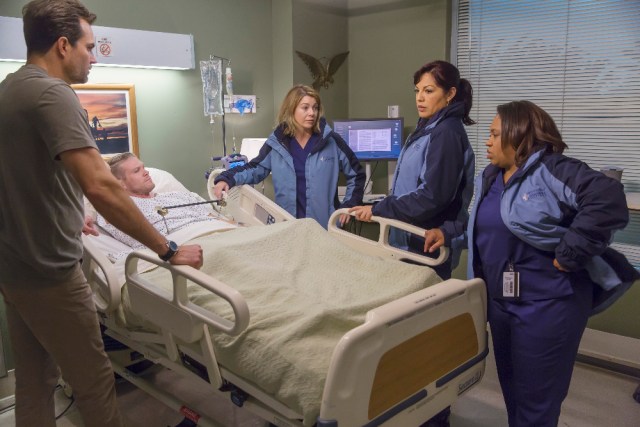 This week's Grey's Anatomy was literally JUST Jackson and April in a hetero cesspool of bitterness and divorce! I'll be back next week when Callie, Meredith, and Bailey join the matching parka club.
---
How to Get Away With Murder
Thursdays on ABC at 10:00 p.m.
Written by Sadie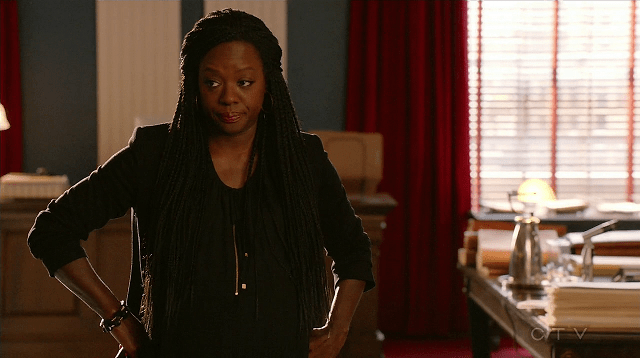 This week on How to Get Away From Your Boyfriend we delve deeper into what exactly is going on with Wes, and we see how many times Frank can say he's Laurel's boyfriend until we stop believing it. Let me start out by saying there's no new Eve footage or storyline in this episode and I'm really sad about it. Alas, someday.
Flashback: Annalise was defending a man named Charles Mahoney — who was accused of beating a woman to death in his office — early in her career. Wes's mom, Rose, had been called to testify on behalf of the defendant in that case. Her story seems totally sketch, making references to things like rain and very specific details that a person typically wouldn't typically remember. Annalise goes to prison talking with her client and it's painfully obvious that he is totally lying and she knows it. It turns out Rose is the alibi and has clearly been paid off or threatened in some way.
Back in the present Connor is showing the video from Philip to Annalise. She's not impressed: "I'm not even in this!" But then Connor asks nicely for her help and apologizes, so Anneliese relents. (Always remember your manners, folks.)
Now back to this dramatic scene with Frank and Laurel still in progress from last week's episode, when Frank confessed to killing Lila. Laurel refuses to believe him and continues to blame it on Sam. (I would have, too, to be honest.) Laurel asks Frank why he did it and because he can't bring himself to say who it was for, she still thinks he's lying. Frank says he had to do it and then his phone rings: It's Annalise, in more ways than one. Laurel has trouble absorbing all of this and decides to dip out on this week's misadventure with the team and go to Ohio with Wes instead.
Frank storms into Anneliese's house asking to see the video; everyone is frantic trying to decide what to do. Should they try to find Philip? (Are they going to try and kill him?) Anneliese thinks this whole thing is a trap and suggests they just wait it out. "Let mommy take care of it, like she always does," she says, which is kind of weird but also kind of badass.
A second email has come in and this time shows the remainder of the team. Along with the second video is a demand for a million-dollar ransom in order to keep the video from going public. This time Connor calls Annalise "Mommy" and it's really just weird when he says it.
I want to take this moment to point out that the picture of Frank on her phone is shirtless, like one of those pictures you get from every single dude on Tinder.
Also, oh man, Frank's hair in the past! Do you think that's what it really looks like under all that grease? With that thought and Sam walking into the room, I completely glazed over during this scene.
In an attempt to literally run away from her problems, Laurel wants to sneak Wes to Ohio so they can go snooping around to find out more about his mom's death. And we find out how Wes's name was changed. Apparently Wes got a new name from his foster family? There is something super out of the ordinary going on there.
Fkashback: Rose is being prepped for trial. Frank sends a particularly harsh line of questioning her way and it nearly scares her off. Rose agrees to testify, but only under the condition that she won't be deported and that she'll be able to testify anonymously. The old white dude in the corner is not too fond of this plan, and makes a very thinly veiled threat against Wes (or, I guess, Christoph?).
In the present Frank covers for Laurel, after which the word "boyfriend" is thrown around like half a dozen times. They go to meet Pratt's boyfriend, Caleb, to get the rest of that ransom money and find details or some sort of leverage on Philip. He visits his sister, Kathryn, in prison and she admits to killing her parents… kinda. It's unclear whether it's a real confession or a guilt thing.
Out in Ohio, Wes and Laurel dig up all of the old files pertaining to the Mahoney case. Luckily we get to experience this through flashbacks and endless hours of legal documents. The prosecutor describes Mahoney as having been charged with beating of a woman to death. Annalise calls the characterization made by the prosecution bad fiction. Rose was set to be anonymous witness G34, but she never showed up because she dipped out of the bathroom while Frank wasn't looking.
This is clearly a huge setback, but Annalise tries to play it down when old white dude shows up and tells Annalise that he picked her solely on her color and gender, against his better judgment, and then goes on to say something pretty racist. I hope his son lost the case.
In the present, Bonnie suggest letting this all fold in. Putting an end to all of this, Annelise laments the fact that she now has to deal with five adult kids. Annalise, clearly hates everyone now, but tells them to enjoy the night anyway cause with this group you never know what might happen.
In Ohio, Wes convinces himself that the trial got his mom killed, that someone (possibly old white man) had her murdered because she didn't testify. He's convinced that Annalise has felt guilty about this all along, and that's why she helped him get into college, and added the fifth spot on her team, and protected him after murdering Sam.
Now over with Caleb and Pratt at the Mansion. They're trying to sort out the tension they've been having. Pratt says, "We've seen each other naked; I think that means we know each other." Which, as someone who's been to a fair number of sexual parties can tell you: this is not necessarily true. Regardless they make up and do some heterosexual kissing.
Next Bonnie breaks up with Asher, even though she says they weren't really even dating. Bonnie is totally broken up over this, but I'd say it's for the better. Next in this sequence of makeups and breakups, Annalise decides to cook Nate dinner, and Connor suggests moving far out of town. Nate feels pretty suspicious about this meal. He seems to think Annalise has ulterior motives and makes an ass of himself both at the table and with his sorry excuse for an apology. They proceed to have the kind of argument that at least on television usually ends in sex. If that happened, it was only alluded to.
Frank sends three "I love yous" and continues to call, but Laurel wants nothing of it. She breaks down in the car, saying that Frank is just like her father. Wes tries to comfort her as best he can, but that leads to more passionate heterosexual kissing. Awkward.
Ten years in the past Annalise confronts Rose and says she worries about what might happen if she doesn't follow through. More public records requests, and Wes find his mother's police report from the night of her death. The police report and the coroner's report say that it was a suicide, but Wes is not convinced.
At Annalise's place Nate agrees with her and says not to negotiate with Philip. Not to give him an inch because his threats are empty and he has no real leverage. At this point another email comes in and it contains video of Nate and Annalise from the night before.
Philip is stalking everyone! Laurel thinks it was Wes who killed his mother. There seems to be a total breakdown of the group going on. Not to mention: What happened to the baby? Where is Eve? Could this show get anymore dense?
---
The 100
Thursdays on The CW at 9:00 p.m.
Written by Karly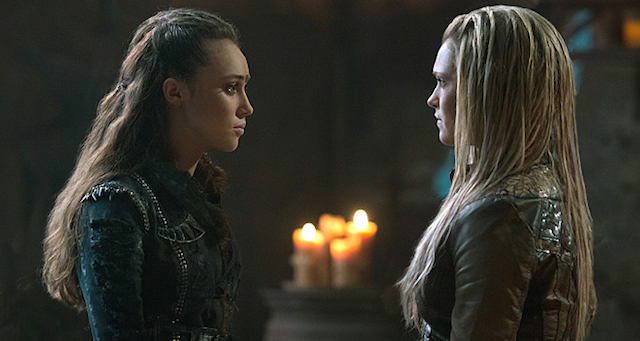 Headcanons can race like the speed of light. Every Thursday I think "Will this be the day they kiss?" or "Will this be the day they sleep together?" But in reality, Clarke and Lexa still have a long way to go. They want to be together, of course, but Lexa still has to command armies and Clarke is inexplicably determined to protect her people.
So the episode begins with our bookend couple. Clarke sits in a chair and sketches Lexa sleeping on the couch across from her. Just gals drawing pictures of pals. Lexa has a nightmare and wakes up terrified. Clarke goes over to her and puts her hand on Lexa's thigh. She probably doesn't remove her hand for half the scene but I'm not 100% sure because the camera rightfully so zooms in on their faces. Lexa says she had a dream foretelling doom because she declared a cease fire. Clarke assures her with a smile that she did the right thing and her legacy will be peace. Lexa is soothed by this and gets up and sees the drawing. Her face is flattered, surprised and hopeful that maybe she didn't swear fealty to a woman who will never love her. Clarke shyly looks up at her. And this moment is ruined by Titus, of course.
Titus stares at them like he just interrupted them making out. Seriously, he looks terrified. Guards carry in a giant wooden box. It is a gift to Clarke from King Roan. Emerson is inside, beaten and screaming. He throws himself onto Clarke, frothing at the mouth. I thought the Ice Nation had turned him into a Reaper, but he's just mad with grief. They pull him off and take him out of the room. Clarke refuses Lexa's comfort, and stomps away.
Clarke meets up with Lexa and Titus later in the ceremony room. They tell Clarke Emerson's sentence is her decision because he murdered her people in Mount Weather. Lexa reminds her that blood must not have blood but Clarke is like "Oh no, he should be dead. I'll kill him." Lexa is so hurt by this and confirms my fear: "I see. Blood must not have blood when it's only my people who bleed." Clarke and Titus try to justify it, but Lexa won't listen. Heda knows what Heda means. Clarke has until sundown to decide Emerson's fate.
Titus visits Clarke later and warns her that Lexa is in grave danger by not vowing vengeance. He says Clarke has to convince her to change her mind, or they will kill her. Clarke will not abide this war because of her people, but she does seem a little conflicted when he mentions Lexa's death. I'd like to think she says no to Titus not because she doesn't care, but because she respects Lexa so much she'd never make an agreement without her knowing. Titus doesn't understand how pragmatic Clarke is and leaves pretty pissed off.
But when the time comes after sundown, Clarke cannot go through with killing Emerson. They both will have to go through their days with the memories of their crimes. Clarke will have to remember that she killed men, women, and children (including Emerson's two children) in Mount Weather. And Emerson will be banished from the lands knowing he killed 49 SkaiKru. But Clarke is still The Clarke Griffin because she smiles at him and says "may you live forever." Lexa is just as turned on as we are, you know.
Meanwhile, over in Arkadia, Raven is back to season one Raven Reyes. No pain, no insecurity, and she is practically beaming at all times. She's now pro-City of Light and Jaha is passing out chips to all the converts. Jasper is so close to taking one, but Abby stops him. Jaha explains that the chip grafts onto people's brainstem and stops pain receptors from firing. It also may cause him to forget he had a son named Wells. Whoops. Abby takes all the chips away until she can study any other side-effects.
Octavia and Kane team up to spy on Pike. Octavia is the brawn outside the walls spying on Pike's patrols, and Kane is the brains directing her through the radio. It is amazing. They find out Pike wants to clear a village to start planting corn and soy beans. So of course they have to kill everyone in that village. Monty, Monroe and Miller's boyfriend reluctantly agree. But when they and Bellamy arrive in the village, it's empty because Octavia warned the grounders living there. Unfortunately, they had set a trap with flammable toxic tree sap. Octavia tries to warn Bellamy about the trap but Monroe is killed. The grounders want Octavia dead, Pike wants Octavia dead (even though they literally went to that village to kill everyone there). All she wanted to do was keep everyone safe. Why can't anything go according to plan?
Lastly, Jaha and Alie ask Raven to load up Jaha's backpack into the mainframe so they can find another AI. It was Alie's sister AI and she was supposed to be up in space while Alie stayed on Earth. But there's no trace of it in the network of the 12 ships. Jaha reveals there was a thirteenth space station but they blew it out of the sky to encourage Unity Day. What was this thirteenth station called? Polaris. Or POLIS. We see the remains of the station in Titus's lair as he beats Murphy senseless. He wants to know how Murphy got one of Alie's City of Light chips.
So are the grounders descendents of the 13th station and not actually "grounders" at all? Did this second AI distribute chips to all the grounders so that their city of light is actually their collective unconscious/afterlife? Will Lexa and Clarke finally admit their feelings to each other and together kill the treasonous Titus?