Hello, my rainbow-feathered friends! I'm sorry I didn't have a Boob(s On Your) Tube update for you last week. We had some issues with wifi at camp, and on the real, there wasn't much to talk about. This week, though, is a whole other story! Pretty Little Liars came back last Tuesday night (expect a 601 recap tomorrow morning, before the new episode), The Fosters comes back tonight (expect a recap of that tomorrow afternoon), Netflix dropped Sense8 on Friday (more on that below), Orphan Black kept steamrolling along (two recaps are coming, probably Wednesday morning), Defiance returns this Friday (you'll see updates for that here in this column), and Orange Is the New Black lands this very Friday (Riese and I will be co-recapping that for you!). It's going to be quite a week!
As promised, here is a Google Calendar I will be updating as a queer TV viewing guide. You can also subscribe to it with an RSS reader or import it into any calendar that uses iCal.
Meanwhile, here's what you missed!
---
Sense8
Streaming on Netflix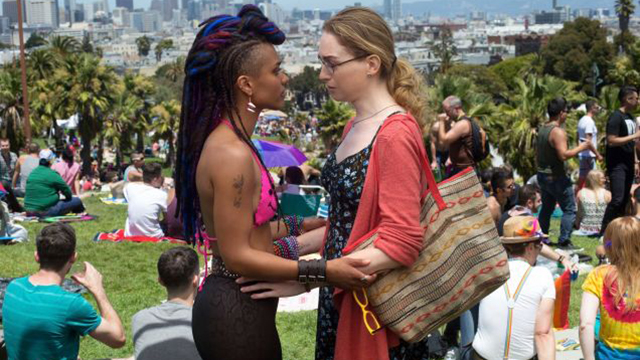 The main teevee thing that happened while we were on the mountain was the premiere of Netflix's new sci-fi show Sense8, which features a trans lesbian character named Nomi Marks, played by trans actress Jamie Clayton; and a black lesbian character named Amanita. They are girlfriends! That sounds revolutionary, and the first glance I had of the show via Tumblr GIF sets made it look rad (and queer) as fuck, but I haven't had a chance to watch any of it yet. However, our own Mey Rude is going to watch and review it for you, so stay tuned for that!
---
Younger
Tuesdays on TVLand at 10:00 p.m.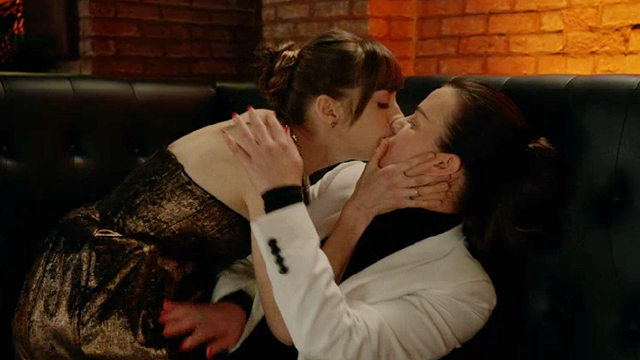 There's only one episode left in Younger's freshman year, and I think it's safe to say it has been a really solid inaugural season for TV Land's first original series to feature a lesbian character. Maggie still hasn't been integrated into the show as well as I would have liked, but in the penultimate episode, "Hot Mitzvah," she escaped from her Brooklyn loft and joined everyone at Lauren's second coming-of-age party. Unsurprisingly, she immediately and accidentally slipped into ladykiller mode as Lauren finally confessed a year-long crush on Maggie and smooched her right on the lips. I should have seen it coming! Lauren dropped hints she was queer, and she protested way too much about Maggie's age! It was a fun, surprising turn that could pay off big time in the second season if the two of them start dating. (Lauren says Maggie is an OWL, an "older, wiser lesbian." I like that. I am adopting it.) It'd be such a fun role-reversal of Josh and Liza's relationship, which: finally climaxed into love confessions and Liza telling him the truth about her age and past life.
Tomorrow night's season finale should be a doozy.
---
Complications
Thursdays on USA at 9:00 p.m.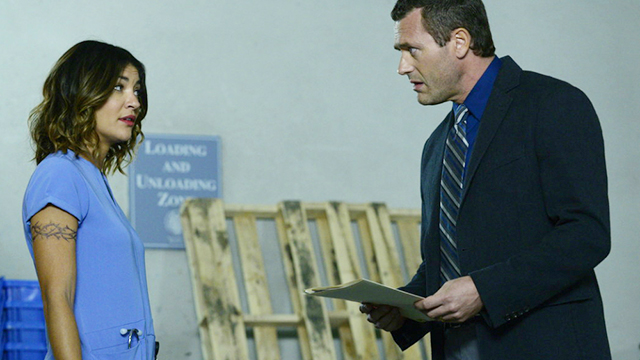 I want to let you know that USA is unveiling a new summertime show next week called Complications. It's about a straight white doctor dude who becomes a vigilante hero who "does the wrong thing for the right reasons." White Collar 2.0, or whatever. But! Jessica Szohr (aka Vanessa Abrams from Gossip Girl) (aka The Girl Who Had a Threesome With Dan Humphrey and Hilary Duff) will play a lesbian on the show. Hopefully they'll do her better than White Collar did with FBI Agent Diana Barrigan, the last lesbian supporting character on USA's summer slate. Complications lands on June 18.
---
Hannibal
Thursdays on NBC at 10:00 p.m.
Hannibal returned to NBC on Thursday night, with no Margot in sight. According to the internet. I cannot watch this gorefest even a little bit, not the commercials, not anything. But my girlfriend, Stacy, says she'll keep us all updated like she did with The Walking Dead.
---
Lost Girl
Thursdays on Syfy at 10:00 p.m.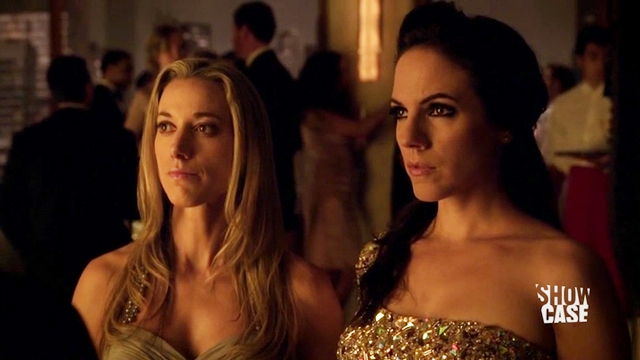 Syfy burned through its last two episodes of Lost Girl season 5A, and the main thing you need to know — because there's not enough space in this column to break down the whole thing, and I've got to write four full recaps in two days — is that Tamsin confessed her true love to Bo, but Bo shot her down because Bo's heart belongs to Lauren. And she told Lauren so, while the Scoobies were chasing Greek gods all around town trying to keep Bo's dad (Hades) from getting at her. Lauren was like, "Oh, boy" and let that hang in the air for almost the whole episode, until finally confessing that she meant "Oh, boy, yes." ("It will always be oh, boy, yes.") Season 5B returns to Showcase on September 6, and to Syfy some time in 2016. Maybe I'll find a way to write about it better for you by then.
---
Finding Carter
Tuesdays on MTV at 10:00 p.m.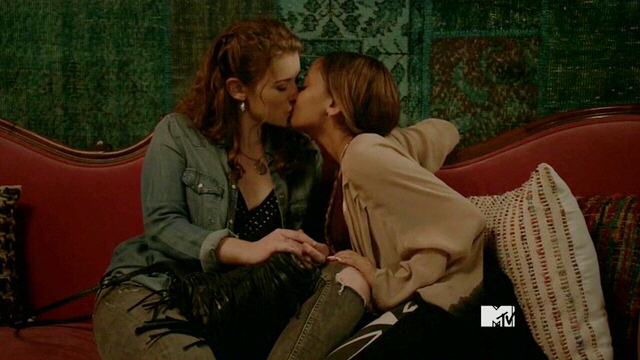 Carter's queer BFF from her past life, Madison, and her formerly straight BFF from her current life, Bird, kissed last week on Finding Carter. It was a surprise, a sweet surprise, but not the surprise I was hoping for when this show started, which was to see Kat Prescott playing gay again and Naomi rising from the grave like a Rosewood lesbian and the two of them riding bikes and making out. Sigh. #SkinsFire #NeverForget
---
Team TV coverage you may have missed
+ 5 Things I Watched to Prepare Myself for A-Camp
This may sound familiar, and that's because The Rich Man's Daughter is basically the TV offspring of Imagine Me & You and I Can't Think Straight.
+ You Should Watch "The Rich Man's Daughter," a Filipino Soap Opera Starring a Lesbian Couple
In preparing for this, my first A-Camp, I've turned to movies and TV to give me inspiration and calm my nerves. Hopefully I made the right choices, but if not, at least I had some entertainment while I packed.
---
I am very aware that Carmilla came back last week. We had an impromptu viewing party at camp and swooned until we almost fainted dead away. Give me a week to get caught up on teevee from the big box, and I'll get you something good for Carmilla!