If you've never seen Bomb Girls, please run, don't walk, to your nearest torrent and get yourself the first season as soon as is humanly possible. If your television interests are as lesbian-thirsty as mine are, then consider this the tower of Gatorade in the middle of the Sahara.
I have a lot of feelings about this show, and most of them have to do with the fact that I want to share it with everyone I meet. I think that historical dramas that offer queer perspectives are really invaluable to our community. We have been struggling and surviving since the dawn of time, and since so many of us were erased from the history books or not allowed to give our accounts, it's extra important that we still have access to those legacies, even the fictionalized versions. My goal is to get every single one of you to watch this show if you don't already, and to get you super psyched so I won't feel like I'm the only one vomiting all these gay feelings every week.
Also there is not nearly enough Bomb Girls fanfiction and you need to fill that void for me.
Here's your first season refresher.
GLADYS is totes rich and has the face of a hottie and the fur collection of Cruella de Vil. She works at the munitions factory because despite her family's 1940s equivalent of a toaster strudel fortune, she wants to do what common people do. She is not a lesbian *yet*, but she only seems to hang out with lesbians.
Gladys' parents are not down with her blue collar period, and this drops a bomb (HAHA) on the family dynamic. Her fiancé is pretty laid back about the whole thing, but also he contracts herpes from a lady who isn't Gladys. Gladys calls it evensies because she once cheated on him, and they say sorry and decide to peacefully stay together. It's the most Canadian thing that's ever happened.
BETTY is flawless dyke swagger in a pantsuit. She likes likes girls and has been keeping it a quiet secret because it is the 1940s. She has never met a pair of trousers she doesn't like. She is one of the more incredible queer characters to show up in media and I will have fisticuffs with anyone who wants to argue that with me.
She falls pretty darn hopelessly for KATE, whose real name is Marian and who works at the factory after escaping her super religious abusive father. He dragged her sick mom and siblings around so they could sing hymns outdoors while he yelled at people about hellfire. Kate is actually a Disney princess come to life because of her super sweet demeanor, giant dewy eyes, and the fact that she constantly sings.
Betty reveals her feelings to Kate and they FUCKING KISS and Betty says I LOVE YOU but then Kate's father returns to literally punch Betty in the face and take his daughter back. If you didn't cry at this, you're either dead or made from Canadian stone.
The girls are all overseen by LORNA who leads a pretty joyless existence until she started getting to it with the hot young Italian stallion MARCO. You go, Lorna.
Turns out Marco totally gets her pregnant. This would be less of a problem if Lorna wasn't married to an equally joyless dude who will not take well to raising the little plate of spaghetti.
Now everyone is back for the second season to deal with the hot lesbian mess they left behind, plus the whole war thing. Take it away, my beautiful ladies.

Bam! Season 2 has begun. This episode is called "The Quickening", maybe for how quickly time has flown by since the end of last season. Kidding! It felt like forever and I wanted to die.
Gladys is doing a photoshoot in her living room because, you know, fancy people. Who even knows why they do the things they do? Good to see she remains completely precious this season. I want her to be gay, but I also see her as that one straight friend we all have who is totally gorgeous and whose boyfriend we have sworn to forever hate.
Vera's looking all fine, and her scars have healed at a rate that makes me wonder if we are supposed to think a lot of time has passed or that medical technology was a whole lot better in the forties than we have been led to believe. I'm gonna go with the latter, since I believe pretty much anything I see on TV! Remember when the hooks that hook into the bomb things accidentally hooked into her head? You got this, Vera!
Betty gets her dyke swag on and then gives her good luck charm a kiss. If you're wondering how I looked during this scene, I've done an accurate recreation: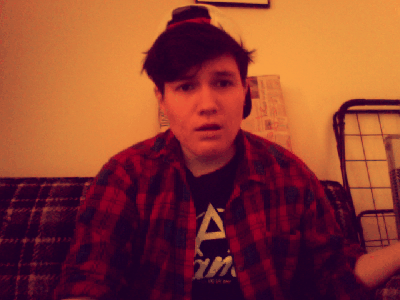 Back at the factory, it's good to see that impending motherhood hasn't given Lorna a lighter and happier outlook on life. She's inspecting fingernails like they're defendants at the Nuremberg Trials. Keep smiling, sunshine!
I'm trying not to make insensitive jokes about the locker room being Betty's favorite place in the factory, but it's my favorite place in the factory, so whatever. She and Gladys seem to be tighter than ever, and they dish about how much Gladys misses her soldier boytoy. Betty's all like "whatever, princess," because it's totally normal to give our straight friends semi-flirtatious nicknames, right? I'm not the only one who does that, right?
Lorna says there's a delegation from China and the U.S. visiting today, so the girls need to be on their best behavior and not pull each other's hair or make out in the break room.
Lorna pulls Betts aside and tells her that a man has sent a letter to their supervisor accusing her of making advances towards a girl named Marian. Betty's face while reading the words "deviant freak" is pretty heartbreaking, but she tells Lorna it's a pile of bologna and nothing to worry about.
The Chinese-American delegation is here, and Betty and Gladys get to show them around. Betty just talks about how fucking dangerous their job is and makes a lot of tough guy faces at the men. I love her so much that it makes my heart hurt. Gladys talks about her fiancé and then accidentally dredges up some stuff about how all the lady factory workers in China were killed by bombs. Awkward.
Suddenly an alarm goes off and everyone needs to evacuate stat. It turns out that there's an unidentified plane in the "no fly" zone headed straight for the plant and the trains full of explosives. When the two meet, it will be a disaster of epic proportions. It's pretty much the literal representation of what happens when two of your exes start dating.
Down in the tunnels, everyone is getting cozy. In near death situations, like right around closing time at the lesbian bar, desperate times call for desperate couplings. Gladys continues to reveal the fact that she is doesn't get out a lot. If she had a tumblr, social justice culture would have smashed her into oblivion by now and made at least a few burn blogs. Luckily, the Chinese-American officer who earlier helped place her foot directly into her mouth continues to be a sassypants.
I'm afraid I don't know your name.

It's Kai Lo.

Kai Lo? What does that mean?

I don't know. What does Witham mean?
I like this guy.
As the situation gets more dire, Ivan the new guy goes for the ol' awkward arm squeezing with Betty. Funny how much he reminds me of my high school boyfriend.
The coast gets cleared and everyone goes back to normal, or at least the version of normal where handling extremely dangerous explosives is just a thing that you do for an hourly wage. Upstairs in the offices, Vera is getting major shit for her scars because the other secretaries are super bitches. I look forward to the episode when Vera goes apeshit and slaps the dumb outta them. I expect Betty to back her up with that mean gay right hook of hers.
Down at the canteen, Gladys asks Betty if she's still looking for Kate (who, reminder, is also Marion) at night. Of course she's still looking for Kate – she doesn't do anything with her life except build weapons and stalk the dark streets like the little gay Batman she is. But Betty's already had one confrontation today about her "deviant freak" behavior and knows what's at stake, so she pulls a Me At Age 16 and decides to give this whole hetero business a try.
In an irony that I hope was entirely intentional on casting's part, the second most dykey person at the factory asks Betty if she and Ivan are a thing because of how arm-squeezy they were getting down in the tunnels. Gladys says Betty is "not that kind of girl" aka she is too gay to function, but Betty says she calls dibs on Ivan, whatever. She does this through a lot of dykey swaggering and slamming her spoon down to stake her claim. It's so adorable how hard she's trying and so adorable how dykey she remains that my heart just about bursts. Gladys believes none of this bullshit but quietly supports Betty no matter what because she just read a zine on how to be a good ally.
Throwaway Character Dykey McDykerston jokes to her friend that she heard Gladys had been "up the stump" and "took a trip down to Chestnut Street," which apparently is 1940s talk for she had an abortion. Lorna overhears this and logs this stump talk away as she is starting to get a little desperate about the pignolo growing inside of her.
Meanwhile, Gladys is wearing this get-up because she's really precious that way. I still don't know how she manages to maintain so many lesbian friends and wear so much fur, as you'd imagine this would interfere with their militant veganism.
Once Betty joins her, it becomes apparent that the costuming department had a surplus of purple felt this season. Somehow this translates to the two of them looking like a crime-solving team or a pair of super siblings. They are such besties now, I love it.
Gladys wants Betty to come to the Jewel Box and help her raise money for the Red Cross, but Betty says she'll be there anyway because she's got a date with a man. Gladys' response: "A holding hands and kissing date?" Because Gladys knows that Betty just wants to touch soft butts and put her lips on another girl's lips.
Meanwhile at Joyless Junction, Lorna's daughter Sheila says she might go to medical school. Bob says the only reason she got in is because there aren't dudes around anymore to take her place. Not only is Bob a dickhole, but he calls Lorna out on the bombolone situation. Any possibility of positivity is officially sucked from this scene as if through a gigantic bendy straw. We could not exit this situation faster.
At the Jewel Box, people are doing the 1940s equivalent of twerking and really getting down hard. Betty and Ivan's date seems to be going well as they are bonding over hockey and beer. Betty burps and they salute it. I can't make this shit up. This scene finally reveals a flaw of Betty's, though, as she turns out to be a Maple Leafs fan. Don't worry, Betts. We'll work on that.
As much as I'd typically be averse to anything involving my favorite queer characters and heterosexuality, I actually really like this Ivan guy and kind of hope they become buds once they get over the fact that he is Betty's thick and tangled beard. They could have bro nights where they watch the game and share a couple of brewskis, and then talk about the girls they dig and be mutually respectful. I'm into it.
Pages: 1 2See entire article on one page