If you've been watching this season of Bachelor in Paradise, you know that Demi Burnett's pre-Paradise relationship with a woman has been heavily promoted, to the point that it felt like it might be a fake-out. And while other worldwide versions of ABC's popular show have included queer relationships, the American version has kept things almost pathologically heterosexual, with the one major exception coming across as a potential villain instead of being encouraged to fully explore relationships. Demi has been partnered with Derek for the first few weeks, and although she's been open about her existing relationship with a woman in LA, the pair decided to stay together for the time being. But this week, we finally got what we've been waiting for – Demi's girlfriend Kristian Haggerty arrived in Paradise.
Set up as a surprise for Demi by host, producer, and possible sociopath Chris Harrison, Kristian welcomed Demi with tears, hugs, and kisses. They immediately headed to the beach, and after emotional conversations and Demi pulling Derek for one of the most mature break-ups I've seen on this show, Demi and Kristian decided to stay in Paradise together, as a couple. The show shifted immediately to interviews of the cast gushing about how cute the women are together, and how real their love feels, but in spite of the almost saccharine support it was pretty great to see so many well-known Bachelor personalities expressing their love for Demi and Kristian. No one challenges their right to be there, no one accuses Demi of being flaky or indecisive or cruel – they all simply celebrate the connection the two have found, and express pride in their courage to own their identities. (And while Twitter has been predictably furious over the women staying in Paradise, the cast continues to show solidarity through social media, with Derek being among the most vocal defenders.)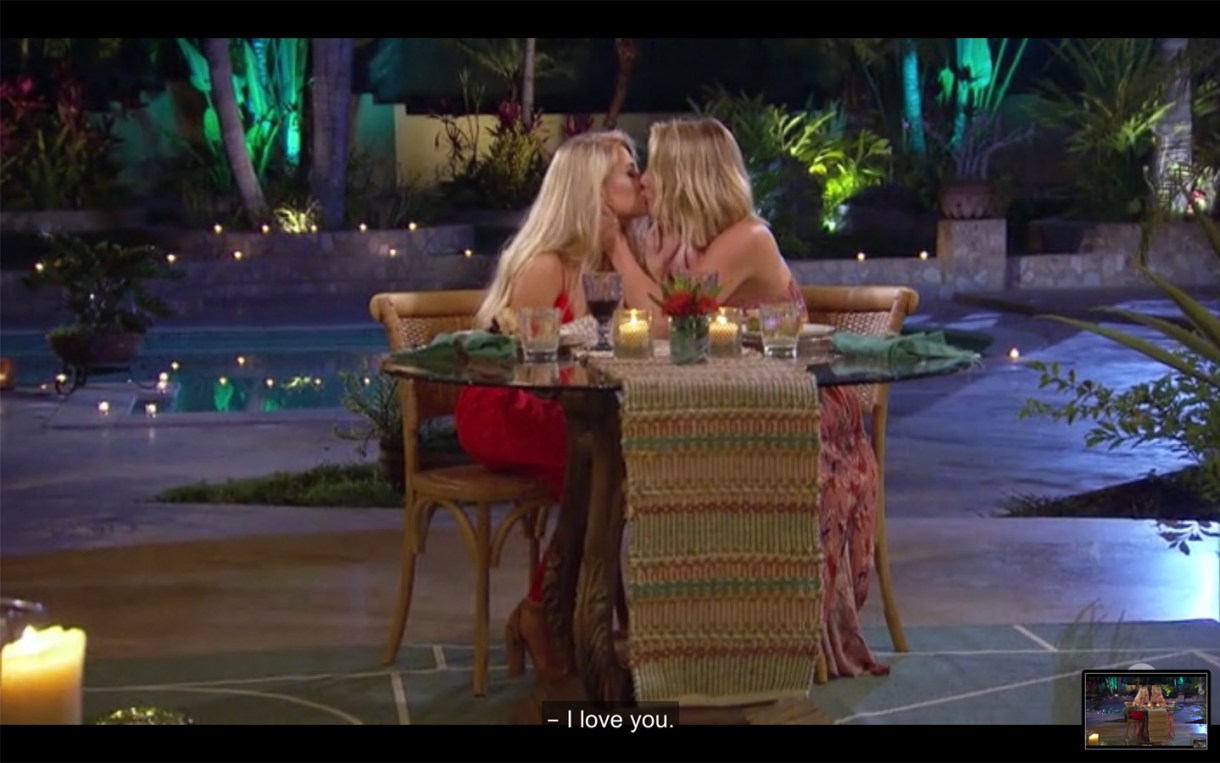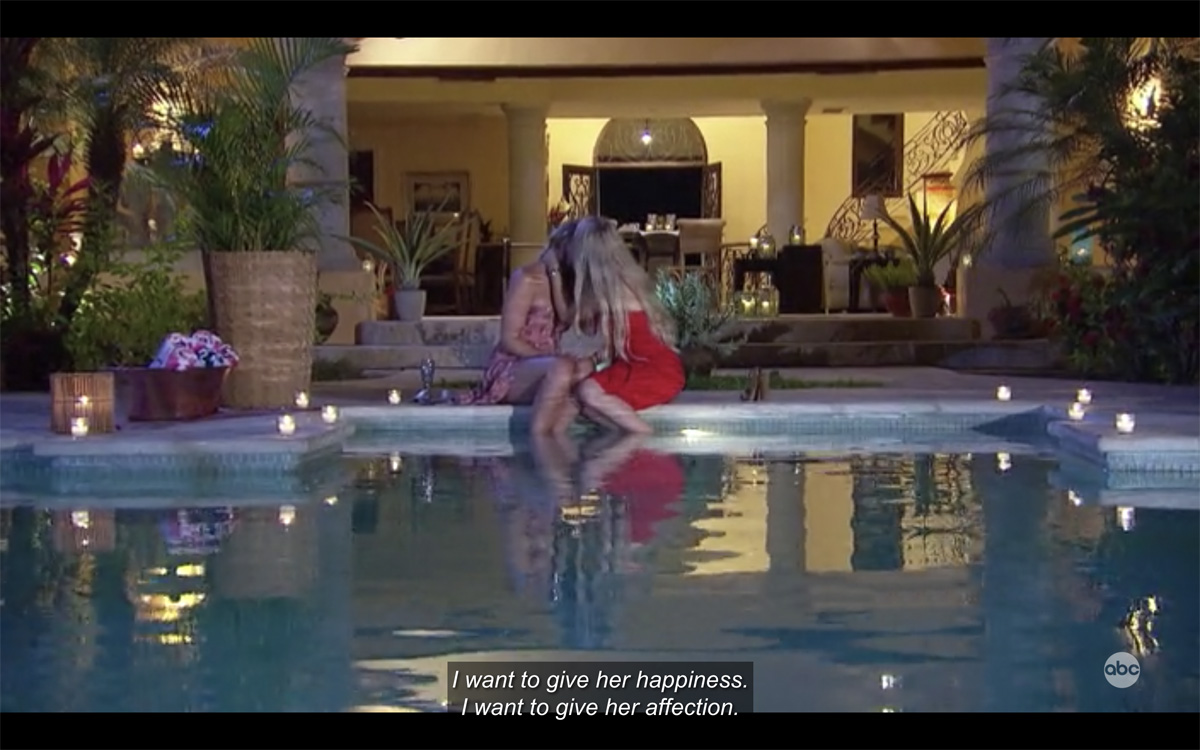 Pretty much immediately after the ally montage, Kristian and Demi received a date card, and headed away from the beach for the evening. After another intense conversation about the challenges they've faced, Demi emphatically stated that she doesn't want to let fear run her life anymore, and that she wants to commit fully to Kristian. Then they say they LOVE EACH OTHER and MAKE OUT. Kristian and Demi got the full romantic edit, complete with candles, dramatic music, lingering camera pans, slow motion kisses, and voiceovers pledging love and commitment. It's the same cheesy romance that we see so often on this show, but by featuring two women it feels absolutely groundbreaking. Watching these two kiss with champagne by a pool just like any straight Bachelor in Paradise couple on a date had me fully screaming at my television.
Yes, this breaks all the "rules" of the game. Yes, this sucks for Derek. Yes, if Demi wanted to be with Kristian she "could've just gone home." Yes, an established partner showing up to pursue a relationship is completely outside the usual realm of this show. And yes, apparently Demi doesn't know who Nelson Mandela is. But The Bachelor and its many spinoffs constantly break their own rules, creating and milking drama for the sake of "good television." The show is, at its core, completely ridiculous. It knows that, and it thrives on it. And if breaking those so-called rules means we get to watch two women profess their love for each other and make out by a pool during primetime, on one of the longest-running reality shows in the US? I'm fucking here for it.