When the first teasers and trailers for this season of Bachelor in Paradise featured Demi Burnett proudly exploring her sexually fluid identity, I admit I was skeptical, afraid to get my hopes up. So often queer people, and especially queer women, have their stories twisted and manipulated for ratings — and someone like Demi, white and cis and petite and blonde and outspoken and gorgeous, was the perfect candidate for messy drama and ridiculous edits. The show took its time bringing in Kristian and letting their connection build, and yet I honestly never expected to be on the edge of my seat during last night's final episode, watching not one but two queer proposals, live and on primetime television. Truly, it's a strange and magical time to be alive.
Last night's three-hour finale packed a lot in — overnight dates, fantasy suites, terrible communication, dramatic breakups, emotional proposals, the shocked faces of a live studio audience, reunions, interviews, children, arguments, and endless mentions of Stagecoach. On top of everything, the producers somehow managed to squeeze in deeply uncomfortable couples' counseling and a gender reveal announcement, just in case anyone was concerned that a queer proposal might ruin The Bachelor's reputation as the straightest reality dating show on television. But in spite of all the nonsense, Demi and Kristian still managed to shine, proving the strength of their connection and the authenticity of their relationship.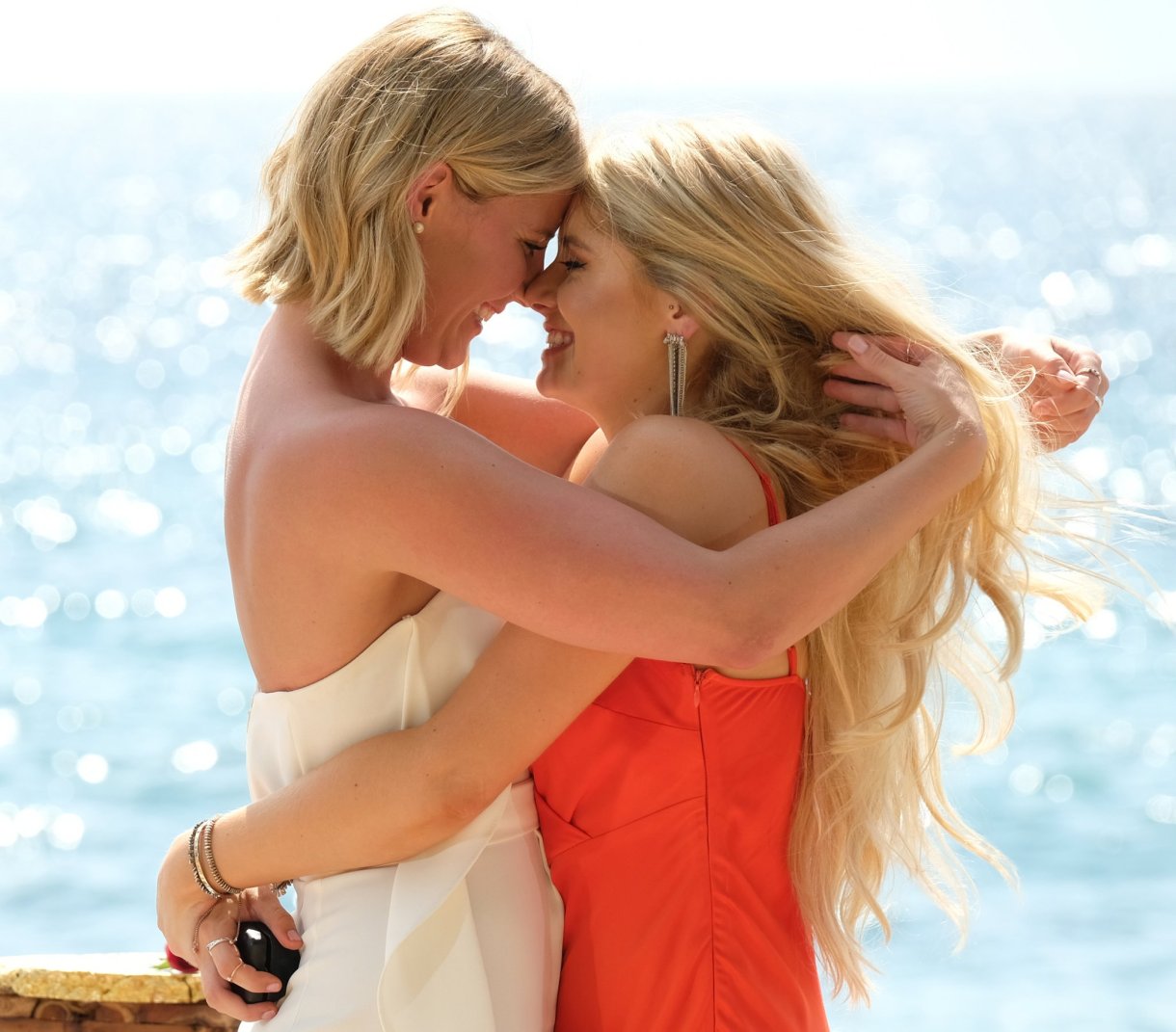 The episode kicks off with overnight dates, sending each of the couples to their own private spaces and letting them choose whether or not they'll take advantage of the fantasy suites provided. Demi speaks very frankly about the pressure she's felt during her time on the show, knowing that her reputation from Colton's season as authentic and bold would raise expectations for how she should act in Paradise — but explains that after being here, with Kristian, she feels like she is now being truly and undeniably herself. Kristian is earnest and proud as she praises Demi's bravery, saying, "You changed my perspective of a lifelong partner — I never thought I would find one.wp_postsThey both seem so surprised and happy to have made it this far, to recognize the depth of their connection and their commitment to one another, and look ecstatic to be together as they slip into their room and shut the door.
The next morning we get some adorable snuggling and a glimpse of Demi in her glasses as the women kiss and discuss their nerves. Demi gushes, "No matter what happens, I know that it's gonna be a good day, and I'm just excited to be with you,wp_postsand Kristian immediately counters, "Forever?wp_posts(Reader, I may have let out an undignified shriek.) We get some cuts of them getting ready, then see Demi in a long dress, carefully navigating the sand in clear lucite heels.
If you haven't seen the show before, this is the point where couples meet on a special, strange little platform, offer roses, and either propose or break up. It's cheesy and awkward and presumes a lot for relationships that are usually only a few weeks old, but makes for intense and dramatic moments. Kristian joins Demi, wearing an incredible white jumpsuit, takes her hands and begins, "Demi, you've changed my life forever.wp_postsShe expresses her initial fears about Demi's choice to come on the show, how risky it felt to watch her go, but how ultimately it revealed to Kristian how powerful her feelings were. "I give you my full heart, and I promise to protect yours now and forever.wp_postsThey're both trying not to cry as Demi takes over: "I came here to find myself, but I found myself in you. I love you so much and I am so in love with you. I didn't even think it was possible to feel this way about someone.wp_postsThen she slides over to a nearby table, pulls out a ring box, and PROPOSES. ON TELEVISION. TO KRISTIAN. THIS IS NOT A DRILL. They're gorgeous and happy and crying and it's so fucking wonderful.
And then! The reunion is mostly trash, with the mediocre men we've hated all season continuing to prove that they've never been worth our time. Demi and Kristian are the last to be interviewed, because the producers know that we'll fucking wait — but when they do appear, it's absolutely worth it. Demi is radiant and Kristian is sporting another incredible suit, and they come out holding hands and smiling from ear to ear. They speak clearly and candidly about the open relationship they'd established before the show began, and the ways that their time apart clarified the intensity of their connection. The women take turns gushing about each other, with Kristian saying that Demi is "courageous in everything she doeswp_postsand Demi calling Kristian "the easiest person to love, ever."
Then Kristian stands up, explaining to Demi that she has something else that she wants to get off of her chest. "When I met you, I was instantly captivated by you. I love your laugh. I love when you wake up throughout the night and whisper, 'I love you.' You say 'forever' and I'm so grateful that you went to Paradise and it gave us the opportunity to grow our love for each other. That last day in Paradise was the best day of my life, and I wouldn't want to do this life with anyone else but you.wp_postsAnd then Kristian slides over to the nearby Chris Harrison, pulls out a ring box, and PROPOSES BACK. We get rose petals and more tears and a standing ovation, and I fully screamed at my television, scaring my dog and likely pissing off my neighbors.
This season has had its ups and downs, and the way that this storyline was handled was often messy, causing unnecessary drama and public backlash for the women. Most of the cast knew each other beforehand, hooking up or traveling to spend time together or coming to Paradise specifically to meet certain people, yet the way Kristian was brought on and the couple's choice to stay on the show together was framed by many as "breaking the rules.wp_postsDemi's understandable reluctance to be overtly physically intimate with Kristian was criticized by many on social media, who cited her easy affection with Colton as proof that she was lying or that their relationship was fake. And rumors were constant and vicious, with prominent reality bloggers reporting that the entire thing had been planned from the start, and that their relationship was simply a ploy for fame.
But I was expecting a lot more lingering shots of the women kissing or cuddling, when in fact the editing seemed surprisingly reserved, even respectful — and although the previews often showed Chris Harrison dramatically announcing that he would be "changing the game,wp_poststhe rose ceremonies were handled with quick grace, letting Kristian and Demi take turns choosing each other before moving on to other couples.
It's hard to believe in much these days, but the relationship between Demi and Kristian has been one of the most authentic, powerful, and intimate connections I've ever seen on reality television — and the fact that it's between two queer women, on a long-running straight dating show, is absolutely incredible. Beyond making Bachelor history or breaking boundaries, the conversations these women have had about jealousy, internalized homophobia, coming out, physical intimacy, open relationships, fear, and communication have far surpassed what we normally see between couples in these charged, difficult situations. They've consistently demonstrated their ability to listen openly, process feelings, apologize sincerely, adjust behaviors, defend and support each other, and be incredibly vulnerable, all in a space designed for heteronormativity and surrounded by dozens of cameras and crew members, with none of their friends or community around them for support.
Seeing Demi's willingness to be completely open about her struggles and Kristian's grounded, patient, soothing presence was both astonishing and inspiring, and for so many viewers this has been a powerful and deeply intimate view into a real queer relationship, one built on mutual respect and trust.
Between the delightful clusterfuck of Are You The One? and this surprisingly authentic relationship on Bachelor in Paradise, it's been a busy summer for queer dating on television. The upcoming season of The Bachelor will likely double down on its straight roots, going back to its tried-and-true formula of one straight, white, cis man and the women who fight for his affections. But seeing the genuine, intense connection between Demi and Kristian has been an unexpected joy for me, and one I hope will open the door to more nuanced portrayals of queer relationships in the future.