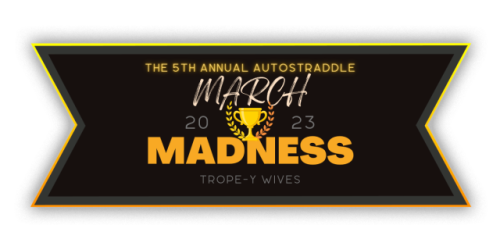 When you fill out a bracket at the start of March Madness you're plotting out the way you think things are going to go. You pay attention to the seedings, which conference a team's from and how strong that conference was during the regular season, how the team's performed over the last ten games or so, and any new injuries that might impact the team going forward. I'm not prone to homerism — which Urban Dictionary defines as "having a bias toward your hometown team or toward the team for which you play/used to play" (see: every UCONN player that's ever existed, i.e., Rebecca Lobo, Sue Bird, and Diana Taurasi) — so I don't advance my alma mater beyond where I realistically think they can go and I don't let regular season grudges carry into the post-season (LSU notwithstanding, for reasons ). There's no science to making the perfect bracket. No amount of basketball knowledge prepares you for this. At best, it's all educated guesses about which teams will survive and advance.
But when the ball goes up, on the opening round of play, the truth is, I'm not cheering for my bracket. I mean, don't get me wrong, I like to be right and I like to win, but, for me, filling out a bracket isn't about that. It's about the love I have for the game of basketball. It's about sitting at my dad's side as he filled out the empty bracket on Selection Sunday and the camraderie between him and his buddies (and, eventually, me) over who'd made the most outlandish picks. Filing out brackets is about tradition and friendship and family…and so, in every single round, I'm not hoping I'm proven right or that my bracket moves up the leaderboard of whatever contest I've entered. I just love this game.
(Admittedly, it helps that I don't put money on my brackets. I'd imagine I'd feel very differently if every loss meant I was also losing money.)
Once the ball tips, I'm not cheering for my bracket, I'm cheering for chaos. I'm cheering for March Madness to live up to its name. I'm cheering for a team from a place I've never heard of to upset a perennial powerhouse. I'm cheering for a player who hasn't been on anyone's radar to catch fire and to lead their team to an unexpected victory. I'm cheering for teams with players who you can tell just love playing with each other and for each other — who we probably won't ever hear from again — to advance beyond those led by superstars who'll likely hear their names called in a MNBA/WNBA draft. I'm cheering for buzzer-beaters and unexpected blowouts. I'm cheering for my bracket to be destroyed. I want the chaos. I love the chaos. Bring on the chaos!
You all have wrought your own brand of chaos throughout Autostraddle March Madness but never more than in the Round of 16. I mean, my goodness. Before the Sweet 16 round of voting, I ranked #2 in the standings of our Trope-Y Wives bracket challenge. After adding your Sweet 16 votes to the mix, though? Two of my Final Four picks are gone. I don't know why I'm surprised… if anyone's going to bring chaos, it's fandom.
---
Forbidden Fruit Region
#1. Emily and Sue – Dickinson vs. #2. Cal and Juliette – First Kill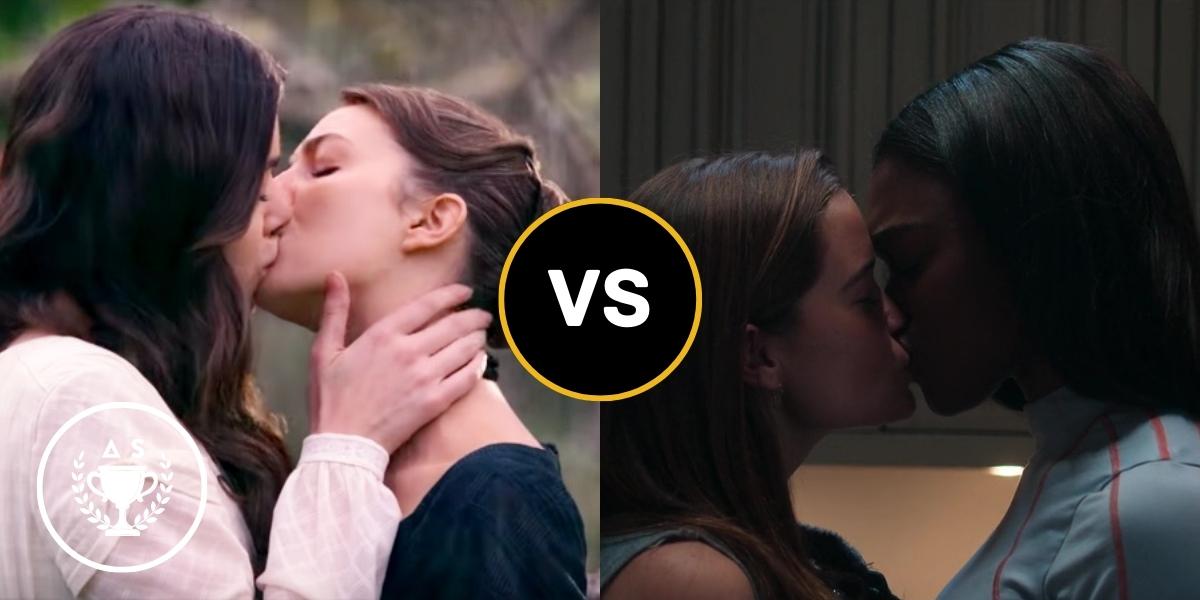 Just before we closed the bracket predictions for this year's tournament, news dropped from Prime Video that A League of Their Own would return, albeit for an abbreviated and insufficient four episode final season. Historically, when cancellation announcements coincide with our March Madness tournament, it gives a boost to the characters or 'ships from that show. People see voting in this contest as a easy way to express their frustration/grief/anger and that's propelled several competitors far in the tournament. But ALOTO's run in this year's tournament ends here, as they were unable to overcome a challenge from the #EmiSue fandom. I take this less as an indictment of people's enthusiasm for ALOTO and more as a celebration of the happy ending (and three season run!) that Dickinson was given.
Once again, the vampire and her huntress girlfriend refuse to go quietly, as Cal and Juliette survived a tough challenge from Shelby and Toni to advance to the Elite 8. When The Wilds was cancelled, I opined to the TV team that network execs could only fathom one "kids stranded after a plane crash" story on television at a time, but there was always room for Taissa and Van and Shelby and Toni…only not in our Elite 8.
---
Enemies to Lovers Region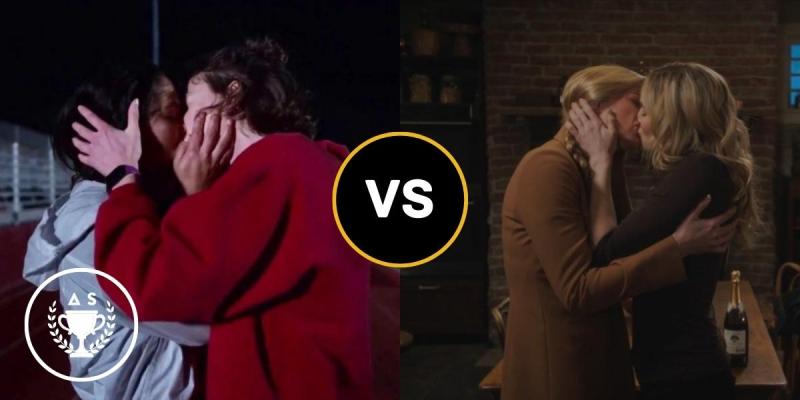 So here's where my jaw hit the floor: down goes another #1 seed! The #Wildmoore ship has run aground! I could not have imagined this happening…and to be taken out so handily by Ava and Sara? My mind was blown. Ryan and Sophie had been outperforming Ava and Sara in previous rounds but, in a head-to-head match-up, they were overwhelmed. I am stunned…and I certainly won't be counting out #Avalance moving forward in this tournament.
On the flip side, I was far less surprised by Casey and Izzie edging out Harley and Ivy for a spot in the Elite 8. The Atypical ship has always been a strong competitor in our March Madness competition. That said, I have absolutely no idea which of these ships will represent the Enemies to Lovers trope in the Final Four?
---
Opposites Attract Region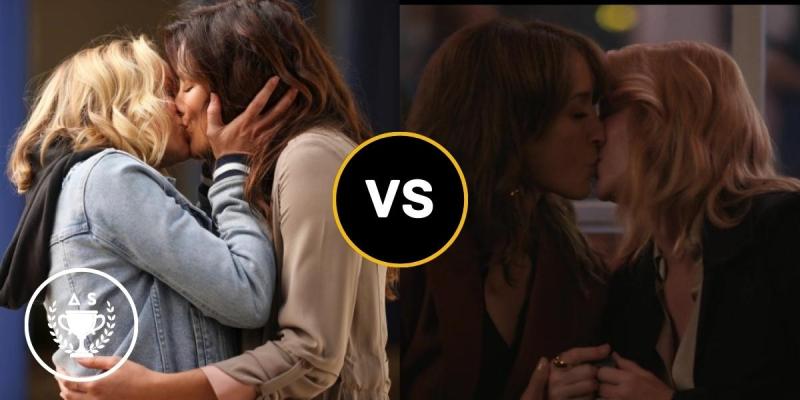 This is exactly how I thought this region would shake out — in fact, this was one region where my picks were spot on — but once I noticed the enthusiasm of the #Kacy fandom in the voting and on social media, I started to question whether I'd made a mistake. Then, when I went to check on the voting on Sunday morning, I noticed that Kate and Lucy had jumped out to a sizable lead and I thought we were on the verge of losing another #1 seed. But the Maya and Carina fans were just lying in wait…and later that evening, they'd built a substantial lead in the contest. In fact, even in the face of some tough opposition, #Marina earned the most votes of any couple competing in the Sweet 16.
But now Maya and Carina face, perhaps, their toughest opponent yet in Bette and Tina. The legacy couple beat out their Generation Q compatriots, Alice and Tasha, handily. As I've noted, cancellations usually play a big part in Autostraddle March Madness voting so how will Gen Q's cancellation impact the next round? Are #TiBette fans even more energized by the possibility of a "true" L Word reboot, set in New York? It really is anyone's guess.
---
Friends to Lovers Region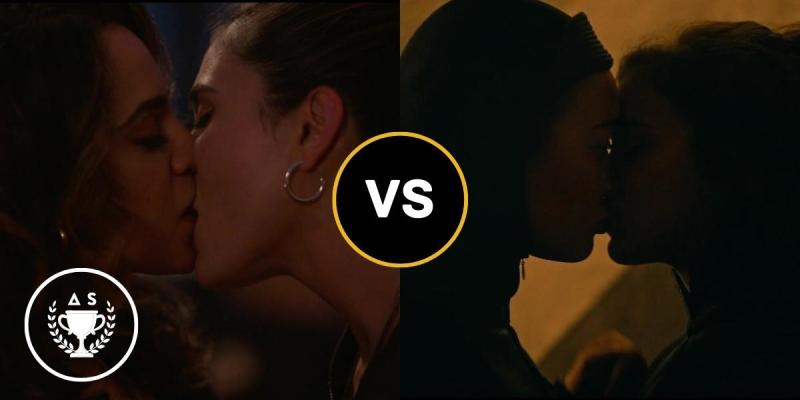 Once again, #Avatrice pulls off the upset, dispatching perennial fan favorites, Kat and Adena, from the contest. One can't help but be impressed by the strength of this fandom who have been rallying to save Warrior Nun since news of its premature cancellation broke. But has #Avatrice run into the one battle they can't win: over queer fans' love for Gigi Ghorbani? I guess we'll find out.
Dani and Gigi dispatched a difficult challenge from Syd and Elena with ease. Will they, like Bette and Tina in the Opposites Attract region, be buttressed by the cancellation of Generation Q? This is going to be a tough competition…and it's the match-up I'm watching closest in the Elite 8.
---
As usual, you've got 48 hours to cast your ballots in the Elite 8. Remember, this year, you can vote four times over the voting period (or to be more precise once, every 12 hours) so be sure to take advantage of that! We'll be back on Monday to unveil the Final Four and move us one step closer to crowning one couple, the Trope-y Wives!