Over the weekend I went on a deep dive to uncover submissions from queer artists that've accumulated in my inbox over the past few months. It paid off big time! I struck gold, and by gold I mean great tracks by promising independent musicians who you should keep your eye on in 2012.
Two of the musicians featured here are only 18 and that impresses the hell out of me. The kids really are doing all right.
Kangarouge
Kangarouge is Abby Frenes, a musician and former bowling alley worker from the San Francisco Bay area whose new self-titled EP I've become a little smitten with.
The EP features all the right elements for good indie folk fare: solid hooks, decent production, a voice that I can get lost in. But there's something extra there, too, that unnameable factor that makes me want to purchase a coffee house specifically so I can invite Kangarouge to play there.
Have a listen to the lead track, "Caves".
The Kangarouge EP features a handful of stellar songs, you can hear and purchase them on Bandcamp. It'll probably be the best $6 you'll spend today.
Life Down Here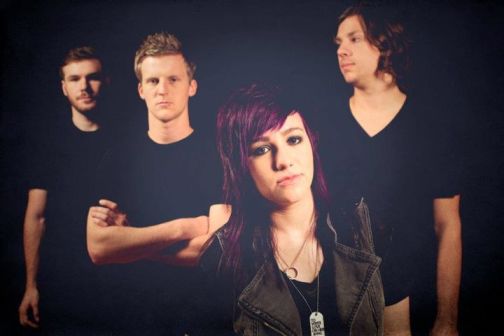 LA-based band Life Down Here are the sole reason that I've logged on to Facebook this year. The only emotion stronger than my hate for Facebook is my love for rock-pop-punk, and these guys & girl do the latter so well. Their music player is filled with up-tempo crunching guitar tracks featuring slightly cynical and often sneered vocals that'll be enjoyed by anyone who has ever jammed out to Paramore.
Here's their latest track, "Running From Disaster", which is available as a free download.
Did anyone catch Life Down Here when they opened for The Lady Killer Tour? Were they good? I bet they were good. The band's been working with producer Jay Baumgardner (Papa Roach, Evanescence, Bush) on their debut record; watch out for it next year.
Old Tapes
Old Tapes are New York based two-piece outfit made up of talented siblings Lisa and Michael Kribs. The band's genre is listed as 'INDIE SEX' and I don't even know what that really means but I like it, it fits.
On Old Tapes' new EP is an ode 'to a sad lady break-up' called "Farewell", which has been setting HypeMachine's pop chart on fire. There's this one super catchy line that goes "I only miss you because you left because I did yeeeaaaahhhh' and it's been running through my head for days. Good song, that one. Check it out below or watch the video here.
The This Is Good-Bye EP is available on Bandcamp. It includes a cover of "Wicked Game" for all you Chris Isaak fans. I know you're out there.