It would be a vast understatement to say that rap carries a huge stigma in queer communities. It's a genre largely dominated by straight men who have a tendency to talk about violence, misogyny and excessive wealth. And while some may accept this as a universal truth about the genre, in actuality, it's more of a huge generalization. And — excuse the generalization — who knows more about the dangers of lumping a vast diversity of ideas and identities under one label than queers? There are a number of disagreeable songs and artists out there, but that fact in itself isn't a good reason to exclude hip-hop from your music library. Rap has always been about expression against repression. Just because a certain type of voice has always been able to gain greater prominence, recognition and respect, doesn't mean other voices aren't present.
Meet Heidi Barton Stink, a transgender community organizer, activist, and dope-ass emcee who knows that generalizations don't help anyone. Being queer and having a relationship with hip hop is complicated, but that doesn't mean the two are mutually exclusive.
First let's get one thing out of the way: rap with a conscience does exist. In fact, it's actually called "conscious rap," or "positive hip hop." It's intelligent, reflective thought with a flow and a beat, and it gave rise to the careers of some contemporary greats like Mos Def, Talib Kweli and Jean Grae. Conscious rap isn't just about talking about what's positive and what's possible; at it's base, it's about identifying what's truly fucked up in this world and holding the perpetrators accountable.
In her just-released sophomore album, A Charming Gut, Stink launches a full-frontal assault on oppressive power structures and the individuals who participate in them, both actively and passively. Stink's lyrics are densely packed with cleverly and artfully articulated ideas on complicated topics like corporate greed, assimilation, transmisogyny (what even rhymes with "transmisogyny?"), police brutality and gay rights versus queer liberation. She presents aggressive views in an assertive tone, which is something, I think, we all struggle with. Being outspoken doesn't come easy, something that Stink, who began her career as a "straightish male-identified" rapper, learned in her coming out process. It's hard to defend yourself when you don't even know if you're right, and in her music, Stink willfully reassures you that: yes. Yes you are.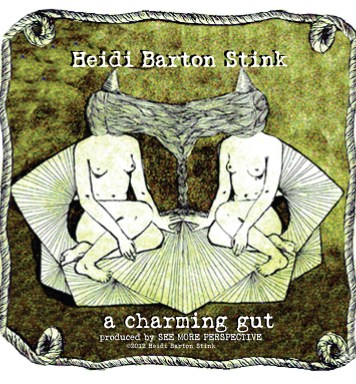 On top of all that, she sounds good, too. That might seem like a silly thing to mention, but in cases like this, it's important to note that the message doesn't overshadow the quality of the music, nor does the music depend on it. As queers, we sometimes have a tendency to support each other's endeavors no matter what – which of course is a great thing – but at the same time, there's nothing wrong with expecting greatness from the things that we do. As a rapper, Stink is also an artist, and she's one who understands that art and expression are forms of  resistance. And  she does it well, perhaps because she views it as her duty to do so.
A Charming Gut's highlighted single is "Consent Song," which is, as you may have guessed, a song about consent. It's about as straightforward as it gets, but it also views consent from a number of different – and often marginalized – angles. In it, Stink re-frames the normalized dialogue of consent, describing it as a process, not an act, and speaking about sex work, consent in partnered relationships and holding ourselves accountable:

Accountability is more than just a vital form of justice
It's a trusted means for survival
…
You can't punish this away
It's rape culture here, and it's deeply ingrained
We need a new standard, hold ourselves to the same
As we would a perpetrator in the light of the day
Stink's beats err on the darker side, which is appropriate for something as heavy and emotionally charged as the politics of queerness. It also makes for some seriously solid rhymes. Other highlights include "Direct Action (Do-Over)," which speaks on violence against trans* people and the silence that accompanies it, and "Won't Let Ya Slide," a statement against political neutrality. Featured artist Guante raps:

The curses, the blessings, the silence, the sadness
The ripple effect, the impact of our actions
I'd rather be fed to the fire than be innocent alone
In the box with all the fucks I didn't give
Cause innocence is ignorance
And neutral is the ugliest color to paint your image with 
Stink is unafraid of being pigeonholed as a queer or trans* artist. For her, rapping about queer issues and social injustice is her speaking from her own experiences. It's also a responsibility, as she explained in a 2010 interview: "Queer and trans rights are my life. My quality of life as well as most of my friends' lives are dependent on queer and trans activism. There are a lot of homeless queer youth, addiction runs rampant in queer communities, the number of murders of trans people is staggering. From my point of view, if you are queer [and you] have a mic and a roomful of people, you would be committing a grave injustice not to talk about this stuff."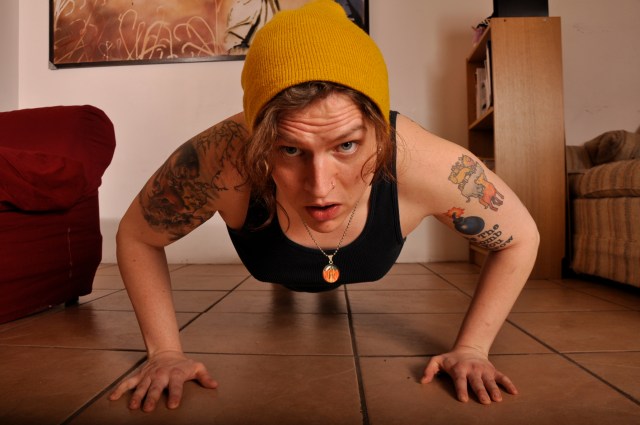 When it comes to rap, shit may still be complicated, but when reconciling a number of identities in this heterosexualized world, what isn't complicated? For now, one thing is certain: with the help of Heidi Barton Stink, our voice is one emcee louder.
You  can download A Charming Gut on her website.