I was chilling at the gay bar years ago when I noticed that more than one person had a handkerchief hanging from their back pocket. I overheard someone ask, "are you flagging?" while I stood awkwardly to the side, definitely thinking I was subtle when I'm sure it was obvious I was listening in on their conversation. Anyways, I promptly googled "the hanky code" when I got home from the bar and bought a certain handkerchief of a certain color so I could get in on this underground club.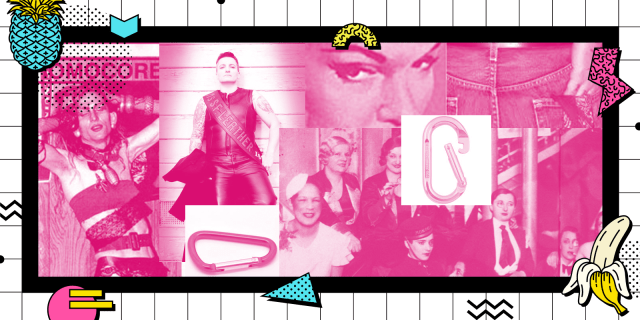 Do you remember the first non-verbal ~thing~ that made you look at someone and realize they were probably queer? Or give the dyke nod as you pass each other at the airport without exchanging a word? Was it their hair cut? Fashion choice? A giant rainbow "I'M GAY" printed on their sweatshirt? A swagger, a certain shade of red lipstick, a carabiner of keys, or a tattoo? Some queer band blasting from their headphones, a single dangling earring, a Tegan and Sara shirt perhaps?
Honestly, we all know it's more of a vibe than anything physical, but that doesn't mean I can't be obsessed with how we express our queerness/sexuality/gender in ways that aren't us stating bluntly: "I'm in the club, if ya get my drift." So here's a quiz about various non-verbal (visual! written! music! etc!) ways we communicate our queerness. Tell me your score in the comments, and share your favorite queer clues, too!
---