Alyssa Andrews has spent the past couple of months drawing 100 queer humans, and they're showing no signs of slowing down. Since launching their #AllQueerBods portrait project, Alyssa has committed to drawing every single queer person in the world. So far they have more than 400 queer selfie submissions waiting in the email inbox they created specifically for the project (allqueerbods [at] gmail [dot] com), but they're not intimidated. "I want to draw anyone and everyone," they tell me when we get together to chat about the project. "I want all queer bods. There is no beauty standard, no height or weight or race requirement. I want as much diversity within this collection of drawings as I can possibly get."
I raise my eyebrows. "Every single queer person?"
Alyssa nods seriously. "Yeah, I wanna draw every single queer person." Then they grin. "What a scary endeavor."
But they don't sound scared, not really. As they describe the origin story of their project to me, they sound excited and happy, ambitious and wise. Alyssa explains that the project was born from self portraits they were drawing of their own bod. "I was drawing a lot of…semi nudes, not hiding scars and things like that," they say. "I'm disabled. I've had a lot of surgery, and the world [often] tells you to cover up when something is perceived as wrong with your body."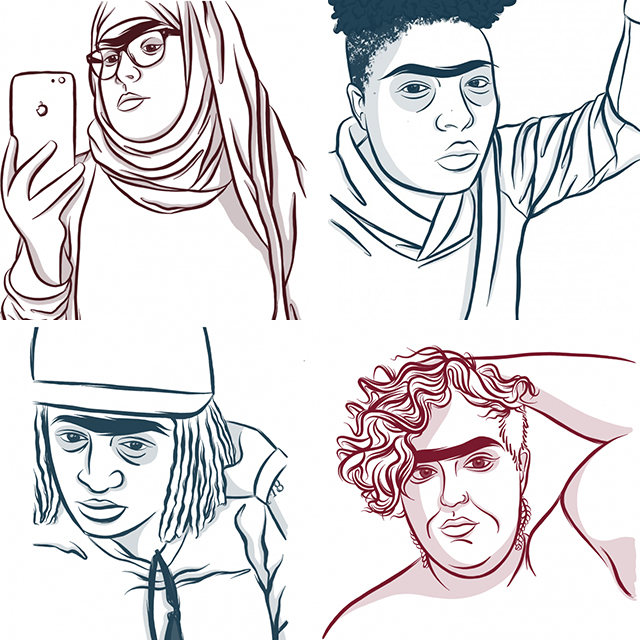 The drawings started as something they weren't sharing with anyone or putting anywhere specific. Things shifted when they started drawing their partner. Alyssa explains that they loved the drawings and did want to start sharing them, but realized they wanted more subjects. "I didn't want just a million drawings of my partner on the internet," they laugh. To find more subjects they started asking friends and then eventually reached out to their followers online. Their partner helped them coin the hashtag #AllQueerBods, and suddenly the project was exploding – in a great way! The response was huge immediately, which Alyssa credits to the excitement marginalized queer folks felt in being asked if they'd like to be seen.
What makes this queer portrait project different from other ones is Alyssa's focus on both consent from and agency for their subjects. The specific ask for submissions is "send selfies," a medium which already lends itself to the subject dictating how they will be seen and perceived. During our conversation, they stressed over and over how important it is for them that their subjects feel in control throughout the process.
"I think that it's a really intimate thing to be subjecting yourself to working with an artist and letting them essentially display you to the world," they said. "Usually the artist is in charge of the perspective, they're in charge of the way in which we are seen. I wanted it to be a connecting experience, where we kind of give and take and share that experience together."
Keeping with the theme of control and agency for their subjects, Alyssa is very focused on consent when it comes to this project, too. They do not want to draw anyone who doesn't explicitly want to be drawn, which is why they encourage solo selfies as submissions. Pets are okay – "I think pets can be real anxiety relievers," Alyssa says – but any additional humans in the image need to have enthusiastically consented to be drawn. If this consent isn't clear and obvious, Alyssa won't do the drawing.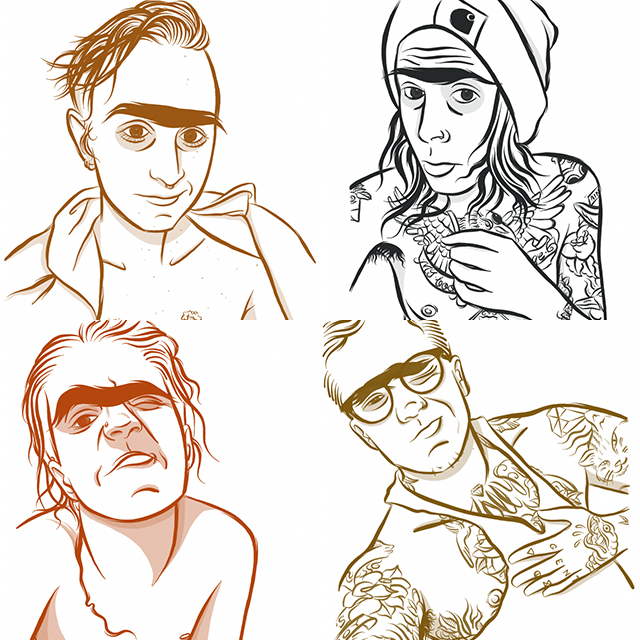 Alyssa explains that it can be easy for an artist to take on a role of a voyeur, and to manipulate things to suit their needs and desires. "I want to have a pure and real documentation of people, and consent is the bottom line most important thing to me," they say. "I think people really misunderstand how important consent is in all different kinds of life decisions and choices. It might sound really funny to be like, I want everyone to consent to being drawn with their clothes on, but I think it's really empowering and important to know that you said yes, and you had the option to say no .I think that is really very important."
Though the enthusiasm for the project was large and swift, Alyssa says they do still get a lot of questions about eligibility. Many folks seem shy at first, they say, unsure if Alyssa really wants to draw them. "I'm not the queer police!" They stress again and again that their is no requirement for the project other than a submission. "If you're submitting, you're in! There's no queer questionnaire, I don't need any validation or proof, there are no rules, there is absolutely no policing. You're fantastic and you're amazing and you're in! You, yes you, you're specifically exactly what I'm looking for!"
Alyssa purposefully does not require any cash for the portraits they draw – these are not commissions, and are not treated as such. While they often include links to their Patreon and Paypal accounts to help support the project and keep it going, they do not want any queer human who is unable to pay anything at all to feel excluded.
"One of the biggest things for me, is that if I'm wanting a real connection with people and if I'm wanting a real, authentic look at the queer community, I can't have anything that's rooted in a person's ability to pay or not pay," they say. "I think that's one of the biggest things that separates people within communities – perceived class or ability to pay for things. I find all bodies valuable, so I don't just want 'all bodies that can pay.' I think that really defeats the purpose of the project and it really cuts a lot of the people from the community out."
Though the project initially began as one of body positivity, it has grown to be a larger celebration of queerness in all its beautiful forms.
"I like doing this because there's this tendency for marginalized people to make themselves smaller all the time, to not take up space and to not want to be seen," Alyssa says. "I think even within the queer community we have a really big problem of assigning different bodies privilege or value, and it's just so disheartening when you think about the sheer numbers within the community, how many vibrant amazing people there are, versus how many of those people we actually see on the day to day, it's a real bummer for me."
#AllQueerBods is a love letter to all queer bods, truly, and the respect and admiration Alyssa has for their community shines clearly out of each perfectly rendered image.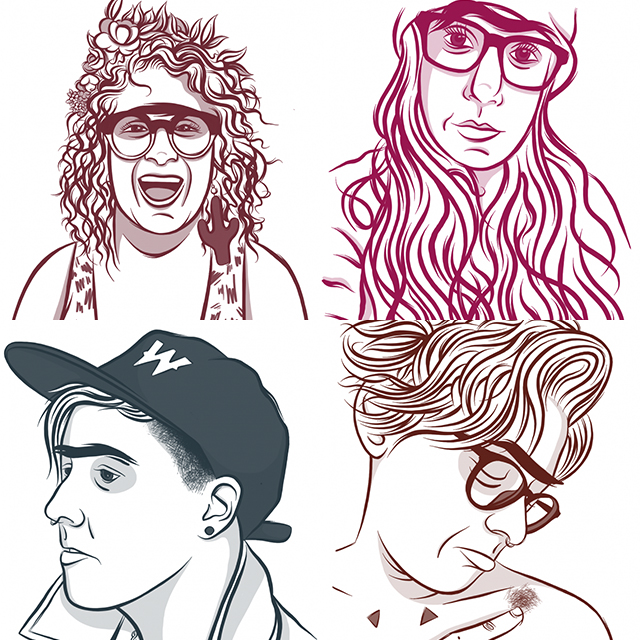 For now, the project lives on Alyssa's website and on their Twitter and Instagram accounts, where #AllQueerBods organically began. Alyssa hopes to create a dedicated website for the project and is also considering creating a print zine featuring the portraits.
Submit a selfie to allqueerbods [at] gmail [dot] com to participate in #AllQueerBods and help Alyssa reach their goal of drawing every queer human in the whole damn world!
Please note: if you email Alyssa, they received it! Promise! They are but one human, and can only draw so fast while also holding down a day job, paying bills, hanging out with their cute friends and partner, and doting on their cute dog George. You do not need to follow up with any check-in emails. Also, while Alyssa is truly committed to drawing all queer bods, they're particularly hoping to receive more submissions from POC, fat, trans feminine, and disabled bods! What are you waiting for? Send in those selfies!