Welcome to Almost Famous, a weekly segment where we ask up-and-coming queer musicians some not so hard-hitting questions about music and life and maybe even convince them to share photos of their pets. Get to know intimate details about your new favorite artist or band before they hit the Big Time and become too famous for us to interview for real.
Header by Rory Midhani

---
Tica Douglas
Brooklyn, NY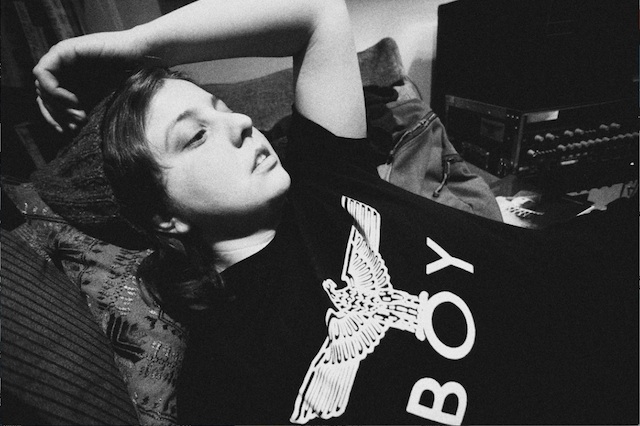 Tica Douglas is an indie folk artist with a distinct voice and songwriting style influenced by the male artists of her parents generation, namely the Beatles, Brian Wilson and Bob Dylan. Especially Dylan. These uncategorisable voices "furnished her musical imagination and gave her hope" as Tica grew up and developed as a songwriter.
Just last month Tica released a stellar full-length album, Summer Valentine. It features nine songs which explore two landscapes: Tica's hometown on the coast of Maine, and an old barn house upstate in Patterson, NY. You can listen to and download the album via BandCamp.
How would you describe your music?
It's always hard to answer this. Recently someone said 'Indie Folk' and that sounds about right. But there's always been a distinctive pop element in my songwriting, so maybe 'Indie Folk-Pop' is more on point.
What instrument/s do you play?
I play guitar, and I've been playing it since I learned power chords in high school for an all-girl punk band called The Glare. I was the youngest member though, and shy, so I didn't start really writing and singing my own stuff until I was about 17. Since then, I haven't stopped writing or singing.
Which song would you most like everyone to hear?
[soundcloud url="http://api.soundcloud.com/tracks/95558129″ params="" width=" 100%" height="166″ iframe="true" /]
"G". It's a love song. I recorded Summer Valentine upstate in an old barnhouse this past winter, and the rest of the songs are played with a band. But "G" is just me – recorded live, in one take. I think this gives it a special quality, like you can really hear every creak in the barn, and every creak in my voice.
Plus, it's because of G (which stands for Gracie, my girlfriend) that I'm lucky enough to be on this segment, as she submitted my music.
What were the first and last records you bought?
The first record I bought was Help! by the Beatles when I was six, and the love affair began. The last record I bought was Kurt Vile's Wakin on a Pretty Daze and whoa, amazing.
What inspires you to write?
The ocean. Religious iconography. My heart. I get overwhelmed easily, and I write to try to translate this confusing, overwhelmingly beautiful and difficult life; probably the same reason anyone does.
What do you get up to when you're not making music?
I tutor and teach high school, mostly 11th and 12th graders in the Bronx, and I love it. It's a perfect complement to music because the schedule is flexible so I'm able to devote a lot of time to music; and because when I'm not doing music, I get to devote myself to tangibly helping these awesome kids. Without that balance, I think I'd lose it.
If you could share a line-up with any two artists?
Sharon Van Etten and Jeff Mangum. Super heroes.
Describe the environment that you write your songs in.
It changes, but I think the more physical space I have, the more creative space I fill. For this last record, I returned home to Maine last summer after a two year writing block in NYC. I told myself I was going to write a new record, end of story. I sat down every day with that intention – I immersed myself in old favorites (Bob Dylan, Beatles, Buddy Holly, Neutral Milk Hotel) and new favorites (Beach House, Dirty Projectors, Destroyer, Sharon Van Etten); I played around on the piano and guitar, learning every Beach Boys song I could think of (their chord progressions are wild!); I stared at the Atlantic Ocean for two months. And it worked! That's where the songs from Summer Valentine came from.
What is your favorite thing about living in Brooklyn?
My musical family. I live in pretty much the same neighborhood as all the guys who came up to the barn house and recorded Summer Valentine with me. It's nice to be so close to your friends and creative collaborators, it makes creating easier and more natural.
When you're super famous what you name your autobiography?
Haha, G & I were just talking about this actually. We said it'd probably be "I Look Like An Idiot in These Shorts: The Autobiography of Tica Douglas." I'm from Maine and I get a little carried away, wearing shorts when it's not exactly warm out yet. And they're usually American Flag shorts, or something equally silly.
Everything else you'd like to know about Tica can be found via her website and Facebook. Her new record, Summer Valentine, can be downloaded here.
---
If you are, or know of, a queer artist or band that should be featured in Almost Famous, drop me the details via crystal [at] autostraddle [dot] com. Please write 'Almost Famous' in the subject line!