Welcome to Almost Famous, a weekly segment where we ask up-and-coming queer musicians some not so hard-hitting questions about music and life and maybe even convince them to share photos of their pets. Get to know intimate details about your new favorite artist or band before they hit the Big Time and become too famous for us to interview for real.
Header by Rory Midhani

---
Mo Kenney
Waverley, Nova Scotia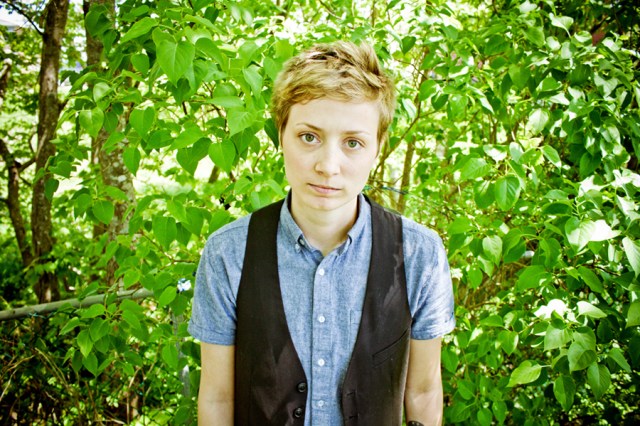 She may be only 23, but Mo Kenney is far from being a novice songwriter. She began writing in her early teens, and by the age of 14, she'd already done some recording in a small studio in Bedford, Nova Scotia. "I was totally into Led Zeppelin, Pink Floyd and Ozzy, all the classic rock stuff. When I started guitar I was really into the electric and I remember coffee houses at high school where I'd go on stage with my electric and just rip solos." Since the release of her debut recording in September 2012, Mo Kenney has toured Canada selling record numbers of CDs off-stage and gleaning outstanding reviews. She has played the prestigious Iceland Airwaves, The Great Escape, and Green Man Festival, won the 2013 SOCAN Songwriting Prize; was nominated for a CBC Radio 3 Bucky Award and an ECMA for Rising Star Recording of the Year, and made the iTunes Best Singer Songwriters 2012 list. With a Canadian Folk Music Award nomination for New/Emerging Artist of the Year in 2013, four Music Nova Scotia Award nominations, and release and touring plans for 2014 in Australia and the UK, things show no sign of slowing down.

How would you describe your music?
Poppy-folk-rock. Mostly pop/rock I'd say. Sometimes I play acoustic, and sometimes I play with a rock trio. My music is pretty melancholy, not a lot of happy songs. I mostly listen to sad songs; that's probably why I write a lot of "sad" music.
Which track would you most like Autostraddle readers to hear?
I wrote this song in my room when I was living in my first apartment in Halifax, NS. I was miserable working a couple crappy jobs (dollar store/grocery store), my rent was too expensive and my roommates were not the greatest. I just won  a SOCAN Songwriting prize for this song this year. I like looking back on where I was when I wrote it and comparing it to now. Things have done a bit of a 360.
Do you have any pets, and if so can we see a photo?
No pets yet! I had pet goat when I was a kid, and I want another one some day. Her name was Nicky and she followed me everywhere. Get a goat – they're great pets.
What do you get up to when you're not making music?
When I'm not making music I am wandering around Halifax with friends, climbing trees or listening to music. Generally one of the three.
What were the first and last records you bought? 
First record I bought was an Aqua tape I believe.  I used to drive my friends crazy in elementary school asking them to put on Aqua. My friend Melissa had it on a CD of theirs, and I made her play it all the time. I loved that I didn't have to rewind it and I think I made her listen to one song over and over.  The last record I bought was Cat Power's "Moon Pix." When I wake up in the morning I put on "Cross Bones Style" from Moon Pix.  I have a record player, it's part of my morning tradition. A couple weeks  ago I was listening to Seth Smith's record "New Problems" every morning.
What was the last book you read?
The last book I read was The Ocean At The End of the Lane by Neil Gaiman. It was really good, I recommend it.
If you could only listen to one album for the rest of your life, what would it be?
If I could only listen to one album for the rest of my life it'd be "Between the Buttons" by The Rolling Stones. I will probably change my mind about that, but it's true right now. Liz Phair's "Exile in Guyville" is a close second I think.
Have you ever had to work a terrible job to pursue your music career?
Many! Working at a Sobeys grocery store making pizza was the worst one. Everyone else who worked there seemed completely miserable. All I could think about when I was there was how much I'd rather be playing music.
Do you have any pre-show rituals?
Yep. I drink a ton of water and have to pee every 5 minutes.  I also hide from people, because I get weird right before I have to play a show.
When you're super famous what will be the name of your autobiography?
"Mo Kenney, Mo Problems."
---
If you are, or know of, a queer artist or band that should be featured in Almost Famous, drop the details to stef [at] autostraddle [dot] com. Please write 'Almost Famous' in the subject line!