GLAMBERT: Adam Lambert performed a nice fellatio-free rendition of "What Do You Want From Me" on So You Think You Can Dance and per ushe Autostraddle's Sexiest Man of 2009 does not disappoint. SYTYCD, YEAH THAT'S LIVE TV! [Riese sidenote: Don't you think it would be awesome though if the next time he is on live TV, like perhaps on Regis & Kelly, he rips up a picture of the Pope, says he's ashamed to be from Texas even though he's not from Texas, makes out with his drummer, makes out with Madonna, makes Britney stop lip-syncing for a second so he can make out with her too, tears his backup dancer's shirt open to reveal an exposed nip, eats the head off a bat, and then, for the finale, 200 homosexual boys in school uniforms flood the studio audience, run up to the stage jumping up and down and then when the song ends, they all make out with each other? That would be awesome.]
Anyhow, here's Adam on So You Think You Can Dance (the audio quality isn't that great, but most of the other videos have been taken down) performing "Whaddya Want From Me" all dressed up in a sleek grey suit with Freddy Mercury-esque harlequin makeup:
Leona Lewis, Mary J. Blige and Jennifer Lopez also performed during the finale episode. Leona Lewis performed "I See You," expected to be this year's "My Heart Will Go On," from the movie Avatar.
.. Adam finished the night on Chelsea Lately, where he talks to Chelsea Handler about how tripping helped him decide to audition on Idol and she invites him to come onto her show and grind his crotch into anyone's face that he wants to any ol time.
Adam discusses coming out, the AMA's, and a possible tour with Entertainment Weekly. There's also a sexy photo gallery! Two words: motorcycle blowjob. You'll see. (@ew)
ALSO: Russel Ferguson took the crown on SYTYCD, which means he doesn't just think he can dance, he really CAN dance! His exuberance over winning made my eyes water even though last night was the first episode I saw. Go team!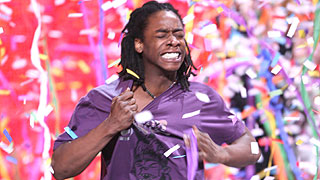 TOPS: Entertainment Weekly's Best of 2009. (@popwatch)
VENICE: We showed you the Venice premiere two weeks ago — now check out their cover story in Go Magazine. (@gomag)
GAYEST MUSIC OF ALL TIME: Out Magazine has declared David Bowie's The Rise and Fall of Ziggy Stardust and the Spiders from Mars the " Greatest, Gayest" album ever made. Ziggy Stardust the quintessential glam-rock/space-rock/early 70s-rock album, was named #1 by Rufus Wainwright, Cyndi Lauper, and other judges for Out Magazine.  (@out)
I wonder… what makes music gay? My instincts tell me The Fame (Monster) is extraordinarily gay, but why?
The top ten Out gayest albums of all time:
1. David Bowie: The Rise and Fall of Ziggy Stardust and the Spiders from Mars (1972)
2. The Smiths: The Smiths (1984)
3. Tracy Chapman: Tracy Chapman (1988)
4. Indigo Girls: Indigo Girls (1989)
5. Judy Garland: Judy at Carnegie Hall (1961)
6. The Smiths: The Queen Is Dead (1986)
7. Elton John: Goodbye Yellow Brick Road (1973)
8. Madonna: The Immaculate Collection (1990)
9. Cyndi Lauper: She's So Unusual (1983)
10. Antony and the Johnsons: I Am a Bird Now (2005)
GAGA: Holy brunette Stefani Germanotta. Check out this collage of pre-fame Gaga candids. (@ladygagafans) Gaga also performed Speechless for the Queen of England while suspended 15 feet up in the air.
JEM: A Jem and the Hollograms movie? You bet your ass. (@the star)
HERSTORY: "More than 60 black lesbians and their friends were drawn to the "Spotlight on African American Lesbians" exhibit and panel discussion at the GLBT Historical Society … while African American lesbians have been included in previous historical society exhibits, this was the first time the organization hosted an exhibit explicitly focused on African American queer women."
The best quote from the article hands down, comes from 73-year-old Mary Midgett, an author and co-founder of Bay Area Black Lesbians and Gays and past president of Lesbian and Gays of African Descent for Democratic Action:
"I joined the Army, screwed my eyes out, and had a good time," says Midgett, laughing about her younger years. "I stayed drunk and I had a good time."
(@bay area reporter)
THE RUNAWAYS: First trailer for The Runaways, starring Kristen Stewart as Joan Jett:
MORE ADAM LAMBERT: Backstage at Jingle Ball, Adam Lambert gave this quote his high school girlfriend. Of course her name was BJ: "When I was 14 yes, I had a girlfriend. She was 18 and her name was BJ and she was from Compton. Can you imagine this little red head kid and a big black girl? She taught me how to make out." (@foxnews)